Layer is one startup company that has inspired us to build amazing chat SDK. However, we see some problems (especially in its performance) in Layer's products that we believe we have already fixed in Qiscus Chat SDK. We have migrated Layer's customers who have experienced some problems related to Layer's performance which affected their business metrics. Through the smooth migration that they experienced with Qiscus Chat SDK, customers noticed that their performance and business metric improved right away.
Recently, we heard news that Layer will be ceasing their services by 30 of October 2019. As expected, another Layer client spoke to us to discuss the possible migration of their chat service to Qiscus Chat SDK. This is the right time for Layer's customers to switch to the best Chat SDK and Messaging API that makes sense for performance as well as budget. Qiscus Chat SDK is a very strong candidate for this.
What happened to Layer today can happen to any other company, especially those who have already raised tens to hundreds of million of dollars but are not yet profitable (even when they cost you a lot!). Hence, we prevent this by providing more options for our customers to host Qiscus Chat SDK in their own servers or cloud servers. By doing so, we believe that even if a similar event happens to us (as in the case of Layer), your business can still run as usual. This is an approach we don't see being done by other similar services. Even if you choose to host in our cloud package, we also provide export functionality that enables you to get all your data in order to migrate to another service provider later on. On top of that, our pricing, especially for the cloud package, is extremely affordable compared to other chat engine providers out there.
More features, more scalable
Qiscus Chat SDK basically already has every feature that is comparable with all of Layer's features, so when you are migrating to Qiscus Chat SDK, you won't see much of a problem. You'll also immediately benefit from tons of other additional features. For example, Layer provides a webhook functionality for the customer to handle messages that are being sent to their chat engine. Similarly, we have that too, and we even provide a transparent log on each webhook so that you are always able to tell what is happening in your applications. Another example is push notifications. Layer supports push notifications for mobile applications, which is the same case for us.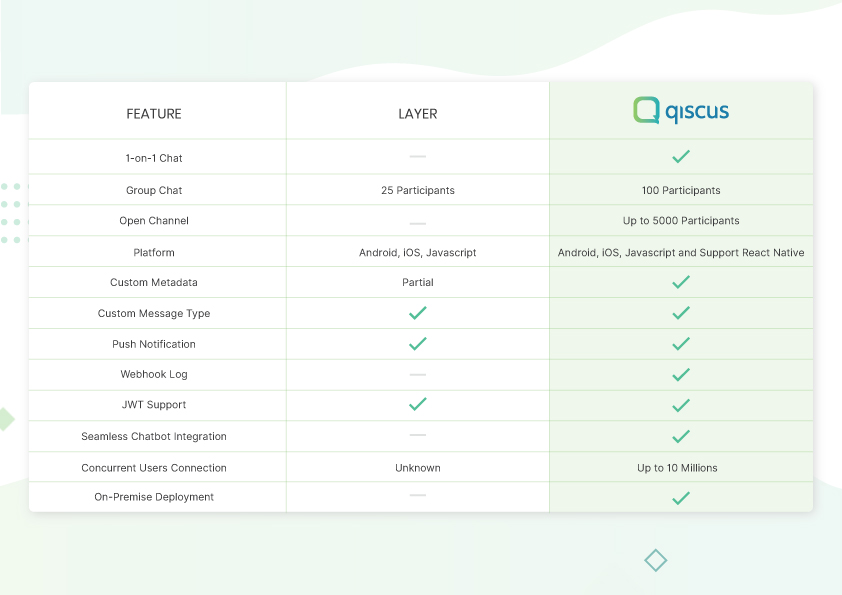 Other features like group chat is very limited in Layer. Layer only allows 25 participants in a group, which is definitely not enough for social messaging users. Qiscus Chat SDK, on the other hand, allows up to 100 participants in a private group and 5000 participants or even more in public channel groups.
Layer provides custom mimeType messages, which Qiscus also supports. So it doesn't matter if you have very custom UI and bubble messages that are being handled by Layer –all of that can be handled in the Qiscus Chat SDK too.
On top of that, our support team is always ready to assist you. You can ask questions directly through our live chat on our website or create a ticket to contact our engineering team. Our backend server is very scalable and able to handle more than 10 million concurrent connections in a single app. So you don't need to worry about support and scalability.
Get in touch with the expert
We offer very special consultancy and migration plans from Layer to Qiscus Chat SDK so that you can migrate smoothly and minimize the impact on your business. Even if you are choosing a package plan that makes use of sync server, you will not experience any data losses and downtime at all.
Typical migration with no data loss and no downtime will require:
A developed sync server to export from Layer data and import to Qiscus Chat SDK.
Bridge service created to make sure every data that is being inserted in Layer will be inserted too in Qiscus Chat SDK.
Updated apps to use the Qiscus Chat SDK in production.
Force update of the previous version of the production app to make sure all users have full functionality of Qiscus Chat SDK as well as to make sure all users are fully migrated before Layer's service become unavailable.
We are very happy to support you in all of the stages above.
Cheers, and see you!