Communication is a significant aspect of teamwork and healthy internal communication is critical for a good teamwork and positive atmosphere in the workplace. In recent years, the rise of internal communication apps has allowed companies to communicate directly with employees and monitor their level of engagement.
You might be familiar with Slack, LINE, WhatsApp, or Telegram. All these chat platforms are often used to communicate with employees to discuss work matters such as asking permission for leave and much more. Using these platforms for internal communication might be efficient for some companies and startups. But as a business grows, more people come on board and the company structure can get more complicated, potentially making those existing services irrelevant for some big enterprises.
But having an internal communication platform is still crucial. Telkom as the biggest telco company in Indonesia, with more than 23,000 employees spread all over the nation, has become aware of the urgency of having an internal communication platform. To effectively manage their employee engagement in real time, Telkom is now working with Qiscus to create their own collaborative communication platform, called Kiwari Messenger.
What makes Kiwari Messenger different
Kiwari Messenger is a chat platform made for a collaborative purpose. This chat platform is built using Qiscus Chat SDK. Basically, as a messenger app, Kiwari has many basic features such as personal chat, group chat, typing indicator, file sharing, and so on. But what does make it different?
As we have mentioned that Kiwari Messenger is built for a collaborative purpose. It allows us to integrate with other systems that are used in a company. In Kiwari Messenger, we call it as the official account. Using this official account, we can easily integrate our internal messenger with other systems such as human resource system, payroll system, payment gateway, and many more.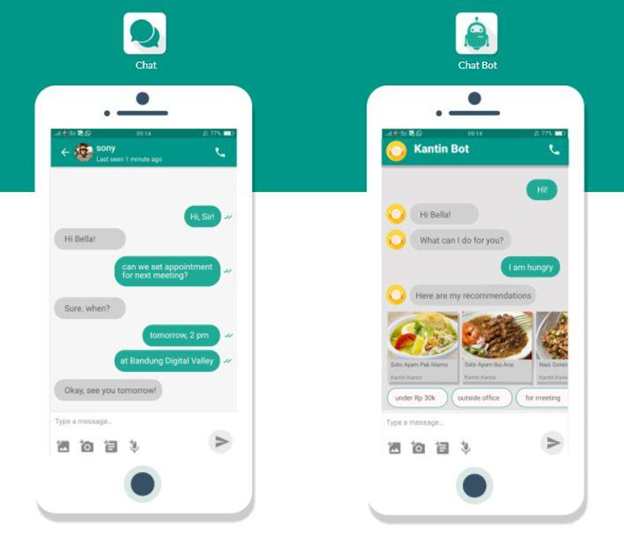 Focus on your business, let us handle the chat
Building high-quality products and services often require a long process. So, why not make the process shorter and simpler?
With Qiscus Chat SDK, Telkom is able to save the time that's required in building a high-quality chat platform from scratch by themselves. Based on research by Qiscus, using chat SDK can reduce the cost and development time by 52%. With this fast and time-saving process, an enterprise like Telkom can focus on its main business.
Chat engine that changes employees' behavior
Qiscus Chat SDK is a perfect match for every enterprise needs because of the simple integration with their internal systems. By using Qiscus Chat SDK, internal chat messenger like Kiwari has the opportunity to change how employees connect and communicate. It facilitates the sharing of whatever they need to access their job and it makes it even easier than before for employees to participate in important conversations for specific purposes such as reimbursement, leave permission, and many more. Kiwari is able to replace paper forms by collecting the data electronically, employees can send information back to their headquarters seamlessly.
Kiwari is able to establish a dialogue between top management, middle management, operational level, and employees. No one needs to run around and yell from office to office, or send unnecessary emails. Accessing Kiwari has many benefits compared to traditional communication media such as email.
Not only that, colleagues also has the ability to acknowledge the great work of their peers in front of the company. In the past, the only review that employees received was direct feedback from their manager. Now, there is an opportunity for team members to have a say on the skills, achievements, and expertise of co-workers.
As a founder of either a small startup or a multimillion-dollar company, there are many outside externalities that can deter focus. Business needs to be executed at a hastened pace. Instant communication with team members and stakeholders become pertinent to progress on a daily basis. Ideas seem to come and go, and the less time you have, the more difficult it becomes to capitalize off ideation.
These are the moments where having the right tools at your fingertips becomes vital to your continued success. However, to do that, you must have a trusted partner who specializes in providing these engines. Qiscus can provide you with a great product to tackle these obstacles. Feel free to contact us at www.qiscus.com or email [email protected] to get a free consultation for a start.