As you probably already know, across Southeast Asia (SEA), especially in Indonesia, digital disruption has affected many sectors, be it in property, banking, insurance, and even the automotive industry. The Indonesia government, according to Jakarta Globe, has tried many ways to accommodate to this phenomenon, adjusting policies while at the same time maintaining people's freedom to innovate and finding opportunities to develop themselves.
Hence, It is not a surprise that Indonesia has become a hot ground for businesses as this nation has a major demographic surplus, plus its economic growth that has reached 5% in 2017. Not only that, SEA is deemed as a region with a heavy reliance and usage of social media; 53% of the people in Southeast Asia use internet and the majority of them are living in Indonesia. This means that the market is ridiculously active, with current digital shoppers reaching up to 83 million users just in Indonesia alone.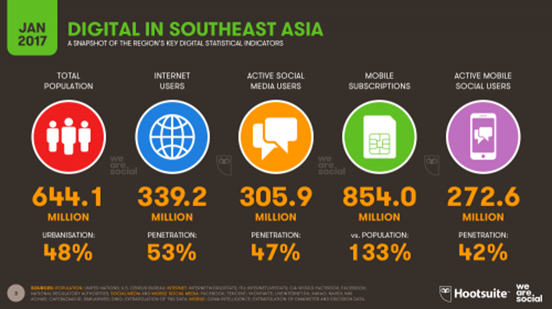 The Prospect of AI in Indonesia
Artificial Intelligent (AI) has become a hot topic in recent days in SEA, implicitly showing that in this region, despite the slow adaptation, industries can still embrace the disruption splendidly. The market of Chat can be considered massive in this country. If we consider the ratio of the total population and the number of Internet users. Moreover, the advancement of Chat and AI can help enhance businesses to spend less both on time and money.
According to Techcrunch, Indonesia has been recognized as one of the hottest spots for online social networks, penetrates almost half of the populations. Kata.ai's, a startup who developed a Bahasa-based Chatbot, managed to raise up to 3 million dollars in funding. They exploited the potential of customer engagement and brought it forth to other industries, helping them to reach their market efficiently.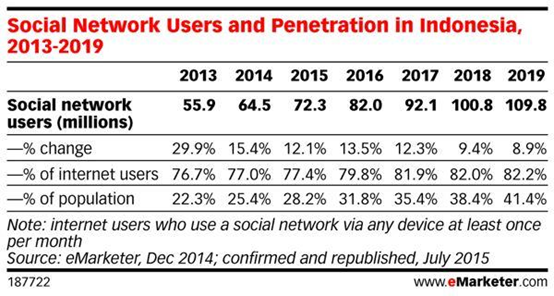 Moreover, Indonesia as the kingpin of economic activities in SEA, a wide demographic composition can be benefitting the most from this phenomenon. Sachin Chitturu, from McKinsey & Company, said that Indonesia, with a population of more than 250 million people, should have better cost improvement, even than Singapore who only houses five million people in the country.
Besides, digital market in Indonesia is not to be trifled with, as e-commerce in this country has expanded up to 17%, striking 26.2 million units for last decade. Another example can be seen in Sale Stock's case. They invent an AI that capable to analyze which fashion products that can be sold well and which one is not, and through that, they successfully become one of the SEA's leading actors in fashion market. This surely shows that there is so much room for AI to be in spotlight in SEA, especially in colossal market like Indonesia.
Telkom Indonesia and Its Strategy to Topple the Digital Disruption
As AI and Chat began to influence every sector in SEA, the one industry that is greatly affected by this disruption is indisputably the telecommunications sector. Telkom Indonesia, as the behemoth of telco in this country, couldn't avoid this disruption either. Although they had already expanded their reach to the outermost layer of Indonesia, they still strive to move forward by embracing advanced chat technology with help of a trusted partner.
Qiscus, as Telkom's partner in building a real-time communication platform, an internal communication level system by developing Telkom Kiwari. The concept is to build an app that capable to connect employees in one-to-one way or in a group communication, integrated with chatbot to do various other tasks. It can perform document sharing, also forwarding images/files with comment section attached as an additional feature.
The amazing part is that Telkom Indonesia has succeeded in attaining several awards in 2017. Such as the TOP Cloud Application Provider, TOP Business Solutions, TOP Big Data Solution, TOP Data Center Service. And was also the TOP IT Software Development Award holder all in the same year. This shows how people in Indonesia greatly trust Telkom Indonesia as their telecommunications service provider.
The digital business innovations of Telkom were able to lead the company to reach up to 64.02 trillion rupiah in revenue. Compared to 2016, in 2017, they were able to grow 13.5% in just revenue alone. Moreover, half of the revenue is mainly from their IT and Internet service business line. According to Brand Finance, a London brand consultant, the value of Telkom Indonesia is currently at 2.62 million dollar. More than that, if we look at the share price. We will see that Telkom's share price is always rising steadily.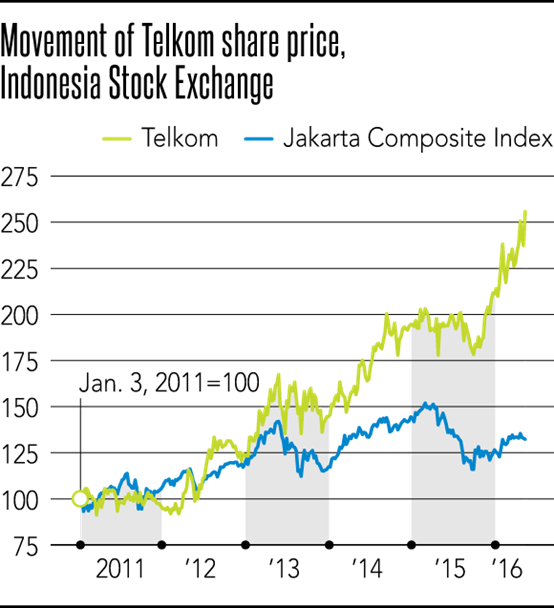 This achievement is not without reasons, Muhammad Awaluddin, Enterprise & Business Service Executive of Telkom Indonesia, said that this can only be achieved thanks to going digital. He realized that being a giant company alone is not enough. A company will continue to undergo many obstacles, time after time. They want to build better engagement with customer and partake to provide real-life connection for them.
If we were to reflect on the case studies of Nokia and Kodak. We would realize the truth to his statement above. Nokia and Kodak were once titans in their respective fields. But due to lack of innovation and reluctance to keep up with the disruption, they are struggling to stay afloat. Thus, it is important to embrace change and hone it to become our own weapon in this disruptive era.
Meanwhile, Indonesia has been rather welcoming in terms of chat. Many sectors are developing their chat services through Qiscus. Such as Ruangguru, a startup that specializes in education, Halodoc in healthcare, Telkom Kiwari, a messenger app from Telkom Group. As well as other examples you can read up on.
Qiscus
Currently, we behold the rise of popularity of Chat and AI. As there are so many sectors and fields that can be enhanced further with the help of both. Hence, we need to dig deeper and seek knowledge from every possible opportunity. Therefore, Qiscus, as an enterprise invested in information technology in Indonesia. Qiscus will be organizing Techtalk #103 specifically to talk about Chat and AI. Drop us a note at www.qiscus.com or read our white paper and see what we can offer for you.