As people were making plans and packing up yet another box of fireworks to welcome the new year, our teams could not help but feel a deep sense of gratitude. Another year has gone by, and what a ride it was. So many milestones have been achieved and they were all worth celebrating for. However, we prefer to celebrate the one thing without whom none of those achievements would be possible: YOU!
How customers and communities made 2018 our best year thus far
Ever since Qiscus was found in 2013, you, our customers and communities of tech enthusiasts,  have been the strongest drivers of our growth. Your feedback pushed our team towards perfection and your appreciation spurred us on to achieve more than what we set out to do. With your support, we have established a strong foothold in Indonesia, expanded to 10 new countries and enabled conversations between close to 10 million users. We are also humbled by the trust that some of you have given us, including those of you from Bukalapak, J-Trust Bank Indonesia, Telkom Indonesia, and many others.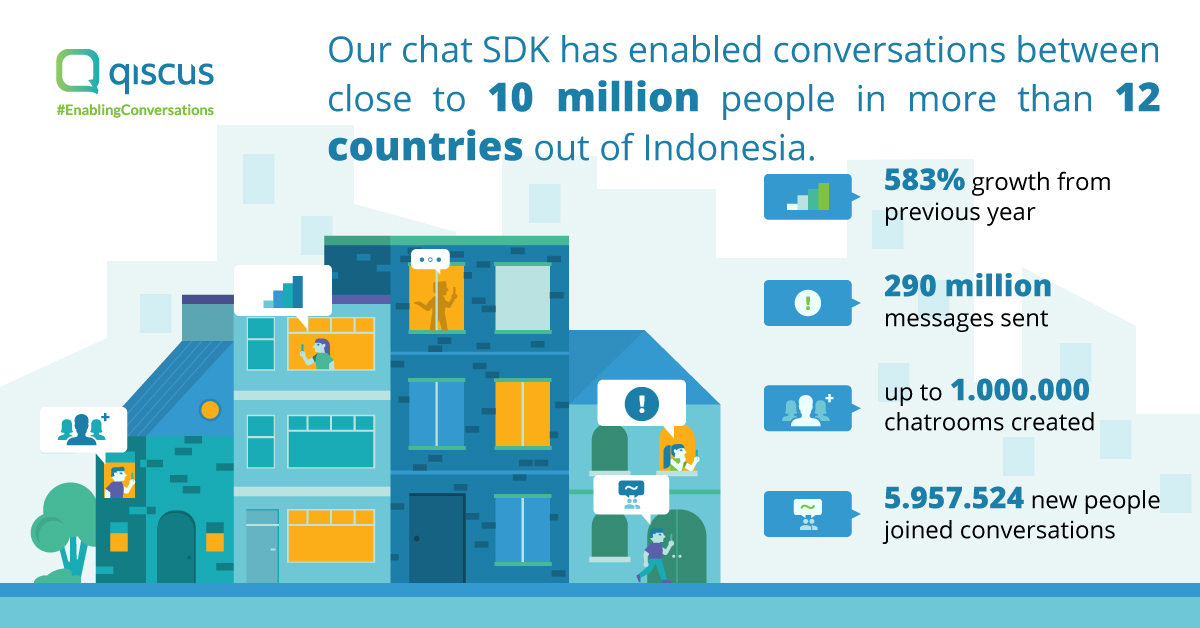 Of the many milestones that we have achieved in 2018, #EnablingConversations between doctors and millions of patients whom otherwise would not have access to quality healthcare was something that gave us a great sense of achievement. For this particular case, it was deeper than just 'business'. By implementing Qiscus' chat SDK in its app, Halodoc enabled those who were sick to converse with doctors from the comfort of their home and get medical advice right from their mobile phones. Not only that, we were with Halodoc right from day 1! We have seen how Halodoc helped its first ever patient and grown to now impacting millions of lives.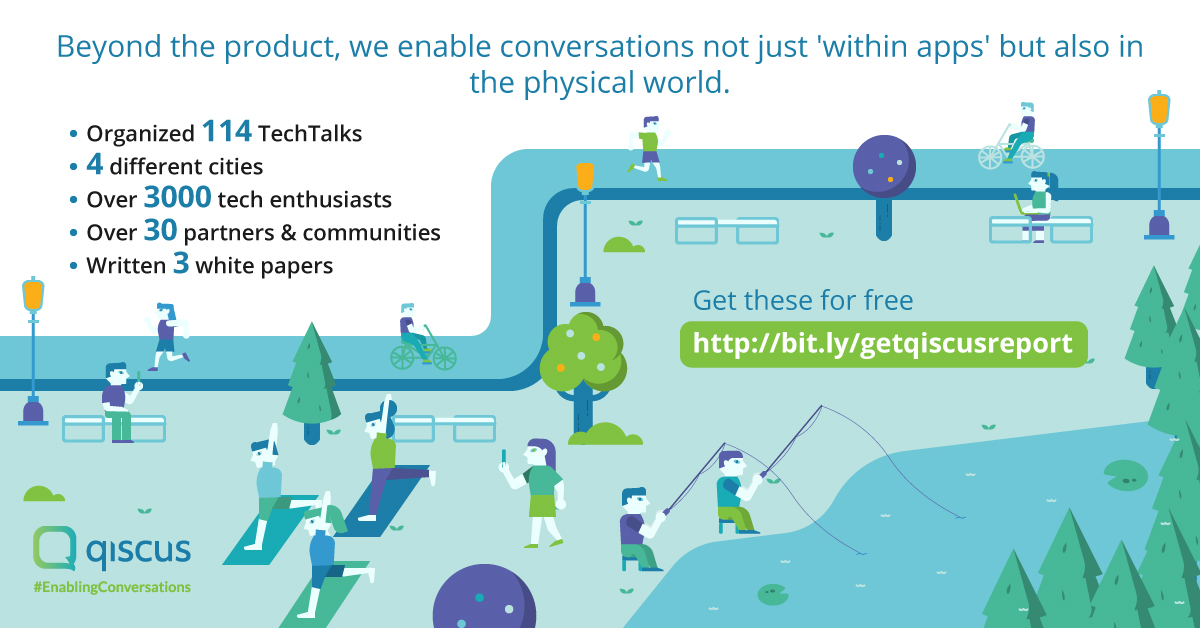 We are thankful, not only for our wonderful clients but also for the partners and tech-enthusiasts out there who have helped us to share and gain knowledge on various fields. To date,  Qiscus has organized no less than 114 TechTalks in collaboration with many companies, communities, and partners. Together, we have benefitted more than 3.000 tech enthusiasts. We have also published 3 white papers, as part of our commitment to share about technological trends in the digital world in relation to the real-time communication (RTC) technologies.
Fixing our eyes on #EnablingConversations
Indeed we are very adamant about our mission of #EnablingConversations. It started out with us developing a chat SDK that helps companies converse with their users/customers easier and more effectively. But it does not stop here. We believe in creating and promoting a culture of openness and collaboration, where people are free to share their views and achieve great things together – through quality conversations.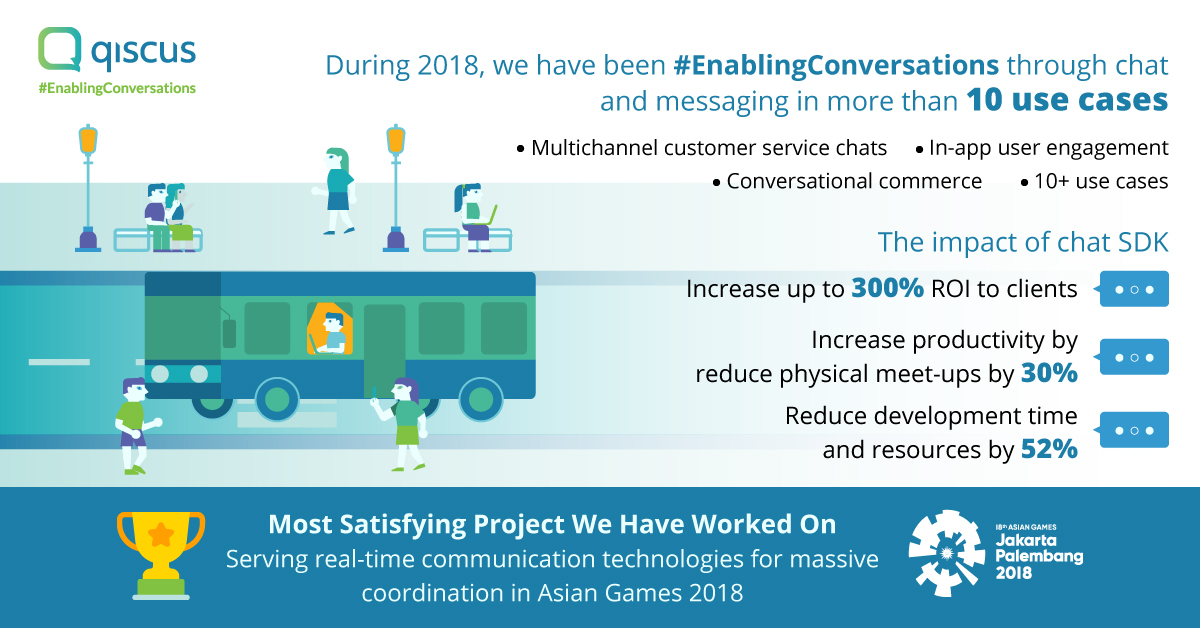 Our chat SDK has helped to alleviate Indonesia's healthcare issues by enabling patients to access quality health advice from anywhere, though apps like Halodoc; the government and the people are now able to interact directly through services like Qlue; and enterprises can hear directly from their customers like what's happening in Indosat and Telkom. This is our mission. We want our work to not just be another 'technological trend'; we want our work to truly serve the people and solve real issues in their lives. We believe we have been doing just that and we will continue to do so in the new year.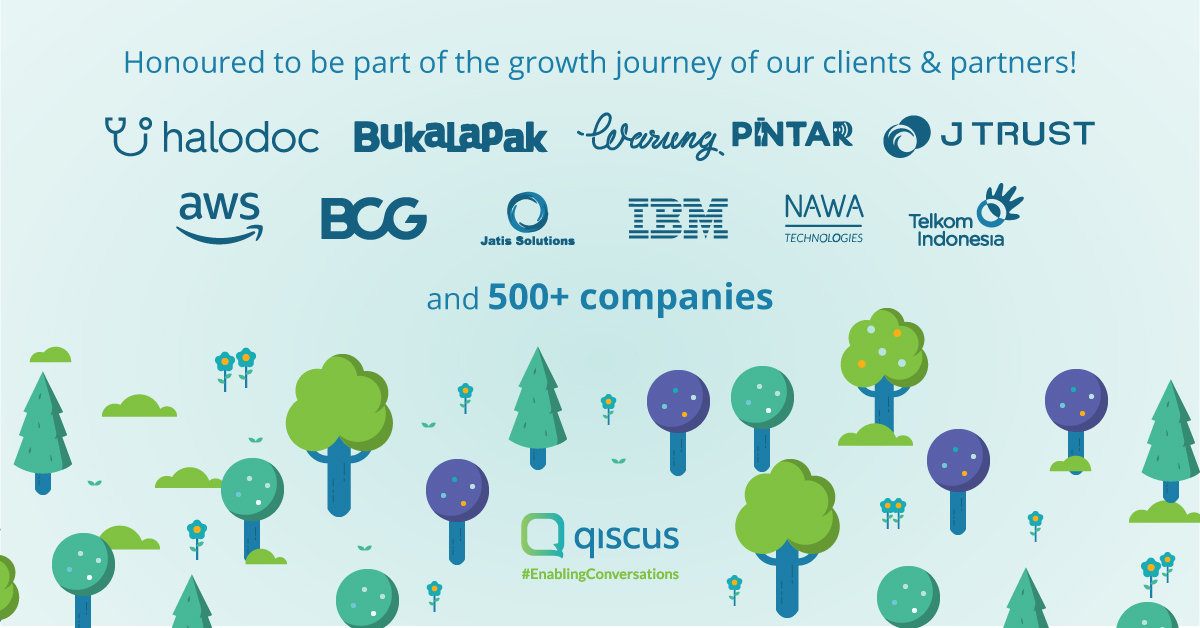 In this new year, we are set to embark on several exciting initiatives. From implementing data analytics to generate useful insights from the conversations enabled by our chat SDK, to enabling customers to reach businesses from multiple mainstream communication channels hence enhancing businesses' capabilities in reaching out to/engaging more customers. It will be an exciting year indeed and we hope to continue being part of your growth journey.
Have a wonderful 2019 everyone!