As a business owner, providing your customers with a positive customer experience will do wonders for your brand. Not just should businesses be known for both their products and services, how customers feel about and perceive your business is crucial. Improving customer experience is known to leave a sizeable impact on customer satisfaction and business revenue. In fact, companies which improved customer experience found that customer satisfaction increased by 92% while revenue increased by 84%.
The Effect of Customer Satisfaction on Business Profits
Satisfied customers will return to consume more of your business' products and services, and they won't stop there. Good customer experience also means that your current and past customers will also tend to recommend your products and services to colleagues, friends, and family. Increased purchases will highly impact business profits. When customers are loyal to a business, it was found that 86% of customers will most likely recommend the brand to their friends and family members.
Otherwise, if customers are dissatisfied with their purchasing experience or, worse, with your business, it makes sense for them to turn to a competitor brand. Studies have found that 62% of customers claimed that they stopped transacting with a brand due to poor customer experience.
Poor or lower-than-average customer satisfaction can potentially damage your brand's image, especially if a customer complain goes viral online, which has happened much too frequently for many businesses before this. This is certainly a consequence that must be avoided by businesses and is really a public relations nightmare. It is therefore crucial for businesses to continuously improve the quality of their products and services, while not neglecting customer service and experience. In realizing this, businesses should conduct surveys from time to time in gauging customer satisfaction and what exactly their customer experience is like.
This is where Customer Satisfaction or CSAT comes into play. CSAT is a feature on Qiscus Multichannel Chat (QMC) which aids businesses in carrying out satisfaction surveys and collecting the results with much ease. The CSAT application is available in Qiscus App Center and is integrated with your existing account to make data collection that much more convenient and intuitive.
How Does CSAT it Work for Business?
CSAT allows you to ask questions and measure customer satisfaction levels. Due to its quantitative nature, the CSAT score can be an exact valuable Key Performance Indicator (KPI) to measure how satisfied customers are with your business, products or services.
CSAT surveys are usually used to measure how satisfied customers are with a part of the business, whether it is the brand as a whole, a range of products or services which are provided by the brand. For instance, a CSAT survey can be used to find out how satisfied customers are with your customer service agent so that you can tweak the process to make it more useful for your customers.
Currently, the Qiscus App Center provides a CSAT application with a variety of assessment methods and is easy to implement. This CSAT application provides three types of assessment methods so you can choose which ones are suited to the needs of your business. The three methods include: numbers on a scale of 1-10, stars on a scale of 1-5, and emojis with absolute scores between 'Satisfied' or 'Dissatisfed'.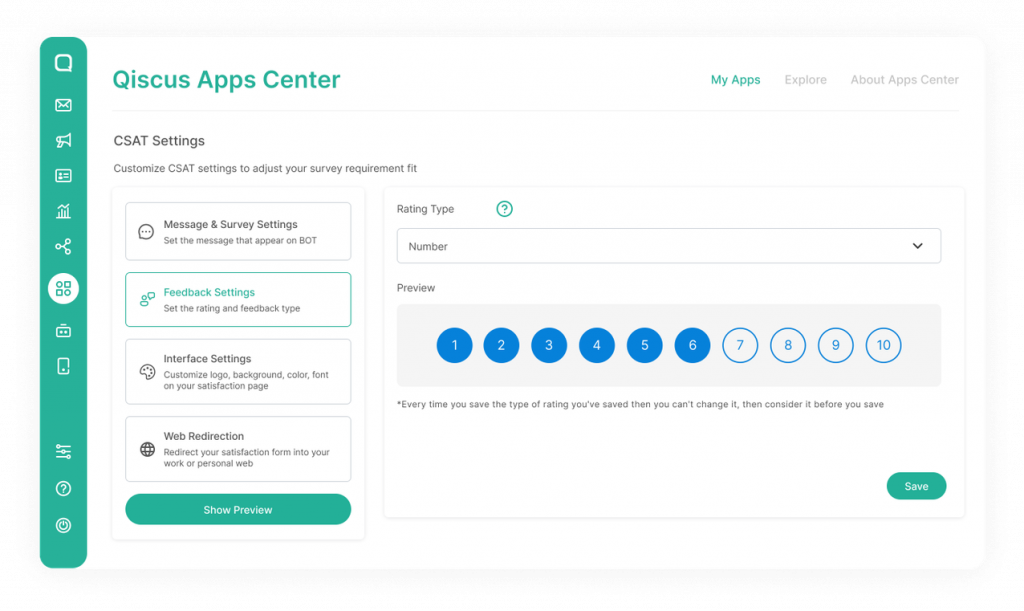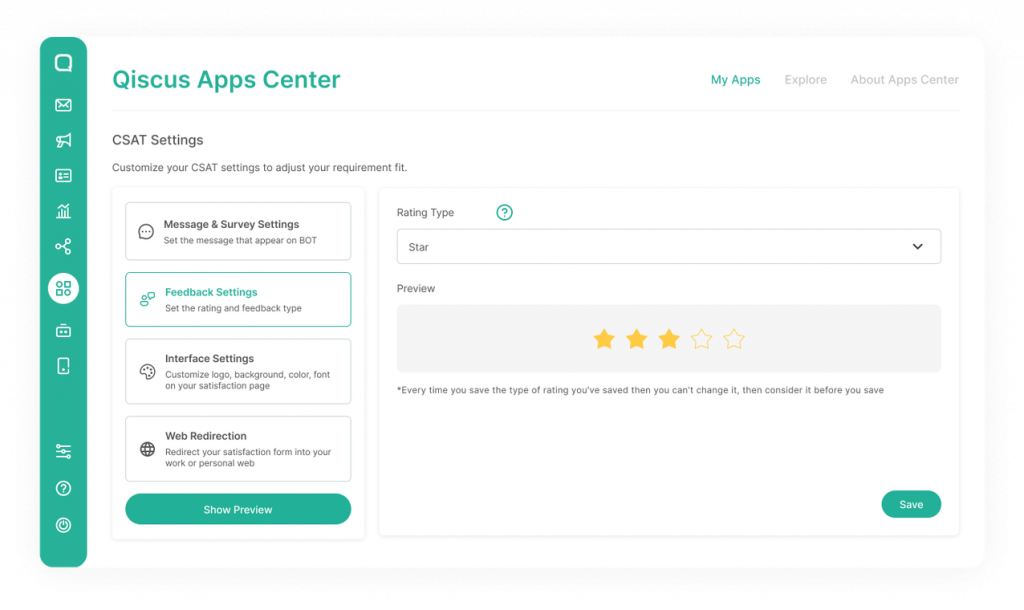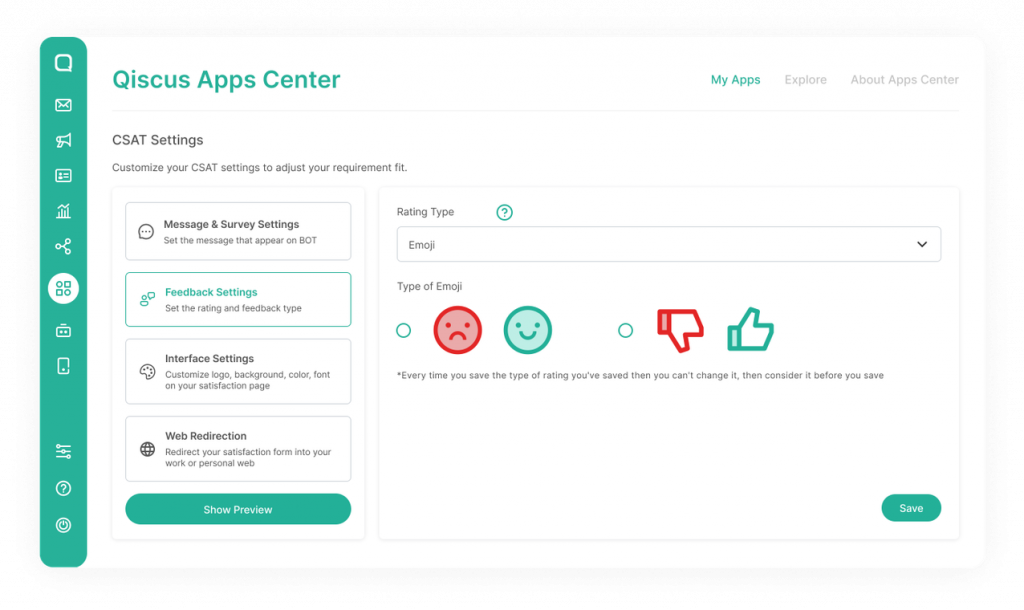 The results of this customer assessment tool can be obtained in the Custom Analytics menu within your Qiscus Multichannel Chat account.
Benefits of Using CSAT for Business
The CSAT application is designed to obtain score results or customer feedback that can be used as a reference to help determine where your business' strengths and weaknesses lie. With these references, you can analyze and learn what customers need, what they like and dislike, or which parts of the business need improvement.
If the feedback or CSAT score from your customer is satisfactory, you can use it to improve your branding or image so that it becomes more attractive to customers. Meanwhile, if the feedback or CSAT score from your customers is not satisfactory, you can get insights that can be used as evaluation material for your business ton correct deficiencies and improve customer experience before customer loyalty wanes.
Loyal customers will always be needed to ensure consistent sales. Loyal customers are a very important asset for a business. While loyal customers only make up between 12-15% of your brand's customer base, they can contribute between 55-70% in terms of sales and revenue.
CSAT Ensures Businesses Achieve Customer Satisfaction
Maintaining customer loyalty requires a great deal of hard work and strategies. It can be demanding for businesses to meet the diverse and specific needs of customers to ensure that they return to your business. For that, businesses will need to ensure consistently good scores on their CSAT surveys.
A CSAT score can provide accurate data that reflects whether customers are satisfied or dissatisfied with your business. Customer satisfaction plays an important role in contributing to business growth and if customers continue to feel dissatisfied and lose interest in returning to your brand, it will be difficult to grow and maintain a profitable business.
Get the CSAT App from Qiscus App Center and Improve Your Customer Experience
In the end, ensuring that customers receive a positive customer experience when transacting with your business is an effective stragegy to maintain business growth. Therefore, it is important for businesses to invest their time in administering CSAT surveys to continuously improve the quality of their products, services, and even the brand itself.
With the CSAT available in the Qiscus App Center, you will be able to identify where the strengths and weaknesses of your business lie. You can analyze and learn what your customers need or prefer, improve the quality of your products and services and in the end provide a better customer experience.
To access the CSAT app, you need to first integrate the Qiscus App Center with your Qiscus Multichannel Chat. If you are interested and would like to discuss further, please contact us here.