Chocochips Boutique is one out of millions of retailers in the fashion industry which self-manufactures its own apparels. While it has a brick-and-mortar presence, Chocochips Boutique is also active on digital channels such as Instagram, WhatsApp, and Facebook. To date, Chocochips Boutique has more than 311, 000 followers on Instagram.
Read how this young-adult fashion business uses Instagram as an effective medium to communicate with consumers and improve its sales performance.
Chocochips Boutique: Reaching consumers through digital and offline channels
Since its inception in 2009, Chocochips Boutique has owned 5 flagship stores located in Jakarta, Medan, and Surabaya. Besides its offline marketing activities, Chocochips Boutique is also active on digital channels such as Instagram, WhatsApp, and Facebook.
We can't deny that Instagram is one of the most popular social media channels used by various types of businesses. This is because Instagram has a large user base, especially in Indonesia. Instagram itself has been implementing various innovations in terms of its features, specifically the Instagram Shop feature that makes it easier for businesses to sell and promote their products on Instagram.
It has been almost 5 years since Chocochips Boutique began using Instagram Business, Chocochips Boutique has more than 311,000 followers on Instagram. On its Instagram account, Chocochips Boutique actively shares about various product updates, both on Instagram Feeds and Insta-Story
Chocochips Boutique also avidly explores other Instagram features. For example, it consistently uses the Instagram Live feature t least 2 to 3 times a month. It also uses the Instagram Story Polls feature to conduct simple surveys to understand its consumers. However, regards the Instagram Direct Messages (DM) feature as the most important and regularly used to communicate with its followers.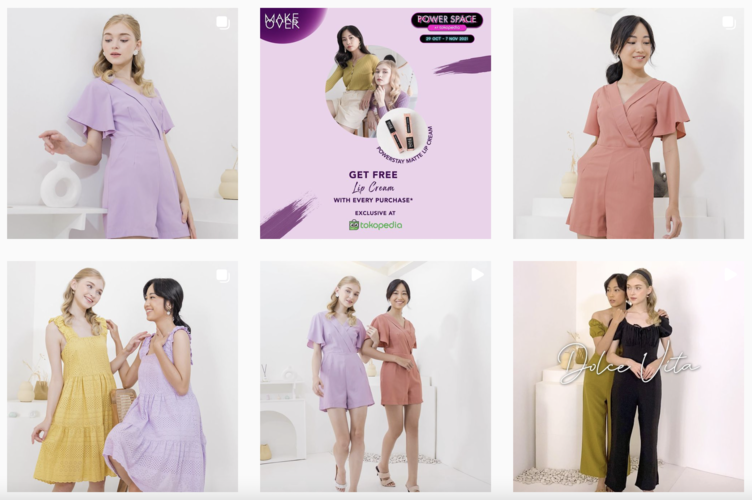 How does Chocochips Boutique serve its consumers through Instagram?
With such a large base of followers, Chocochips Boutique is always receiving an overwhelming number of DMs from its consumers, both on Instagram and other channels, every day. To manage this, Chocochips Boutique implements the Qiscus Multichannel Chat (QMC) dashboard to handle the high volume of incoming messages from various channels.
All incoming messages from various channels are integrated in a single dashboard on QMC so that Chocochips Boutique's customer service agents can operate from a centralized app. With this integration, Chocochips Boutique is now better able to manage enquiries, complaints, and even carry out transactions with consumers all on one system. Unfortunately, at that time, integration of Instagram into QMC was not available yet.
Chocochip Boutique receives an average of 30 messages from consumers on Instagram everyday and this does not include the messages coming from other channels. At that time, Chocochips Boutique only utilized Instagram to manage incoming messages related to products and has not allowed transactions to be made via Instagram DM. When consumers indicate interest to order their products, these consumers will be directed to other communication channels where transactions are made possible.
With the increment of incoming messages on Instagram, and with the launch of Messaging API for Instagram in the middle of 2021, Chocochips Boutique decided to integrate its Instagram account with QMC to maximize their service on Instagram. This is intended so that the customer service team will be able to deliver timely and quick responses.
How Chocochips Boutique maximizes Messenger API for Instagram
With the launch of Messenger API for Instagram, Chocochips Boutique can now integrate its Instagram account with other communication channels through QMC. This means that all of its incoming messages will be located in a centralized, single dashboard.
The use of Messenger API for Instagram brings various impact for Chocochips Boutique, including managing product orders directly on Instagram. This eases consumers who can now purchase via Instagram, making the shopping experience more comfortable and easier since they they will no longer be diverted to other channels. In addition, this solution also gives Chocochips Boutique the ability to monitor its agents' performances on Instagram.
Through that data, Chocochips Boutique can now have various insights that can be used as a form of recommendation for creating Standard Operating Procedures (SOPs), which includes the maximum consumer waiting time to receive a response from their agents. This piece of information is helpful because it realises that a quick response time will bring the customer satisfaction and lead to more positive feedback.
There are many features in the Messenger API for Instagram which can help businesses to improve customer experience. These include Quick Button, Private Reply, and Story Mention features – these functions will be more complete and powerful when integrated with QMC. As an example, Chocochips Boutique now has various accurate and complete insights related to its communication services on Instagram because of the Analytics feature. These insights are certainly very helpful for Chocochips Boutique to evaluate and improve on areas it feels need work on.
Besides its significant impact on customer services, this implementation has also enhanced its sales performance. Chocochips Boutique has experienced an improvement in its sales performance of up to 2 times than before purely from social messaging.
Easily create a positive customer experience on Instagram with Qiscus Multichannel Chat
Operating on Instagram today is second nature for many businesses, and communicating with consumers is an important thing that businesses should not overlook.
If you want to maximize your brand's customer service experience just like Chocochips Boutique, discuss with our team to get the most relevant recommendations for your business.