In early November 2018, the 112th Qiscus TechTalk was held, touching on how financial technology (fintech) can be used to meet the expectations of customers today, in particular, the Indonesians. Held by Qiscus in Kantorkuu, this event included panelists consisting of esteemed fintech players: Teddy Tee (CEO Cashlez), Johnny Widodo (Director OVO), Adjie Wicaksana (CEO Halofina) and Ferdyansyah Assegaff (VP of Fintech JTrust Bank Indonesia). The discussion was moderated by CEO of Qiscus, Delta Purna Widyangga.
Indonesia is a very mobile-centric market. Wall Street Journal cited that the Indonesians install on average 4.2 messaging apps in their handphones. Another study by We are Social, found that Indonesia has one of the highest and most active social media users in Southeast Asia.
It is therefore not surprising that Indonesian consumers are spending a major part of their lives on mobile phones; from social interactions to making purchases for their daily need. Convenience, on-the-go, fast, real-time, bite-size and personalized are some of the core values that consumers today are expecting, which have one way or another, forced businesses to innovate.
"Customers today just want things simple and instant."
Innovation does not come easy in a risk-averse industry, such as the financial services industry. However, things are changing as executives understand the potential impact that these new customer expectations can have on their businesses. In PwC's Global Fintech Report, 88 percent of executives surveyed reported that part of their business is at risk due to standalone fintech companies, and 77 percent of them will increase their internal innovation efforts over the next three to five years—choosing to become self-disruptors rather than being disrupted.
Crux of the issue
Customers' expectation evolves hand-in-hand with their needs and behavior. This phenomenon drives businesses to evolve specifically in finding new ways to meet customers' needs the best way possible. In the banking industry, for example, banks evolved from only offering savings services to enabling cashless transactions through credit/debit cards and offering an integrated payment solutions, such as the virtual accounts.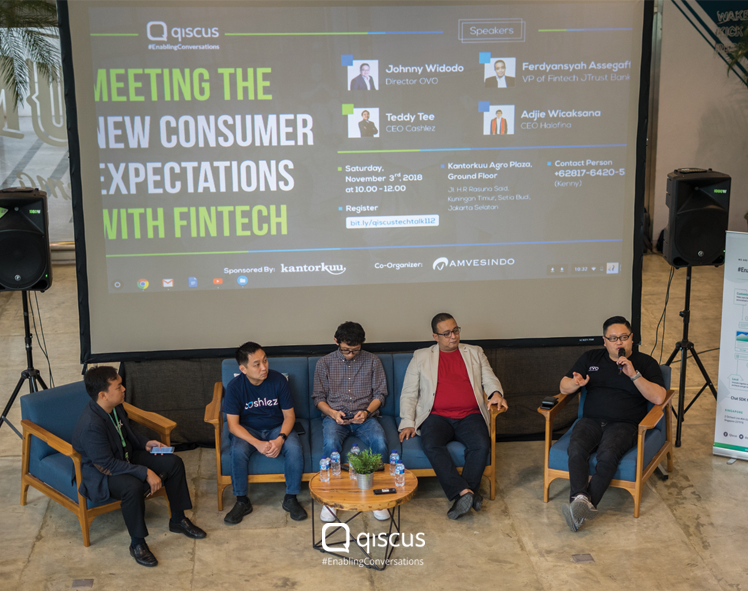 The heat to evolve and innovate is getting hotter than before and business in the financial/financial services sector are definitely feeling it. Especially in Indonesia where the millennials make up to 50% of the current population, making services and products available as easily and fast are now the basic expectations of consumers. Speed and convenience are two values essential in the whole experience of utilising the products/services.
Indeed, for businesses today, experience is now a key differentiation factor. It is no longer about competing based on features, whatmore price. The fact is that 76% of customers are likely to switch from one brand to the other in order to find the most suitable experience that matches their expectations. This is definitely something businesses cannot take lighly, especially those in competitive industry such as the financial/financial services where it is no longer a game of "big fish eating the small fish, but the fast fish eating the small fish".
"It is no longer a game of big fish eating the small fish, but the fast fish eating the small fish."
What are fintech players doing
Undoubtedly, the focus on giving the best experience to consumers are making businesses more 'creative'. We are now seeing players focusing on personalized and interactive experience. This is the right move.
Coming from a big bank, Ferdyansyah Assegaff cited that they have been trying their best to evolve and constantly asking the question of "What's next? What we have to do to meet the expectations?". For JTrust Bank Indonesia, this is the fuel for their desire to innovate. With this desire, they have opened the door of collaborations with other fintech players such as UangTeman to reach out to the unbanked, which banks traditionally are unable to do as effectively as the startups. Additionally, they turned to technology enablers such as Qiscus to deliver the best experience – as expected by consumers' today – to their customers.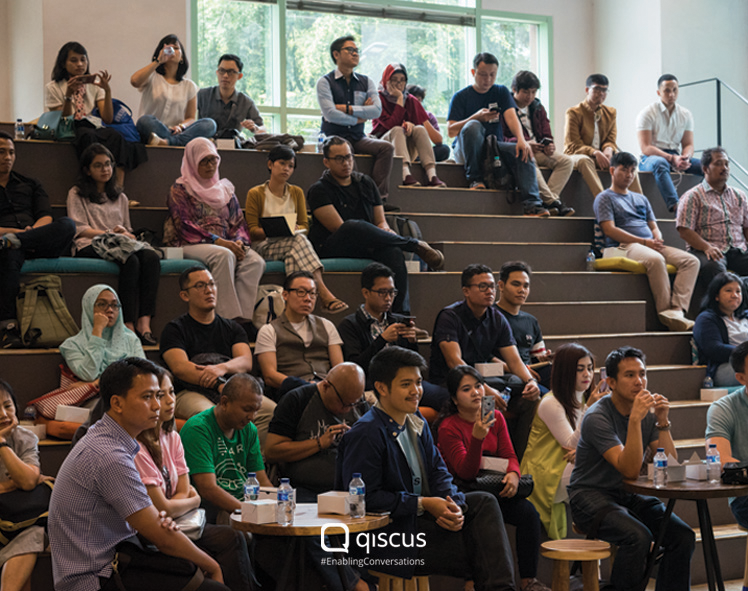 While consumers really want "Simple and Instant", it is tough for merchants to catch up with these trends/expectations. This is what Cashlez is solving. Teddy Tee shared that an integrated solution – backend/frontend commerce systems seamless integrated into payment solutions –are crucial in bridging the Online-to-Offline transactions and enable merchants to focus more on increasing their sales.
As for the financial services sector, Halofina is changing the way they meet the financial literacy gap in Indonesia; only 3 of 10 people in Indonesia that financially literate, this number is abysmal compared to the neighboring SEA country, Thailand, as 78% of their citizens are well aware on how to use financial products optimally. Aligned with the expectations of millennials, with the help of Qiscus, Halofina utilizes real-time communication technology to bring financial information right into the hands of its customers.
Innovation is necessary, if it is done the right way
It's all about the experience. Convenience, simple, instant, personalized, interactive etc are just some values which make up a 'great experience'. While businesses are doing their best to innovate, we thought one question that as asked by one of the attendees hit the mark when it comes to ensuring we innovate for the 'right' reason:
"What is the impact that you hope to achieve with the innovation that you are embarking on? Is it better customer service or increase bottomline or…"
At the end of the day, businesses need to understand the impact of innovation – and be very clear of this. Innovation is indeed sexy but the innovating the wrong way may bring about negative ROI. This is precisely why in Qiscus, we place much importance in #enablingconversations between industry players and experts. The learning that takes place between businesses will be very much beneficial to ensure we do not fall into this 'pitfall of innovation'.
While we are on the topic of innovation, there are 4 commonly discussed issues/trends which businesses may want to look at:
Disrupt or Be Disrupted

– Businesses which are complacent in using technology to meet the demands of consumers today will be disrupted.

Mobile is the future of everything

– If people cannot access your products, goods, and services on a mobile device, you are losing out.

"Go digital" or go home

– Customers want specific services tailored to their needs and they expect businesses to deliver those needs to where they are when they want it and how they want it.

It's no longer about Corporates VS Startups

– Collaboration between the two spheres has proven to be critical when it comes to solving market needs fast and efficiently.
We asked our esteemed panelists to comment on the above perspective as well. We will dedicate an article for each of them and will include comments from our panelists. Keep a lookout for it.
In the meantime, if you need any discussion on how your business can innovate using fintech or real-time communication technologies such as chat and calls, simply drop us a note at [email protected] and we will be happy to have a pro-bono discussion with you on this.