Being one of the best and largest cosmetic manufacturers in Indonesia since 1985, Paragon develops, produces, and distributes various beauty brands. Paragon continues to innovate and develop within the cosmetics industry with more than 10,000 employees referred to as "Paragonians". Wardah, Make Over, Emina, and Kahf, are cosmetic brands aligned with Paragon's values of Good Manufacturing Practice (GMP) and Halal Assurance System (HAS).
As one of the best and largest cosmetic manufacturers in Indonesia, what exactly is the goal of Paragon Technology and Innovation?
Staying Focused on Customers' Interests
Bringing values and vision to continue striving to be the best beauty solution in Indonesia, Paragon is committed to staying focused on its customers. This commitment was proven when the lockdown in 2020 and 2021 impacted all retail stores that provided products from Paragon. Its beauty advisors were not able to meet directly with customers and it posed a huge challenge and affected their revenues.
Facing these challenges, Paragon strived to realize its commitment to focus on customers by improving the capabilities of its beauty advisors by providing them with expertise in offering, consulting, and providing recommendations to online customers.
Paragon decided to integrate the WhatsApp Business Platform—the most popular messaging platform in Indonesia—into its website and social media pages. Adding links to WhatsApp across its digital channels, including its WhatsApp contact information on all its packaging, was part of Paragon's strategy to increase market share by giving customers the room to purchase beauty products through their favourite messaging platform.
By partnering with Qiscus to find solutions to the challenges faced in their digital communication flow, Paragon initiated a consultation experience through an online beauty advisor — previously functioning offline — by successfully curating a personal experience for customers to have their queries answered via WhatsApp.
How Qiscus and WhatsApp Helped Paragon Achieved its Goals
Considering the significant role of social media, the WhatsApp Business Platform, integrated with Qiscus Multichannel Chat, helps Paragon's customer service team to manage the high volume of messages, thus enabling direct consultation with customers to increase sales and retain its customers.
Taking advantage of a bot that automatically triggers a simple menu at the start of a conversation helped direct customers to agents who were able to directly address their needs. The bot's capabilities are also very helpful in simplifying the classification and management of customer enquiries.
Integrating a "Click to WhatsApp" button on their website, Paragon created workflows with multi-agent access to manage incoming messages from various e-commerce platforms. Thus, Paragon saw an increase in direct sales and minimized customer loss, which is a typical outcome when customers have to open an external website. On WhatsApp, customers could easily use the Explore Online Store feature and view related catalogues.
Furthermore, by bringing an offline shopping experience to an online platform, Paragon can now offer a personal shopper experience through WhatsApp when integrated with Qiscus Multichannel Chat. It also allows customers to receive detailed product information during its conversations with customer service. This solution allows beauty advisors to provide consultations and recommendations that suit each customer's needs accurately and quickly.
Increasing Sales with WhatsApp Business Platform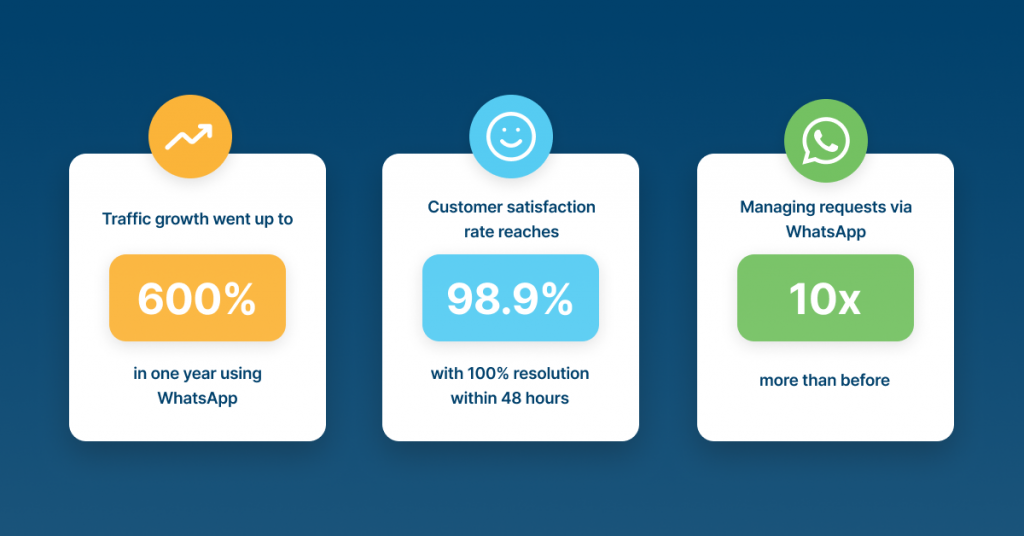 In its first year using the WhatsApp Business Platform, Paragon was able to increase traffic growth by up to 600% and received ten times more requests via WhatsApp.
"Choosing the WhatsApp Business Platform was critical to Paragon's social commerce growth and has been the basis for our acquisition and loyalty program."

Tessi Fathia Adam, Senior Head of Digital Transformation
WhatsApp Business Platform enabled Paragon to offer personal interactions with customers so that it can build customer satisfaction and increase sales. Moreover, Paragon's innovative approach has increased customer satisfaction by up to 98.9%. The WhatsApp Business Platform allows agents to provide more personalized recommendations and efficiently manage complaints, where dedicated agents can resolve incoming feedback.
Together with Qiscus, Paragon wants to consolidate WhatsApp as an active, interactive communication platform and expand its reach to many parties. This is of course in line with the Paragonian mission to serve customers and continue to provide the best solutions for them.
Create Interactive Digital Communication with Qiscus
Paragon is proof that creating digital communication channels not only increases productivity but also increases customer satisfaction and improve sales levels. Together with Qiscus, we can help your business achieve what Paragon has experienced. Feel free to ask questions or consult with us here.