Qiscus Omnichannel Widget is one of the latest new features launched at the annual Qiscus conference, Conversa. This comes after a re-branding of its existing multichannel dashboard to become the Qiscus Omnichannel Chat. The omnichannel widget feature is one of the main features on the dashboard.
The Qiscus Omnichannel Widget is a channel widget that can be installed on any business-owned website. This widget can be linked to various types of channels owned by the business or brand. Using the widget will help businesses feature what channels they are available on and will help potential customers search for the business or brand's official channels.
With the widespread use of many digital channels among consumers today, there are endless opportunities for businesses to be present and accessible on these channels. It is thus important for businesses to ensure that their channels can be reached by all target audiences.
Meanwhile, the audience certainly has different preferences of which channel to use. For example, audience A may prefer to access a brand's official Instagram account before deciding to contact the business via WhatsApp. Meanwhile, audience B might prefer directly contacting businesses via Twitter accounts. Understanding the diverse practices and habits of consumers is the impetus behind releasing our new widget omnichannel feature.
The Qiscus Omnichannel Widget feature is perfect for use by businesses and brands with the following criteria:
The business or brand already has a professional official website
Businesses have more than one channel devoted to customer support, sales, and marketing needs
Businesses require a widget to feature all the channels they are available on
Because this omnichannel widget is a feature of the Qiscus Omnichannel Chat, businesses do not require a long process to begin using it. The full tutorial will be explained below.
Tutorial on Using Qiscus Omnichannel Widget
Log in to the omnichannel dashboard via the link omnichannel.qiscus.com using a registered account. If you don't have an account yet, you can contact our sales team here.
Next, click the Integration menu located on the left menu bar. Then, click the Qiscus Omnichannel Widget menu and then click + Add Qiscus Omnichannel Widget on the right.
In this section, you can upload images for the Channel Badge Icon and also set the Channel Name according to your brand's needs. After that, click Next.
If it is already, you will find the Widget Builder section. Then, click the Channels menu on the left and click the Enable Channels toggle until it turns green to be able to link up to various channels.
Several columns will now appear below which you must complete. These columns are Title, Subtitle, Live Chat Name, and Live Chat Icon which you can customize to your preferences. You will also be able to view a temporary display via the preview window on the right.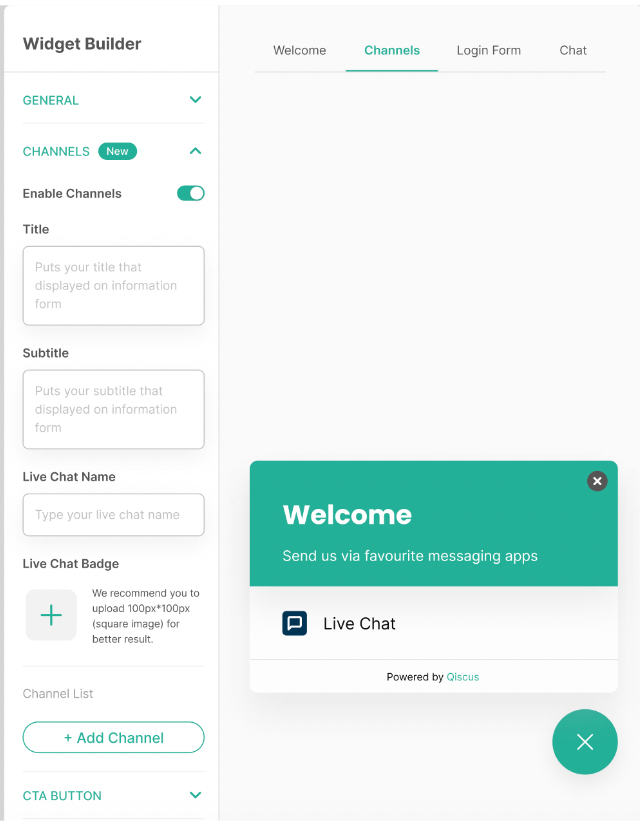 If all the columns have been completed, you can now click + Add Channel in the Channel List section located on the bottom left.
Now, complete the column on the right as shown in the image below. Then, click Add to add the channel you want to link it up too.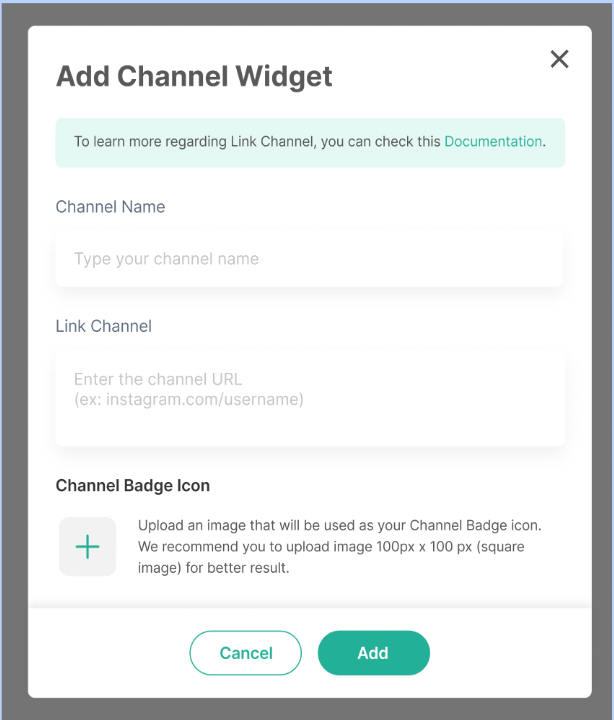 Next, repeat Steps 6 and 7 to continue adding your preferred channels. You will be able to add over 5 channels in one widget, as shown below: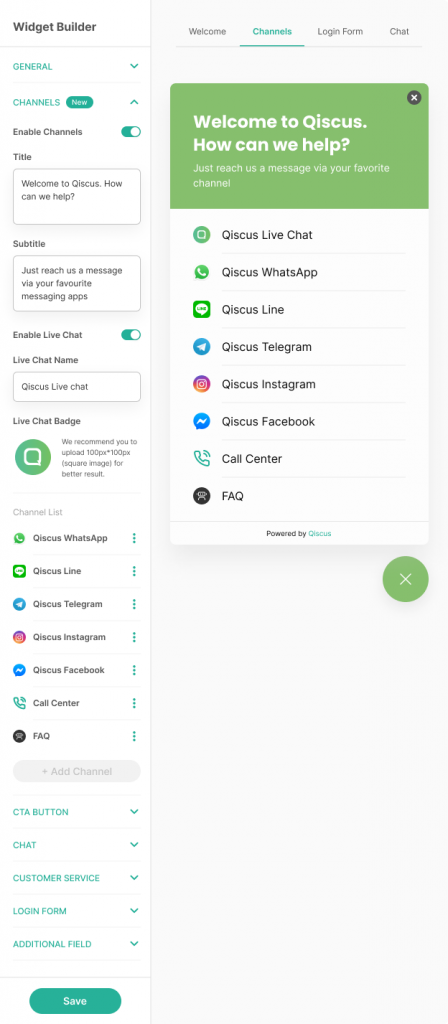 Next, you can simply repeat steps 6 and 7 to continue adding the desired channels according to business needs. You can add up to more than 5 channels into a single widget, as in the example below:
If you want to make changes or delete a previously added channel, you can simply click on the 3 dots icon located on the bottom left right next to each channel. Then, click on either Edit Channel or Delete Channel respectively. Examples can be seen in the image below:
For those of you who experience problems in the Qiscus Omnichannel Widget installation process, you can contact our business team via the following link. You can also contact our support team for technical assistance.