Messenger API for Instagram, released in June 2021, aims to create meaningful conversations for brands and customers. API, also known as Application Programming Interface, is a set of codes that can be integrated with specific software to connect with Instagram. This means that businesses can integrate the Messenger API for Instagram into multichannel, such as Qiscus Multichannel Chat.
Integrating Messenger API for Instagram into Qiscus Multichannel Chat can shorten your time as a business or brand owner in replying to messages from consumers since all channels, such as Instagram, WhatsApp, LINE, and so on, can be accessed from one dashboard, .
The Difference Between Instagram Messaging and the Messenger API for Instagram
Instagram Messaging is a private chat feature available on Instagram. This feature is used to communicate privately with followers on the photo-sharing platform. In accessing Instagram Messaging, an Instagram mobile application is required. Of course, for businesses to reply to messages from consumers one by one on the app, it will be time-consuming if they have to access Instagram Messaging from more than one device.
With the Messenger API for Instagram, businesses no longer need to access the Instagram mobile app to reply to customer messages through multiple devices. Increase efficiency by integrating the Messenger API for Instagram onto Qiscus Multichannel Chat alongside with all the other communication channels you use to connect with your customers.
Consumers expect businesses to respond to their messages in no time. Businesses that can respond to their customers quickly will see better returns. The presence of the Messenger API for Instagram is expected to simplify the communication process between businesses and consumers.
However, whenever a consumer communicates with a business, the 24h Standard Messaging Window (SMW) opens. How does the SMW work?
Standard Messaging Window: Communication Between Business and Consumer
There is a window period for businesses to communicate with their customers on Instagram. This is called the Standard Messaging Window (SMW), which is open only for 24 hours. In the SMW, businesses and consumers are able to send messages to each other without any problems only within the 24 hour period. Beyond that, no more communication between businesses and consumers are allowed.
Some things that can start the SMW period between businesses and consumers include:
When a user sends a message to the Page. A consumer who starts a conversation by sending a message to a business will begin the SMW.
When a user clicks a Call-To-Action (CTA) button, such as Get Started within a Messenger conversation. The SMW can also be opened by clicking on other available CTA buttons.
When a user clicks on a Click-to-Messenger ad and then starts a conversation with the Page. By clicking on the CTA button in an advertisement published by a business, consumers can also trigger the SMW period.
When a user reacts to a message. Consumers who leave reactions or replies to messages, just like in the illustration below, can trigger the SMW as well.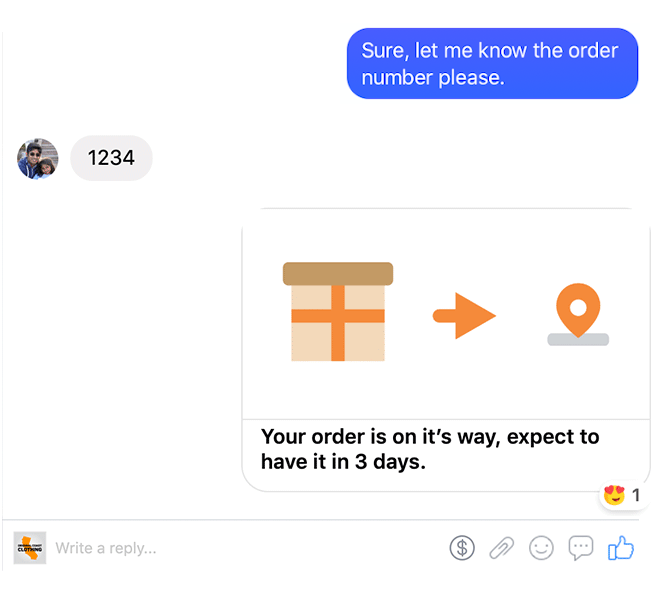 Besides some of the ways above, there are many other ways to start the SMW. It can be activated automatically when a consumer initiates a conversation with a business in any way.
However, businesses can also send messages to consumers beyond the standard 24 hour SMW. These messages can be sent in the form of sponsored messages or message tags. For more details, you can learn more here.
Creating a Positive and Responsive Customer Experience
As already mentioned above, be where your customers are. Business owners must be present on their consumers' platforms, one of which is Instagram. Managing direct messages on the Instagram app can be time-consuming and can impact providing a good customer experience.
Qiscus Multichannel Chat is here to help your business create a positive and responsive customer experience by allowing you to manage Instagram messages in one dashboard. Integrate your business' Instagram Business account and increase sales with Qiscus here.