Previously, we shared that Facebook has made changes to the costing system for entities sending messages via WhatsApp API. In response to this development, Qiscus has made several adjustments to facilitate how businesses can navigate these changes made by Facebook.
On top of helping businesses adapt to the new changes, these adjustments are also designed to provide a better user experience for Qiscus Omnichannel Chat users.
Here are some of the developments:
Credit Balance
One of the significant changes in calculating the cost of messaging comes in the form of conversation-based pricing. Facebook has identified two categories of conversations: Business-Initiated and User-Initiated. Each conversation type has been allocated a different price based on the country code of the subscriber's phone number.
Qiscus Omnichannel Chat has now adjusted the name of the deposit balance. Previously know as Quota, this has now been renamed to Credit. Every business-initiated message will lead to a deduction of the credit according to the cost of each initiated message.
Monitoring Types of Initiated Messages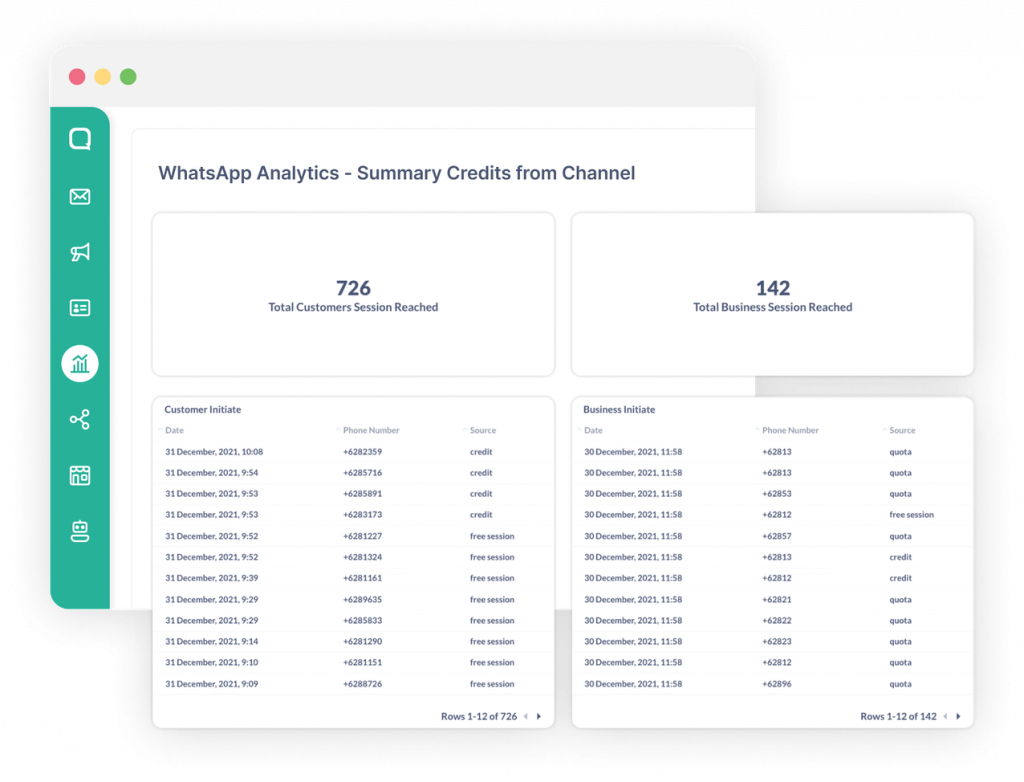 Qiscus Omnichannel Chat is able to monitor the types of conversations, either Business-Initiated or User-Initiated and is able to record the number of initiators carried out by a business within a certain period of time. The monitoring data that appears can be selected from every WhatsApp Channel owned by the business. With this monitoring system in place, it is hoped that it businesses will find it easier to tweak their strategies to optimize their balances.
Self Top Up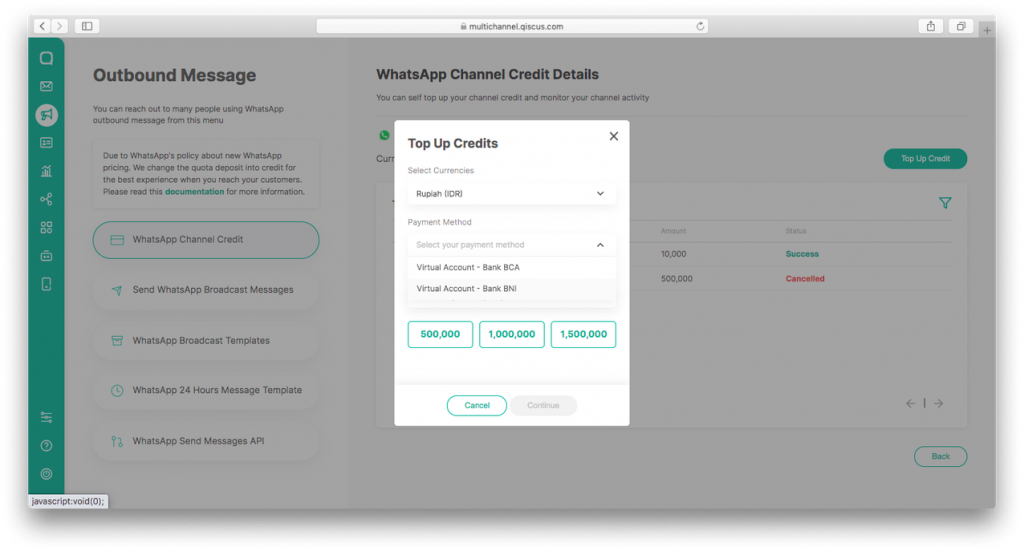 To provide a more efficient experience for users, Qiscus Omnichannel Chat now has a new feature called Self Top Up. This feature makes it easier for businesses to increase their credits at their own time through the Omnichannel Chat dashboard. Supported by a payment system that utilizes virtual accounts from BNI and BCA, it is hoped that payments will become easier and more systematic for users.
In addition to the developments above, Qiscus Omnichannel Chat has also introduced a bonus to businesses in the form of free sessions. Free sessions are a number of sessions that can be used by businesses to initiate conversations with customers without incurring any costs. As long as users have not used up the quota for their free sessions, they can continue to initiated conversations even if they don't have credit in place. The number of free sessions provided depends on the plan used by the business, and will be reset on the first day of every month as long as the business is still subscribed to a plan.
This development is expected to help businesses adapt and get used to the latest pricing changes imposed by Facebook. If you have any questions or require additional information, please contact us on the following link.