We all know that WhatsApp Business API is a communication channel specially designed by WhatsApp for businesses for easy communication with customers. To remain as a high quality and best communication channel for all businesses, WhatsApp Business API provides various features and privileges for its users. One of them is WhatsApp Business API which allows business to access one WhatsApp account from many devices. Moreover, WhatsApp Business API is also supported by various features that differentiate it from personal WhatsApp and WhatsApp Business, namely Outbound Message Templates. What is it like and how do we use Outbound Message Templates? Read the following article to find out more.
Understanding Outbound Message Templates
Before we discuss further about Outbound Message Templates, let's talk a little about the outbound message and message templates.

Outbound messages are business-initiated messages to customers or simply messages sent from a business to customers. In WhatsApp Business API, outbound messages are divided into several types, including WhatsApp Broadcast Message, and WhatsApp 24 Hours Message Template.

All outbound message activities initiated by a business account, where the business attempts to send messages to customers outside the customer care window (including broadcast message templates), will be charged according to the rules set by Facebook. This fee is applied by Facebook on the WhatsApp Business API to prevent businesses from spamming in any form (including broadcast messages), which can make consumers uncomfortable.

There are several things that must be fulfilled to send outbound messages to customers, one of which is using message templates. The message template itself is pre-approved as we need WhatsApp's approval before you are able to send it to the customer. In creating message templates, businesses must always pay attention to the terms and conditions imposed by WhatsApp. Businesses can send message templates after they have received approval from WhatsApp.

We can simply say that an outbound message template is a message in template form, initiated by a business meant for customers. The outbound message template can be used by businesses for various purposes, such as informing customers of shipment updates, payment confirmations, reservation confirmations, and appointment updates.
What Are the Forms of Outbound Message Templates?
1. WhatsApp Broadcast Message Template
WhatsApp Broadcast Message is a broadcast template that businesses can use to send to customers on WhatsApp Business API channel. In outbound message activities, WhatsApp Broadcast Message can be used for several things, such as shipment updates, payment confirmation, ticketing updates, appointment updates and more. To create a WhatsApp Broadcast Message, you must have a message template that has been approved previously by WhatsApp.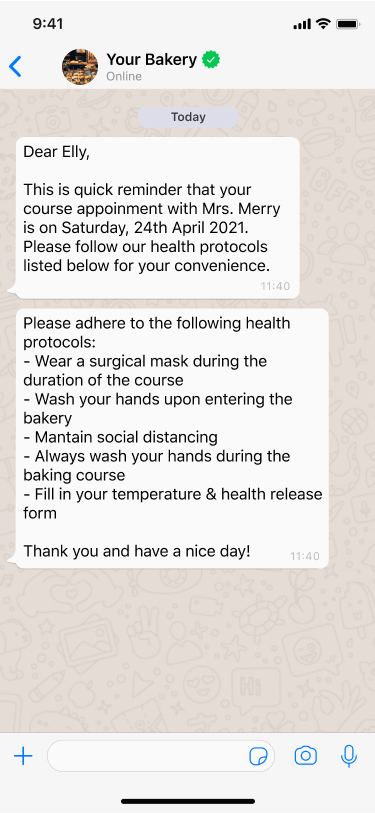 In the WhatsApp Broadcast Template feature on WhatsApp Business API, you can easily set broadcast templates, such as adding new message templates, searching, deleting, and viewing broadcast template details. For example, when you want to add a new template, you only need to click the "New Template" button in this feature and follow through the rest of the process.
2. Template Messaging 24 Hours
As a conversation channel that is committed to keep building real-time conversations, WhatsApp has a policy that businesses can only reply to customer messages within 24 hours of the last chat sent by the consumer. Beyond these 24 hours, the business will not be able to respond to messages from these consumers. However, WhatsApp has a solution to help you can continue the conversation by sending a 24 Hours Messaging Template.

24 Hours Messaging Template is used to encourage consumers to continue from previous conversations that have passed long after a 24-hour period to activate the customer service window again. Businesses do not need to be charged when replying to consumer messages. Just like Broadcast Template Messages, to be able to send 24 Hour Template Messages to customers, a business must have a 24 Hour Template Message that has been approved by WhatsApp first.

Once the template has been approved, follow these steps on a chat of a channel that has exceeded the 24 hour deadline:
Select a chat from the WhatsApp channel that has exceeded 24 hours
Click the 'Send Message Template' button in the send message area or in the chat & customer information area
Select the language for the 24 hours Message Template you want to send
Finally, click on the 'Send' button to send the 24 hours massage template to the customer
Wait for your customer to reply
What If We Don't Have Outbound Message Templates?
Don't worry if you don't have a pre-approved message template yet. Here are the steps for submitting a message template to WhatsApp:
Select "No, I don't have any broadcast template before", then click the "next" button
Select the WhatsApp Account you want to use
Fill in the name of the Message Template you want to create. The Message Template name are only allowed lowercase and underscore alphanumeric characters
Select the Category you prefer
Select the desired language. You can add several languages to suit your needs. You can read the following link to find out which languages are supported by WhatsApp
Click "Next"
In the next section, you are required to fill in the desired content. The content consists of a Header, Body, Footer, and Buttons. Body text can only contain a maximum of fifteen variables. For more information about the terms of this message template, you can read here.
If all the sections have been filled in, then you can send the message template for review by WhatsApp. If your template is approved, the status will change to 'Approved' and you can use the message template immediately. However, if it is not approved, then the status will change to 'Rejected.'
Try it Immediately!
The various descriptions above are an overview of how to use the message template outbound feature in the WhatsApp Business API. Through this feature, you can create outbound messages to your customers more easily and comfortably on WhatsApp Business API. Get WhatsApp Business API via Qiscus Multichannel Chat to enhance your business communication experience with customers. Want to try? Contact us here.