Based on the Global Financial Inclusion Index released by the World Bank, Indonesians' bank accounts have grown by 49% in 2017. This figure is a significant growth as just a few years ago in 2011, only a mere 20% of the population in Indonesia owned bank accounts. This growth in 2017 is also considered the highest growth ever chartered across East Asia and the Pacific. Although it was a significant increase, in actual fact, it is still below the world average in which many as 69% of adults have bank accounts.
In Indonesia itself, 33% of the population who do not own bank accounts stated that staying far from the bank as the main reason why they fail to open a bank account. In addition, most of them are workers in the private sector or small and medium companies where the wages are still paid in cash.
Another probable reason is that many of those who do not own bank accounts are from the middle to lower classes who usually are unskilled workers whose incomes are uncertain. They simply do not have sufficient money to open an account.
This is also worsened by their lack of knowledge about the banking system. Many of the regulations in the banking system sometimes cause people to be reluctant to open accounts. This include age requirements, funding sources, or even the "unexplanable" deduction due to administrative fees. All these contribute to making people become uninterested in opening bank accounts.
While the banking industry in Indonesia continues to expand by building branch offices to reach potential customers, another challenge comes from the country itself. Made up of thousands of islands, Indonesia's infrastructure is not sufficiently adequate to support the banking ecosystem. This poses an obstacle to continue expanding the banking industry throughout the country in order to provide financial services for as many Indonesians as possible.
Digital opportunity for the finance industry
Data from the World Bank states that 69% of unbanked people own smartphones. Despite the fact that this figure is more than half of the unbanked population, with these 60 million smartphone users, it would be a great opportunity for the finance industry to reach them via technology.
Based on the statistics portal Statista, there are 83.19 million mobile users in Indonesia who are connected to the Internet in 2018. It is projected that this number will increase to an estimate of 113 million users by 2022. This is certainly a point of entry for financial technology (fintech) to offer products while providing financial education to unbanked people.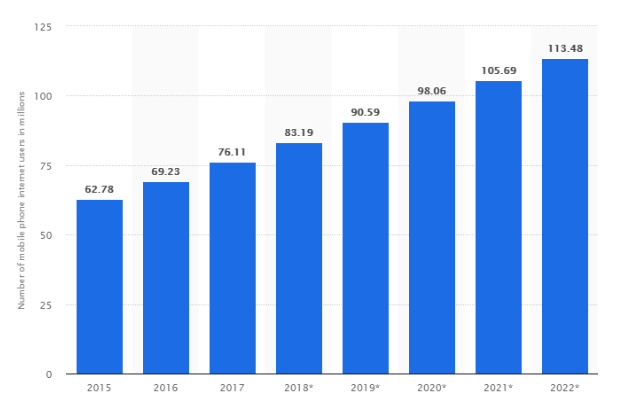 Looking at the above conditions, with the many obstacles that traditional banks face in order to reach customers, this is a great opportunity for fintech, especially non-banking fintech companies, to improve financial literacy and services for the unbanked people. Fintech generally aims to attract customers with products that are more user-friendly, efficient, transparent, and automated than those currently provided by traditional banks.
Fintech, which comes in many product varieties and forms, targets unbanked people who have not been touched by the bank. One of the most popular products served by non-bank fintech is online loans. When a traditional bank branch has not been able to reach the people in remote areas, fintech will still be able to do so as long as the Internet is available. It will open a wider range of opportunities for individuals who are living too far from the bank to obtain a loan. With more and more fintech products that cater to varied needs of the people, more people can also obtain loans which they previously could not qualify at the traditional banks.
However, the issue is not just about how to bring affordable financial services to the general public. Another need that has to be addressed is how to provide knowledge in terms of using financial products so that it can improve the unbanked people's management of their finances. Remember that unbanked people mostly come from the lower to middle classes; financial institutions then need to provide this segment financial services and education that are unique to them.
Finding a way to provide financial services widely
Based on the discussion above, we can agree that fintech might be one option to reach the unbanked population that has proven to be challenging for conventional banks. JULO, one of the fintech players in Indonesia, has made this an impetus in building a product for such customers. Through JULO apps, they aim to address the problems in terms of the lack of accessible financial services in Indonesia.
JULO entered Indonesia at the end of 2016, with the tagline "Revolutionizing access to financial products for millions of new consumers in Indonesia". With this tagline, JULO aims to provide financial services that are more inclusive and fair. In this case, JULO reaches the unbanked population and customers who may not have otherwise qualified for a loan application at the conventional banks, in order to retain access to financial services.
Previously, we mentioned that it is important to provide financial education to this market segment. Hence, it is important for fintechs like JULO to not only provide financial products for unbanked people but also educate them on financial literacy. Educating the market, especially on how they can use fintech products or manage their finances, will impact the communication traffic between customers and JULO itself.
Additionally, communication between customers and companies like JULO will need a lot of effort, especially when their customers prefer to use various communication channels such as Whatsapp or Facebook Messenger. On the other hand, JULO admits that in order to penetrate the market, they have to focus on consumer experience. Hence, they need to provide a good communicative platform for its customers in order to gain customer satisfaction.
A tool to ensure clear communication
One available method is to use multichannel communication as a solution. JULO can utilize multichannel products from Qiscus such as Qiscus Multichannel Customer Service Chat to create smooth, transactional conversations with its customers.
Currently, business trends are focused on consumer experience, and hence understanding what your customers want is the main key. Customers currently prefer communication channels via multiple channels or maybe further, a multichannel which provide flexibility for customers to communicate with the company. Because the integration between the channel makes the experience seamless and easy transaction. So that's why multichannel communication superior in terms of retaining consumers.
Then it's clear that when JULO uses multichannel communication, which has implications for user satisfaction, conventional banks can become disrupted.
It is highly probable that fintech will become a superior industry, looking at how internet penetration in Indonesia will only continue to grow. For conventional banks, it is necessary for them to study fintech in the future and apply it to their present services.
Will banks step up or remain conservative about this?