I believe most of us have already heard about the word "crazy 8's". If you are a designer in the term of software development, you might be familiar with it. Even if you haven't heard about it, now I'm assuming that you hear it. So, what in the world is crazy 8's? It is simply a method where you are pleased to draw something roughly (sometimes it's a weird idea) on a piece of A4 paper folded into 8 rectangles. Is it as simple as that? Yes, it is!
But now I'm gonna take the definition of crazy 8's to the higher level. "Crazy 8's is a core Design Sprint method. It is a fast sketching exercise that challenges people to sketch eight distinct ideas in eight minutes. The goal is to push beyond your first idea, frequently the least innovative, and to generate a wide variety of solutions to your challenge." — Collected by Google
Pre-requisite:
You have to have a problem. The problem is the reason behind your challenge.
The goal:
To interpret an idea and to generate a solution to your challenge.
The deliverable:
Eight (8) distinct ideas into a form of text, images or illustrations.
How to do this?
Okay now it comes to the excitement — nope I mean the implementation. Well, let me take a case study of mine. Recently, I was assigned to revamp the corporate website of a company where I currently work. Why do we need to revamp the website? The answer is because the website doesn't visually "look" good. Uhm, it is too biased and subjective. Indeed, so then we need to observe the core problem. Thanks to my sales team and my CTO who already observed the problem of our existing website. So we ended up faster in defining the challenge.
How might we emphasize the scability, data-driven information and our core product obviously to our website, so that the customer will simply respond with this kind of impression: "Oh so this product is about tools to build chat feature" ,"Oh then if I want to have chat feature, someday I will just use this" and "I know that I can connect my own chatbot to this chat engine."
Well, now we have the challenge. Next, we need to generate a wide variety of solutions (the goal) to our challenge. I decided to invite the team for a crazy 8's session the day after tomorrow. The problem is we're not in the same location. I currently work remotely from home, my CTO is currently in another city and my sales team is based in Jakarta. We are a distributed team! So, we decided to do this remotely. I felt awesome and the whole team also responded with the same excitement. Let's do this!
To be concerned
Before we decided to drive a crazy 8's session, we have to rest in the same camp. We are supposed to have the same mindset about the scope, the problem and the challenge. It's a must.
Choose a doable date and time for us to have the session. Y'all can arrange it on Google Calender.
The equipments
Stable Internet Connection
Make sure y'all have a stable internet connection. When we talk about remote environment, we'll surely talk about internet connection. We all know that.
Kiwari Web Chat (Powered by Qiscus Chat SDK)
On a daily basis, we communicate each other within this platform.
Google Meet
We're gonna e-meet each other on Google Meet. Y'all can also use Hangout or Skype.
Sketch App
I'm not a fan of Sketch but I admit to appreciate its integration with Invision Freehand. I created 3 A4 artboards in Sketch and integrated it with Invision Freehand in a single click*. This also helps me not to draw the artboards manually in Freehand.
Invision Freehand
Thanks to InVision for creating this tool. It's basically a paint app with collaboration feature.
Getting Started
Note: This is not a fixed pattern for you to follow but let me give you at least the blueprint of how did I do this with my team.
Prepare The Ground
Before we started the session, I created the required artboards in my Sketch App then imported it to Invision Freehand. *This can be done in a single click but if this is the first time you use Freehand, you'll be required to install Craft Plugin Manager.
Quick Brief
I did a quick brief of what are we going to do within the next an hour. Quick brief also helped us to guide the whole team to be in the same thinking of what are we going to solve (the challenges).
Crazy 8's Session
Then we started the session and it took up to 30 minutes for us to finish it. This probably longer than the normal timing. I decided to take 30 minutes since we needed a warming up and hopefully we were able generate more ideas not in a hurry.
Ideas Presentation
Each member is required to present their ideations briefly. (8 minutes)
Voting
We ended up the session with voting. We chose some best ideations that we thought we could continue working on it. (5 minutes)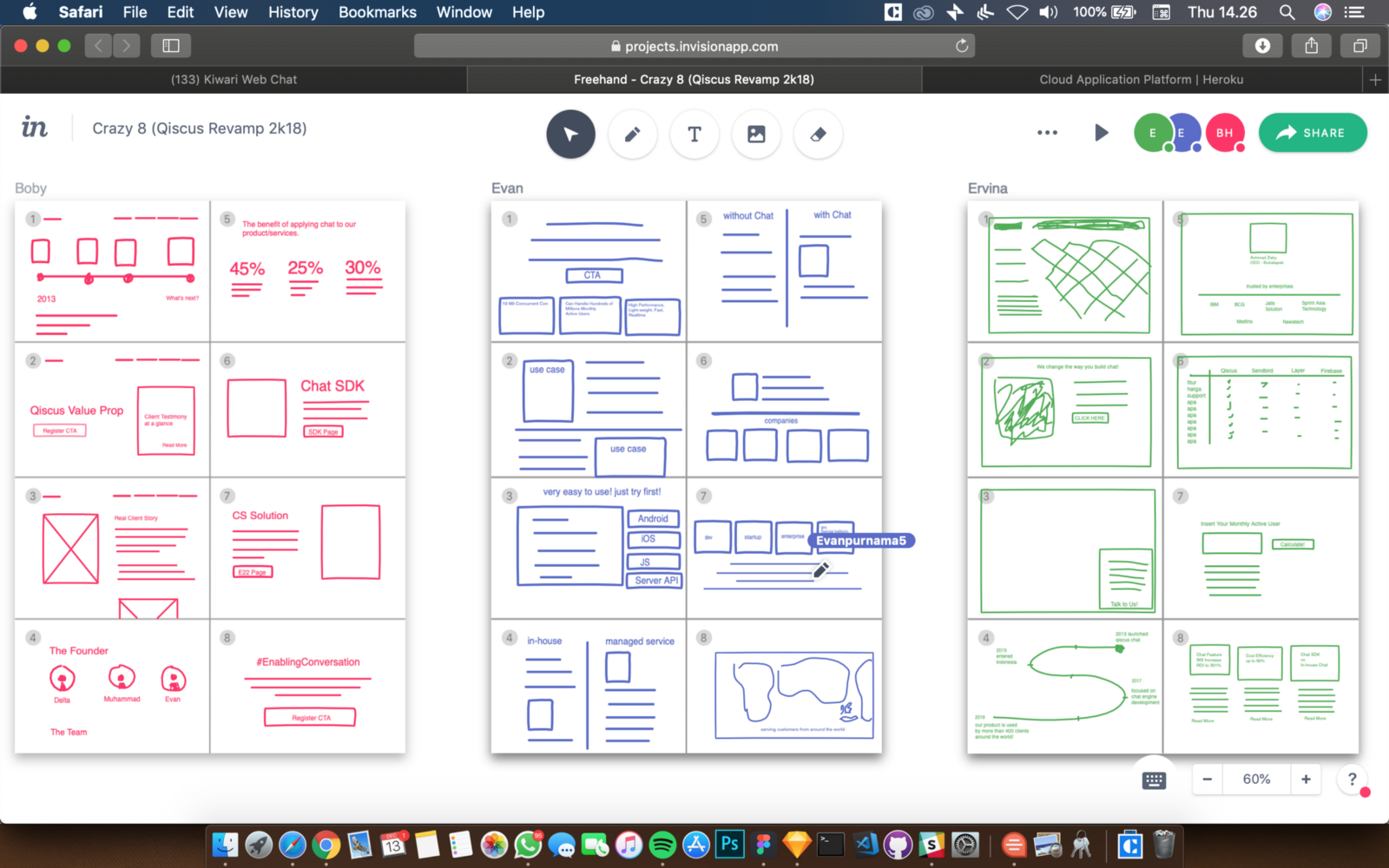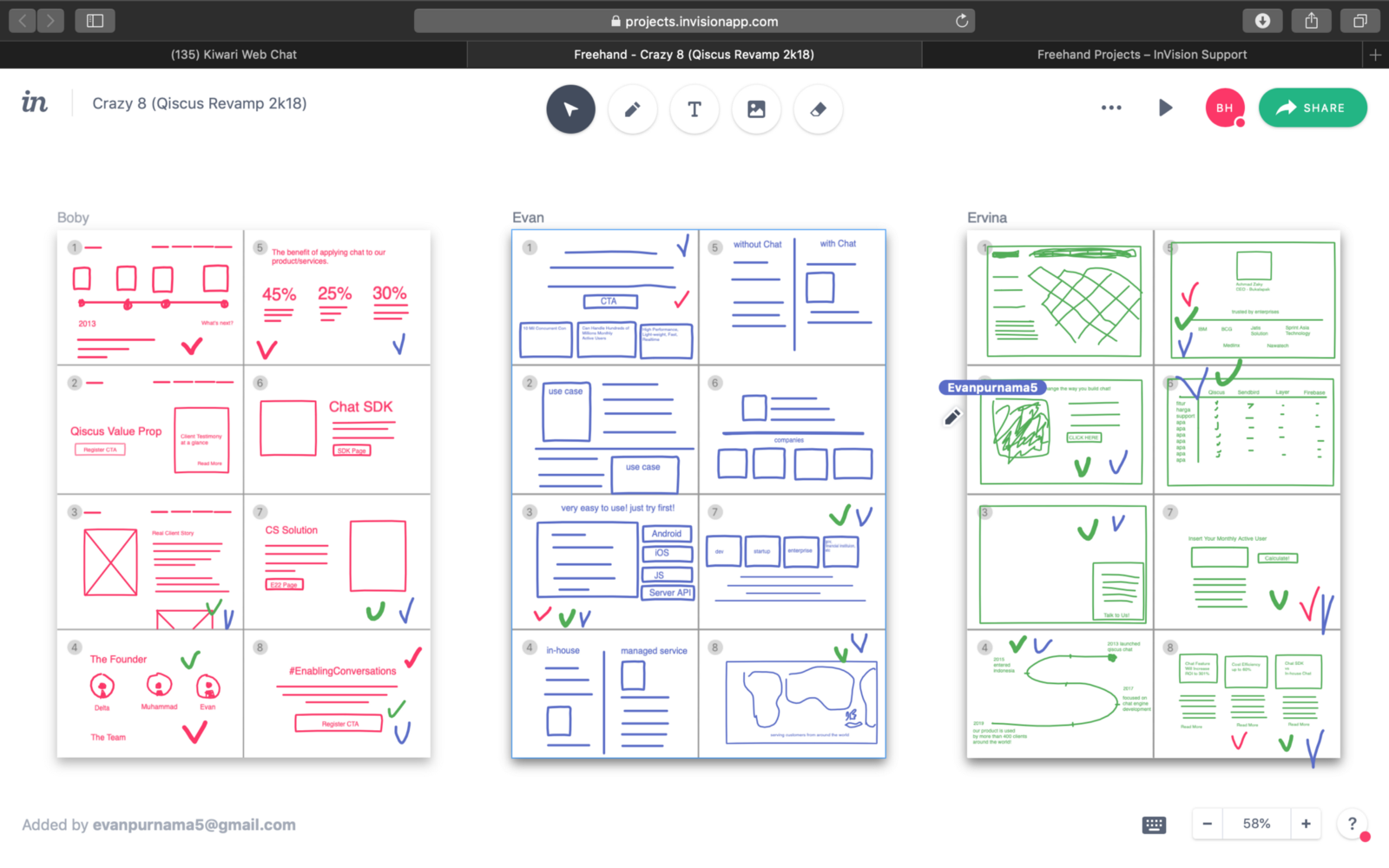 What's next?
We've come up with a cool variety of ideations. However, generating ideas is not the final step. It's only the beginning. We shall continue working on sorting the similar ideas into a group of category. People usually called it "Affinity Mapping". This mapping helps us to define the Information Architecture of the corporate website. Then we would rely on the IA to continue working on wireframing and the rest. (I'm gonna write the complete design process later)
The Take Away
Design process is supposed to be adaptive, iterative, collaborative and innovative. Driving a crazy 8's is a crucial stage in defining the solutions of our existing problem as a part of the design process. The session was fun, excited and generated positive feedbacks from the intended team. Yet this excitement would probably means nothing unless it generates an expected outcome from the users. Thus, it's not only a designer's responsibility to produce a user-centered output but also the whole team's.
---
This article was originally published on UX Collective by our designer, Boby Haryanto.