Facebook Page is a free platform provided by Facebook to help businesses, brands, celebrities, movements, and organizations to reach their audience. Facebook Pages are public and can be indexed by Google, making it easier for the public to find your Facebook page. Your Facebook page and personal profile are two separate pages.
You can get many advantages from opening a Facebook Page, including the fact that it is easy to obtain and free to use. It is versatile, connects with customers quickly, and of course, you can advertise through your Facebook page. Facebook Pages offer several features that will help to maximise your presence on Facebook, one of them being Messages. Every Facebook Page is equipped with an Inbox function which allows you to communicate with other users via Facebook, Instagram, and Messenger.
The Facebook page has a section on access rights. Here, you can delegate different roles to people who also administrate your page, making it easier for you to manage your Facebook page content as a team. There are five roles on a Facebook page: Admin, Editor, Moderator, Advertiser, and Analyst.
It is recommended that you post 1 to 2 times each week and regularly visit your Facebook Page to ensure that it remains active.
Facebook Page For Integration
In addition to creating a valid brand presence for businesses on digital channels, Facebook Pages also play an important role in the process of integrating business Facebook accounts with various systems that support your business' digital activities. An example would be when you want to access Instagram and Facebook Messenger Direct Messages (DMs) through the Qiscus Multichannel Chat dashboard.
The process of integrating Instagram and Facebook Messenger channels into Qiscus Multichannel Chat will require you to own a Facebook Page. After successfully completing the integration process, you can communicate with potential customers via Instagram DM and Facebook Messenger more easily by simply opening one dashboard.
What You Need To Create a Facebook Page
Creating a Facebook Page is extremely simple. Below are some of the requirements needed to create a Facebook Page:
Personal Facebook Profile – Your personal Facebook profile is necessary to create a Facebook Page, even if the two are separate pages. Information contained in your personal Facebook Profile will not appear on your Facebook Page unless you share it.
Category – Define a Category for your page. The categories you choose will result in unique features suitable for your cause or business.
Business Name and Description – Fill in these sections with your business' name and a description of your business activities to attract people to visit your Facebook Page.
Profile Photo and Cover Photo – Select a photo that represents your business well, such as your company or business logo. Provide three different sizes for this Profile Photo:

170×170 px
128×128 px
36×36 px
The Cover Photo can be filled with images of your products, activities, processes, or business campaigns. The size of the cover photo that should be provided is:
width 820 x height 312 px, and
width 640 x height 360 px.
It is recommended to use PNG files for both Profile Photo and Cover Photo for best results.
Action– What you want to achieve. The action referred here is one that you expect your target customer to do to achieve your business goals are achieved. For example: booking doctor's appointments, shopping through the website, etc.
Tutorial for Setting Up a Facebook Page
To create a Facebook Page, follow the steps below:
Login to your personal Facebook Account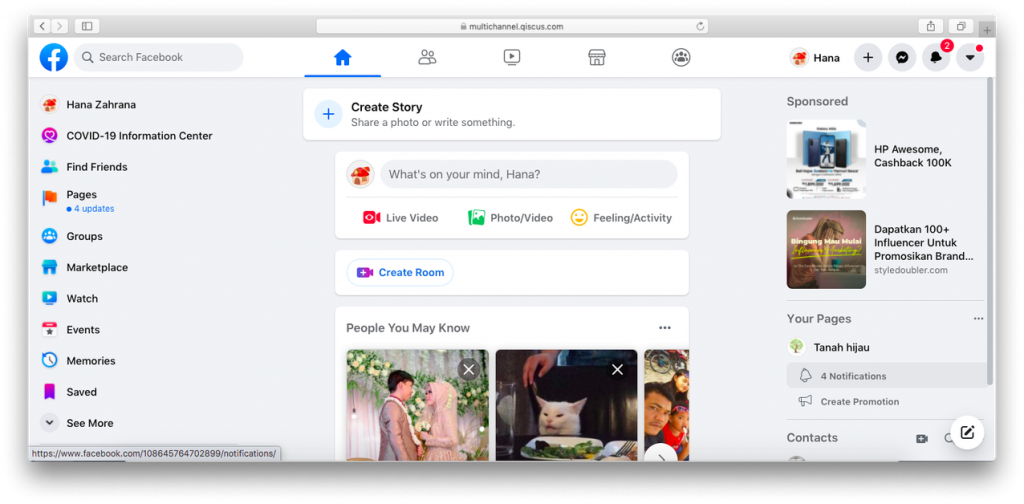 2. Select the 'Pages' menu on the left. Then, click the 'Create New Page' button.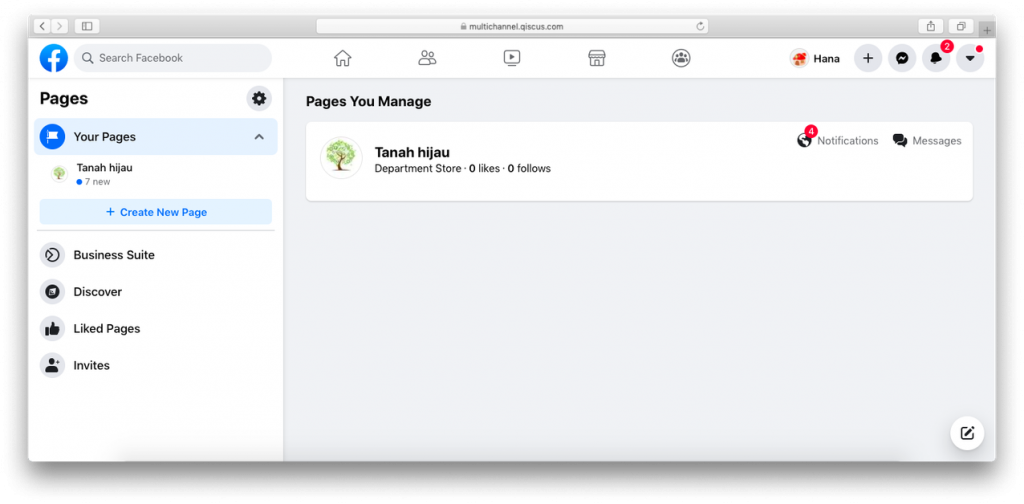 3. Fill in Name, Category, and Description of your Facebook Page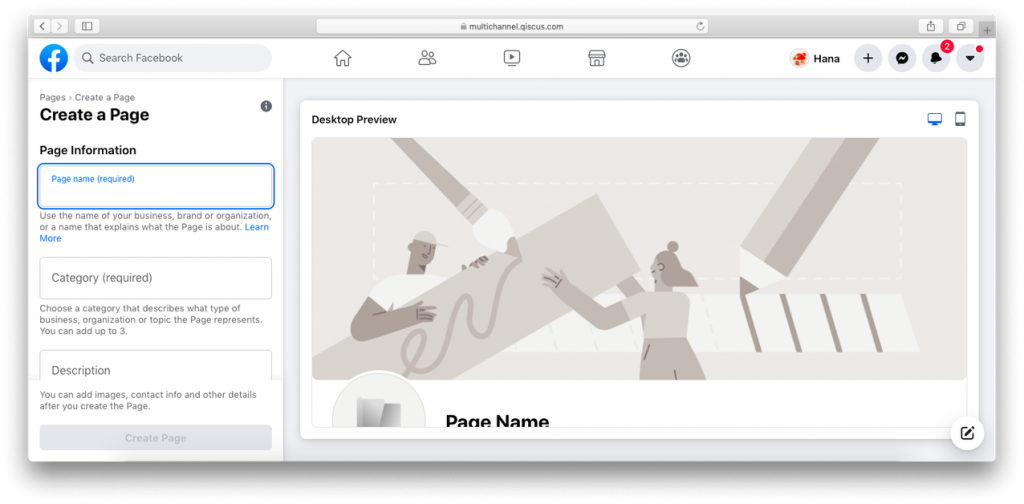 4. Click the 'Create Page' button
5. Upload Your Profile Photo and Cover Photo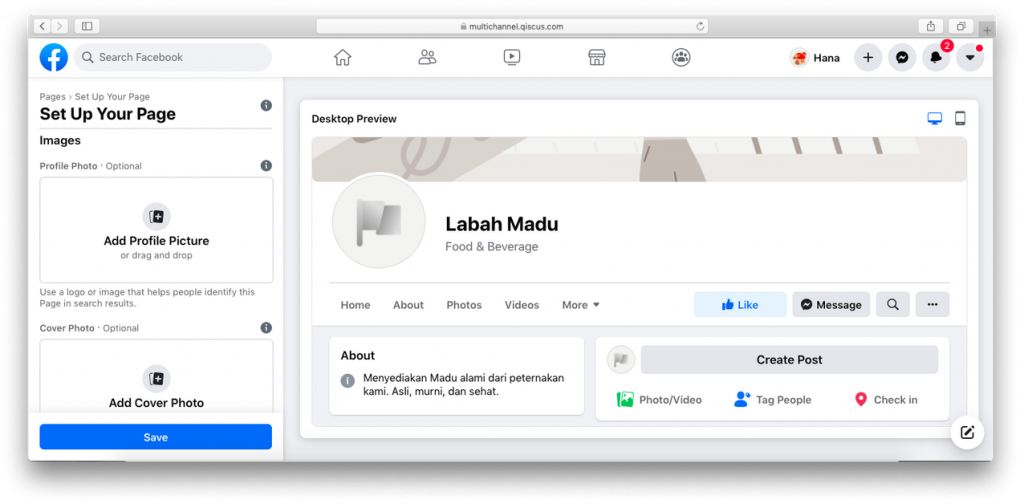 6. Click the 'Save' button
7. You can then connect your Facebook Page with your WhatsApp Business account. This setting
can be done right away or later.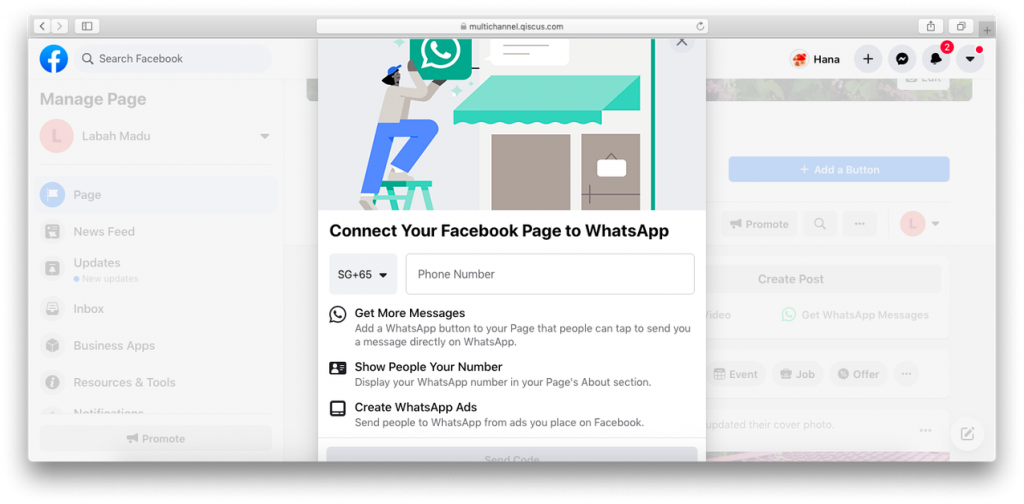 8. Your Facebook page has been created successfully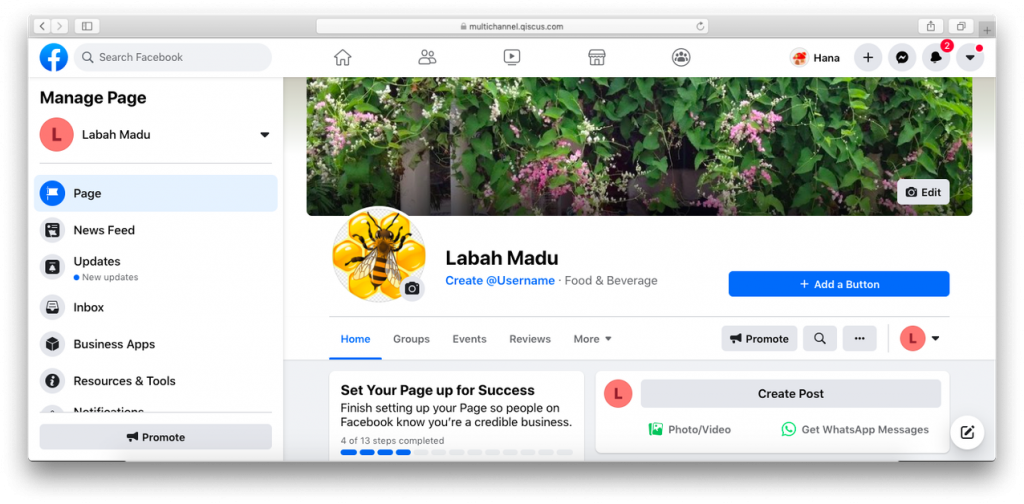 9. Click the 'Add a Button' toggle to set the action you want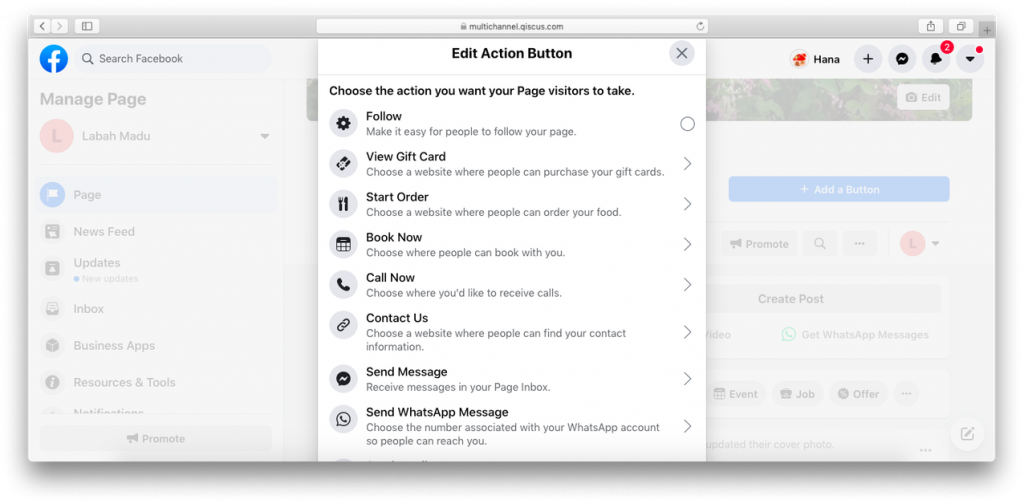 In addition to the basic steps above, it is recommended to optimize your Facebook Page by filling out the following sections:
Contact Info: Phone number, website, and email. People who visit your Facebook can contact you through the contact information you display.
Office Hours and Location: Add your working hours and office location so people can visit you.
About and Story: About and Story can help people get to know your Facebook better. It can contain information such as when your business was founded, what it specializes in, your mission, and much more.
Once you have a Facebook Page, integrate your business Instagram and WhatsApp DMs into Qiscus Multichannel Chat so that your employees will not need to open multiple chat apps at once. If you would like further discussion, you can contact us here.