The popularity of the green verification tick on WhatsApp has significantly increased as a result of the rising incidence of fraud circulating on the app's usage. The green tick on WhatsApp is a sign that your WhatsApp Business account has passed a formal and official verification procedure by WhatsApp.
With this green tick, you can assure consumers that your account has been recognized and accepted by WhatsApp as an official business account. This eliminates the uncertainty and doubts that frequently come about when customers interact with business accounts on digital platforms. This builds trust between your company and clients, which can be a vital advantage when running an online company.
It is important to note that the green tick on WhatsApp is not available for all businesses or WhatsApp accounts. WhatsApp has officially stated that the verification procedure for WhatsApp Business accounts has been limited to a small number of businesses, usually which have been registered via official WhatsApp Business Partners (BSP).
Of course, having a green tick on your WhatsApp Business brings several major benefits. Not only will this boost your company's credibility, but also clients' trust. This can have a long-term positive impact on improving your sales.
Want to learn more about WhatsApp's green tick? Read the article below for more details!
5 Benefits of Having the WhatsApp Green Tick
Aside from enhancing the credibility of businesses, receiving a green tick on WhatsApp provides a variety of other advantages that might help your business. Essentially, WhatsApp has a message open rate of 98% and a 45 to 60% click-through rate (CTR), indicating a high potential for business growth when done on WhatsApp. With a green tick, you can feel other positive impacts.
Here are 5 advantages to using this feature:
Be Recognized as a Real Account – Not a Fraud
Green ticks make it simpler to search for your company among the sea of incoming messages. This helps customers to quickly differentiate your business' official accounts from fake or fraudulent accounts, reducing the risk of them becoming victims of fraud.
Some scammers attempt to trick users by adding a verification mark on their profile image to carry out fraudulent actions. You should be aware of the distinctions between the green tick on real accounts and the green tick on fraudulent accounts.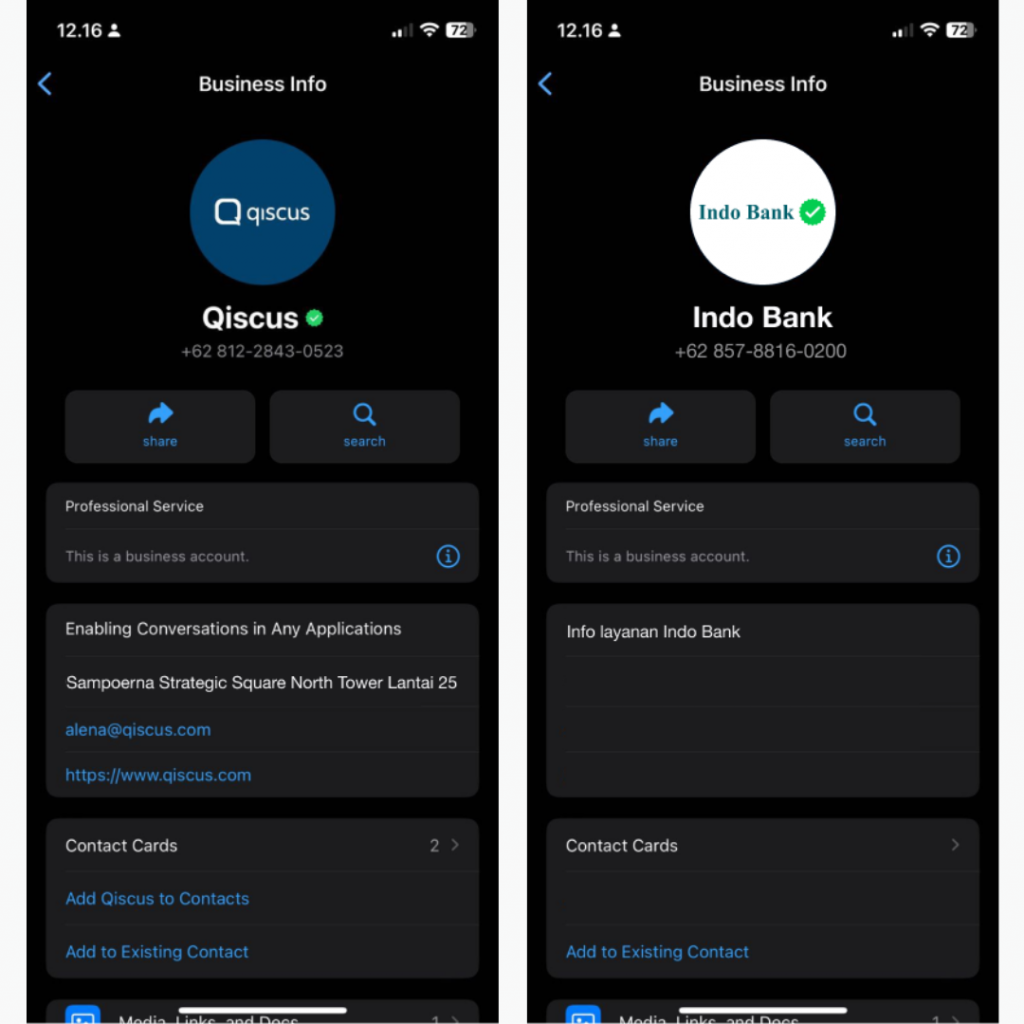 The verification badge should be placed with the business' WhatsApp account name, not inside its profile picture. This is the most obvious sign of whether an account is legitimate or not.
Increased Visibility
With a verification badge, your account will likely rank higher in search results and your customers' contact lists. People are more likely to look for brands that have a verification mark because they associate it with authenticity and quality. Moreover, verification badges can also make your account appear more professional.
Increased Trust & Credibility
The green tick is a clear sign of trust for customers. It shows that your business is credible because it has passed the official verification process by WhatsApp, so users will feel more comfortable interacting with you. This can reduce any hesitation new customers may feel.
Green ticks also create a positive perception about the products or services you offer. Customers may be more likely to trust the quality of your products or services because your business has received a verification mark from WhatsApp.
Increased Response Rate
Customers may be more likely to communicate with businesses that have a green tick because they know they are dealing with a legitimate business. Consumers also tend to interact more frequently with accounts that have a verification badge because they consider them more important and more relevant. This can increase the response rate to your messages, helping to maintain better relationships with customers.
Improved Sales
In general, improving customer communication efficiency, integrity, and trust can help businesses grow their sales. Customers who feel secure and at ease doing business with you are likely to buy from you or use your services more frequently.
However, please note that you will not be able to receive a verified badge if your business deals with the following products:
Drugs
Tobacco Products
Gambling Business
Alcohol
Arms & Ammunition Business
Live Animals
Adult Products/Services
Medical & Health Care Products
Dating Service
Cryptocurrencies
How to Apply for the WhatsApp Verified Badge
As previously mentioned, WhatsApp has a unique process for providing businesses with the green ticks:
1. Sign up for the WhatsApp Business API through a reputable WhatsApp Business Partner (BSP)
Owning a verified WhatsApp account and obtaining the green tick logo from WhatsApp can only be obtained if you use the WhatsApp Business API. To register for WhatsApp Business API, you must prepare the number that you will use for your verified WhatsApp account. This number needs to be active at all times and must not be mixed up with your personal WhatsApp number.
When you are ready to begin implementing the WhatsApp Business API, get in touch with a reputable WhatsApp Business Partner, like Qiscus. Qiscus also provides a simple tool to earn the WhatsApp green tick officially. In addition, Qiscus offers a complete solution that can link WhatsApp Business API with omnichannel services, allowing your company to reply quickly to customer inquiries sent through numerous channels of communication.
2. Data Verification & Approval
The next step is to confirm your business name and policies in Business Manager after you approve the WhatsApp Business Partner (BSP) request. This is crucial so WhatsApp can validate your account's legitimacy and confirm that the account or phone number you have registered represents a legitimate company. The company's legal documents, official email, official website, address, and several other documents will all be requested at this point.
Once all the information has been gathered, Qiscus, as a WhatsApp Business Support Provider (BSP), can help you submit a request for verification to become an official WhatsApp business account. This verification process will take several weeks for Facebook's evaluation before finally receiving approval.
3. Verification Approval
By working with official WhatsApp Business API partners such as Qiscus, you will receive assistance from the initial installation of WhatsApp Business API to submitting a verification request before your account can be used. If your WhatsApp green tick verification request is successful, your WhatsApp Business account will automatically be updated to become a WhatsApp Official Business account. Once the verification process is complete, you will see a green check mark appear next to your account name, and you can start testing messaging through the Qiscus omnichannel dashboard.
Read WhatsApp Business API: Complete Guide in 2023
Get WhatsApp Green tick with Qiscus!
Do you want to acquire the green tick on WhatsApp and boost the credibility of your company? Don't worry, Qiscus will be there for you every step of the application process!
Qiscus is an official business solutions provider that collaborates with WhatsApp. Qiscus has helped 2000+ trusted companies in optimizing their communication channels for business. Qiscus will also provide after-sales service to assist you once the implementation process has been completed. For more information, click here.