Online shopping has always been a popular trend in Indonesia for the past recent years. The convenience of online shopping makes many customers choose to shop online, coupled with more diverse provisions of products. Online businesses provide a variety of prices, from the cheapest to the most expensive. In Ramadan, online shopping continues to be a popular option, and the last 10 days of the month of Ramadan are known to cause a second spike in customers' demands on businesses. Retailers may find it helpful to better understand customer behaviour during this period.
What is Consumer Behavior?
Consumer behavior describes the way customers behave towards the provision of goods and services, and requires understanding their needs and expectations. Consumer behavior can also change from time to time, influenced by factors including personality, emotions, festivities or current trends. In Ramadan, it is also observed that customers may shop more due to the needs of observing the fasting month and the essentials needed for the coming Eid.
Consumer behavior also includes identifying the type of goods consumers buy, why consumers buy them, when they buy them and so on. These are important information for businesses to understand so that businesses can cater the right products that fit customers' preferences. It is also important as it helps to determine when demand will increase. This gives businesses some lead time to prepare the most suitable products and services and know when to anticipate overwhelming queries and requests from customers.
What is Consumer Behavior Like in Ramadan?
Many businesses experience a spike in demand during the month of Ramadan, especially those which sell items such as clothes, hampers, prayer equipment, or home decorations. In addition, many people also consider Ramadan as the right time to share, so purchasing gets higher especially with the diverse offerings by online businesses. According to data from a survey conducted by Facebook, as many as 78% of the public show support for local businesses during the month of Ramadan.
Furthermore, the weeks leading up to the month of Ramadan is the peak where many customers make transactions to fulfil their needs in preparation for the coming Ramadan. Unsurprisingly, the second spike in demand is usually during the last ten days of Ramadan as customers will then purchase various things to complete their needs for Eid al-Fitr subsequently.
Based on a survey from YouGov, which collects data on consumer behavior during Ramadan, as many as 94% of consumers think that price is the main consideration when shopping in Ramadan. Online businesses, which generally offer lower prices, form the main reason why many consumers choose to shop online, which explain the spike in demand.
In addition, because the Covid-19 pandemic is still worrying, as many as 69% of people also choose to shop via their mobile phones because they feel it is safer. Apart from pricing and personal safety, it was also found that 85% of customers attach importance to good customer service in transactions during Ramadan.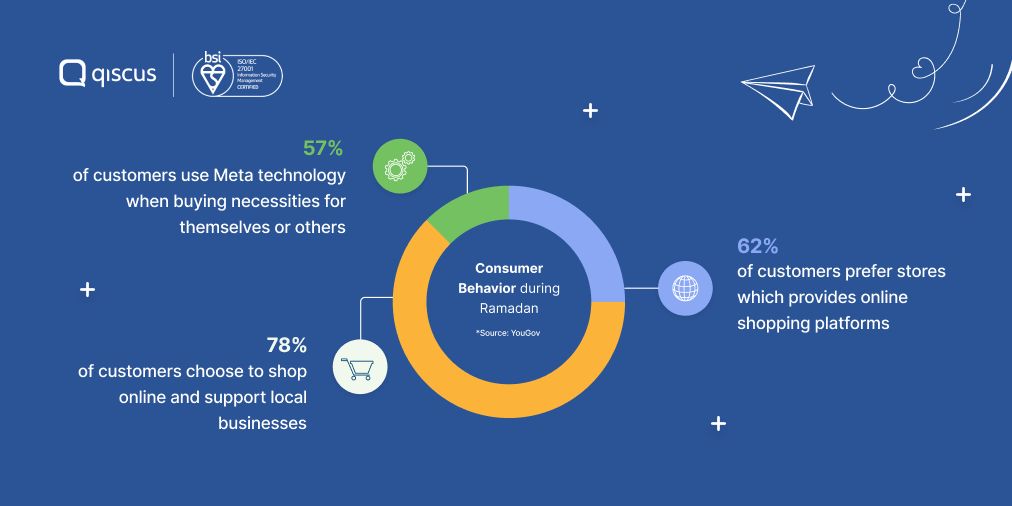 From the data above, it can be seen that many people make transactions during the month of Ramadan for various needs through online shopping and this will certainly impact businesses, where demand increases more than usual. To cope with the spikes in demand during Ramadan, businesses must be able to provide immediate responses to customers. This is where WhatsApp Business API, integrated with Qiscus Omnichannel Chat,will help businesses cope when flooded with incoming requests.
Handling Spikes in Demand with WhatsApp Business API
WhatsApp Business API is the solution your business needs to handle hundreds of incoming requests more quickly and efficiently. It makes it easy for agents to monitor all incoming requests and questions on the same dashboard.
WhatsApp Business API integrated with Qiscus Omnichannel Chat provides features that you can use to deal with spikes in demand. Businesses can provide automatic responses to frequently asked questions with the auto-reply feature. This way, agents can handle more enquiries and focus on more complex questions.
Deal with the spikes in demand in the month of Ramadan with the WhatsApp Business API right away! For installation, contact us here.