2022 will be one of the most influential years for us. Manifesting one of our core values, growth is our mindset, we presented various innovations in products and services this year. Adhering to the value of usefulness is our happiness, customer satisfaction is our satisfaction, which has always driven us to continue making more innovations to help businesses provide memorable customer experiences.
As the year approaches to an end, I would like to take the time to reflect on the events that have happened this year. With deepest humility, I would like to show my deepest appreciation for all the hard work and dedication of the Qiscus team. Despite the challenges we faced, we have managed to maintain our commitment to achieve many things as a team.
From Challenges to Triumphs: A Recap of 2022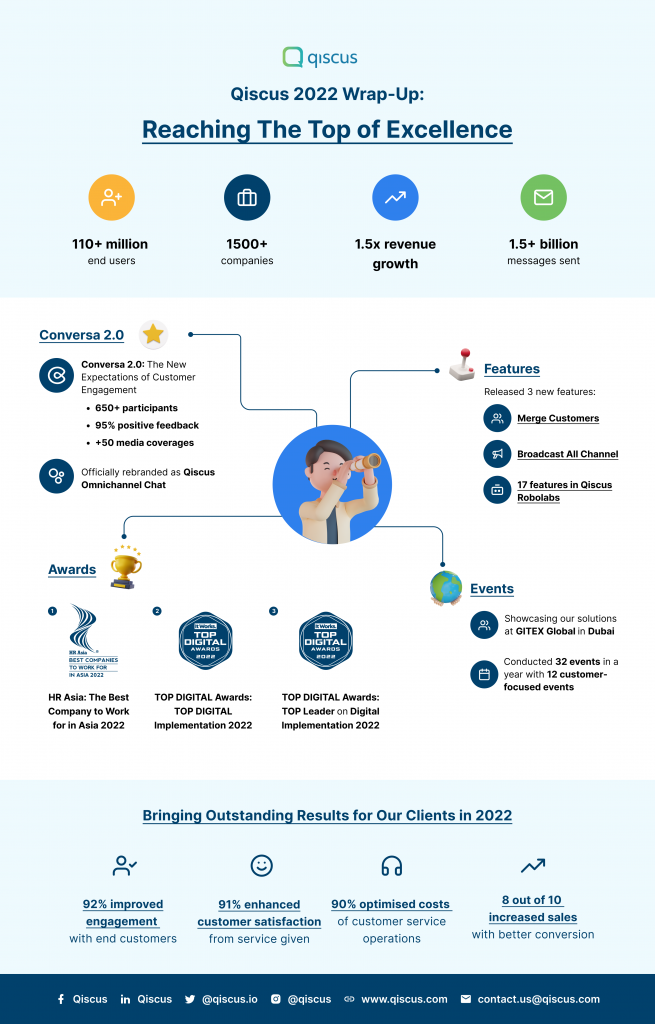 Seeing that a seamless customer experience is a requirement not only for the Indonesian business market, we took advantage of this opportunity to expand our business reach to help us achieve our vision of becoming a world-class technology company. This is no longer just a dream. Over the past year, we have made significant progress in expanding our product line, building a customer base, and expanding our market share.
Moving towards this vision, we also rebranded to become Qiscus Omnichannel Chat from our previous brand of Qiscus Multichannel Chat. This rebranding is motivated by our desire to provide a comprehensive communication network for our clients. The embodiment of this rebranding process allows our services to be integrated with more than 20 business channels—including e-commerce—to provide a service for excellent customer experience.
Walk the talk, as a customer engagement platform, not only do we help businesses to engage with their customers but we also engaged with our clients through the second run of annual conference, Conversa. During Conversa 2.0, which was held as a hybrid event, we focused on one aspect that we believe is key to the continuity of any business today: customer engagement.
More than just rebranding, during Conversa 2.0, we also presented enhancements to our products which are useful to help businesses continue engaging with their customers seamlessly. These features included the Merge Customers feature, Broadcast All Channel, and an updated Qiscus Robolabs which comes with more upgraded features. With these releases, we are confident that we can better accommodate our client's needs in creating memorable customer experience and brand growth.
Getting closer to realizing our dream of becoming a world class-tech company, we had the opportunity to go global at the GITEX GLOBAL event held in Dubai. Attended by more than 170 tech companies from various countries, it was an honour to be part of an extraordinary opportunity for us. Our presence at GITEX GLOBAL aims to unite the world's technology ecosystem to advance businesses, economies and communities through the power of innovation, aligned with our mission of #EnablingConversations.
Celebrating Our Team's Achievements in 2022
The efforts to become a world-class technology company company are inseparable from our value excellence is in our blood which is fundamental to the relationships between our internal teams. A series of innovations followed by discipline and encouragement to continue to grow has led us to clinch several awards.
This year, we won two awards from TOP DIGITAL, namely the TOP DIGITAL Implementation 2022 and TOP Leader on Digital Implementation 2022 awards. TOP DIGITAL is one of the prestigious award events in the Indonesian IT world. Not only that, Qiscus was also named the Best Company to Work For in Asia 2022 by HR Asia.
Of course, this achievement cannot be achieved without good teamwork, where the best customer experience comes from the best employee experience. I also hope these various awards will spur Qiscus to continue developing both externally and internally.
Let's Embrace the Opportunities of 2023!
One of the things that most excites us the coming year is the opportunity to expand our reach to become increasingly global. We are constantly looking for new opportunities to grow and develop, and with an excellent team, we can continue to evolve to keep up with the dynamic technology industry.
We are optimistic about the future and we believe we can further realize our vision of becoming a world-class technology company. We will remain focused on innovating and providing value to our clients. As we move forward, we are confident that we will continue to achieve great things as a team, committed to supporting each other and striving to make our dreams come true.
See you in 2023!
Best regards,
Delta Purna Widyangga
CEO & Co-Founder of Qiscus