When looking for a business solution to include WhatsApp in the process, the first choice often falls on the free WA Business application. However, this is not the right choice. Read on following article to find out why!
WhatsApp is the most popular messaging application, leading to two billion active users worldwide. The ease of using WhatsApp for voice calls, video calls, and regular text messaging without additional costs makes it the top choice for everyday communication. The application continues to evolve with regularly updated features, including the ability to create account statuses and end-to-end message encryption for enhanced security. With these features, WhatsApp has become an irreplaceable tool for daily communication for millions of people.
WA Business for Free vs. WhatsApp Business API: What's the Difference?
While we cannot live without the WhatsApp messaging app in our daily communication, it turns out that WhatsApp has limitations in its usage for commercial purposes when used via personal WhatsApp accounts. In response to this, business owners were introduced to the free WhatsApp Business application. WA Business is provided for free and is often the top choice for many businesses starting out. However, the free version of WhatsApp Business has many limitations. The good news is that there is an even better solution – the WhatsApp Business API!
WhatsApp Business is a free application specifically designed for small businesses introduced by WhatsApp. This application is designed to meet the needs of small businesses. WhatsApp also eventually released the WhatsApp Business API (WABA), offering more powerful features for medium and large businesses. WhatsApp Business API provides you with seamless flexibility and features to create a customized and powerful customer journey.
The free WhatsApp Business offers fewer reliable features, especially for large-scale businesses. It is also limited to one phone number and chatbots cannot be used. Furthermore, the free WhatsApp Business account also does not guarantee data privacy. When sending out WhatsApp message blasts, there is a limit of only sending to 256 contacts. If you exceed this number, WhatsApp will block your number.
In comparison, WhatsApp Business API, or also known as WABA for short, offers more flexibility than the free WhatsApp Business account. This solution offers various benefits for businesses looking to enhance interactions on WhatsApp. Do note that the WhatsApp Business API can only be obtained through the WhatsApp API accessed through official Meta partners or also commonly known as WhatsApp Business Solution Providers (WA BSP).
Using WABA certainly comes with some costs but it allows you with endless convenient features, such as easily sending out promotional messages or WhatsApp blasts without any limitations and integration opportunities. It is also compatible with chatbots while ensuring the security of your data for your peace of mind. This is what makes WhatsApp Business API the top choice for medium and large businesses, especially for those who want to maximize the potential of WhatsApp as an effective business communication platform.
With these three options, you can select the exact solution that suits your needs to enhance your interactions and services on WhatsApp.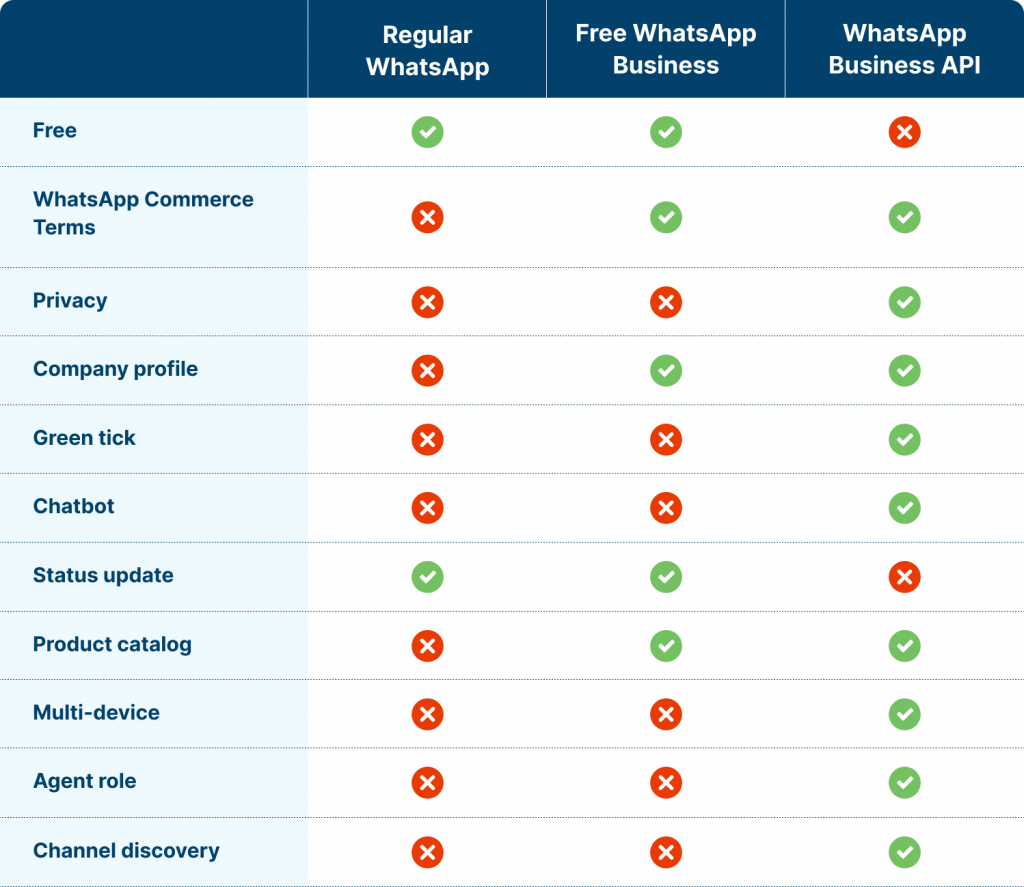 Free WhatsApp Business Accounts: Not a Long-Term Solution
The free WhatsApp Business account is a specific solution designed to help small businesses communicate with customers. This application is similar to regular WhatsApp and can be accessed directly via smartphones. The free WhatsApp Business app provides various useful features for small businesses, such as product catalogs, quick reply messages, and welcoming messages.
For some small-scale businesses, these features may be sufficient to meet their communication needs with customers. However, for medium and large-scale businesses, the features offered by the free WhatsApp Business account often hinder the efficiency and effectiveness of communication with a huge number of customers. To understand more about why this is the case, let's take a look at 5 reasons why free WhatsApp Business is not the right choice below!
5 Reasons Why WA Business for Free Is Not the Right Choice for Your Business:
Limited to 256 contacts: In June 2021, WhatsApp expanded the types of messages that companies can send to their customers. However, for the free WhatsApp Business account, there is only a limit of 256 contacts. If you exceed this limit, your number will be blocked. You also cannot use automated templates, update product catalogs, provide personalized recommendations, or promote products. In other words, you cannot maximize the use of WhatsApp for your business.
Limited device access: The free WhatsApp Business accounts can only be used by one agent or employee. For medium to large-scale companies, this is not effective or efficient. Moreover, if an agent is unavailable and needs to be redirected to another agent, it will consume time, effort, and hinder productivity.
Not integrated with omnichannel platforms: The free WhatsApp Business account cannot be integrated with omnichannel unlike the WhatsApp Business API. The advantage of WhatsApp integrated with omnichannel is that it can be accessed by multiple devices simultaneously. Furthermore, WhatsApp Business API allows sending broadcast messages to multiple contacts at once and also helps you provide personalized services to your customers.
Limited automation: Businesses using WhatsApp Business API can grow rapidly by increasing its reach via chatbots and integration with other systems, such as CRM. These conveniences are not available on the free WhatsApp Business account. The presence of chatbots integrated into WhatsApp Business API through omnichannel means that chatbots can help you automatically answer up to 80% of your business' Frequently Asked Questions (FAQs). This will save you lots of time, effort, and increase productivity.
Data security not guaranteed: Just like personal WhatsApp accounts, the free WhatsApp Business application accesses and processes contact data on your devices during conversations. There is an exchange of metadata during the conversation, which can be a concern in some countries. However, by using WhatsApp Business API, you no longer need to worry about this.
Do these reasons sound compelling enough for you to switch from the free WhatsApp Business to WhatsApp Business API? If not, take a look at some companies that have switched to using WhatsApp Business API below!
Read Their Experiences of Switching from the Free WhatsApp Business app to WhatsApp Business API!
eFishery
eFishery, a startup in Aquaculture Intelligence founded in 2013, introduced innovation in fish and shrimp farming. They are committed to building a sustainable aquaculture ecosystem by providing an end-to-end platform for fish farmers. eFishery communicates with customers through WhatsApp and many other applications, but challenges arose due to limited customer service resources. However, since using WhatsApp Business API integrated with an omnichannel platform, eFishery has found it easier to optimize campaigns and respond quickly to customers. The implementation of WhatsApp Business API from Qiscus has helped eFishery become more effective and efficient in managing business-related communication, both internally and externally.
Read eFishery's story here!
2. Paragon Technology and Innovation
As one of the largest cosmetics manufacturers in Indonesia, Paragon is committed to focusing on customer interests. During the midst of the Covid-19 pandemic, Paragon enhanced the capabilities of its beauty advisors to serve customers online via WhatsApp Business API integrated with an omnichannel chat platform. This allowed it to manage high message volumes and provide direct consultations to customers. Paragon also used a chatbot to direct customers to the right agents and integrated the "Click to WhatsApp" button on their website to boost sales. As a result, Paragon increased traffic and received more enquiries via WhatsApp, with customer satisfaction exceeding 98%.
Read Paragon's story of improving customer satisfaction here!
3. The Seminyak Beach Resort & Spa
The Seminyak Beach Resort & Spa in Bali prioritizes customer service with a timely and personal approach. It utilizes WhatsApp Business API provided by Qiscus to send welcome messages, farewell messages, and quick responses to guests. By using this service, they have created closer relationships with customers, increased customer satisfaction, and boosted sales. Their success highlights the importance of excellent customer service for business growth.
Read more here!
Still hesitant to switch from the free WhatsApp Business app? Discuss it with us here, right now!