Retails market has grown tremendously in recent years, especially e-commerce that is now growing and shifting as a new trend worldwide, particularly in Indonesia. Why Indonesia? Look at the graph below; the internet is now a primary requirement in Indonesia since a half of Indonesian or around 132.7M Indonesians have internet access. Consequently, the amount of social media users also increased sharply to number 130 million people, which ultimately reinforces the continued e-commerce trend.
The Indonesian Central Bureau of Statistics noted this growth; its data showed that e-commerce in Indonesia has grown by 17 percent in the last 10 years so that 26.2 million units of goods have been sold in this way.
This is because of the increasing internet penetration in Indonesia, and of course the emergence of many e-commerce retailers with a variety of goods available. Data from Statista.com shows transactions valued in the millions US$ from 2016 to 2022 with the trends increasing year by year.
How to be A Winner?
However, tough competition between every e-commerce retailer will be created and in the end, there will be those that will win and those that will lose. The question then becomes how to be a winner and remain in this competition?
The answer is simple: be innovative. Since e-commerce depends heavily on the customer's experience, improving the service provided to customers is certainly a good strategy which will give satisfaction to customers and consequently lead to sales increases.
Based on McKinsey, by improving the quality of the customer's experience, the company gain in sales as much 10 to 15%, as well as potentially lowering their costs by as much as 15 to 20%.
How The Customer's Experience Works?
Nowadays, customers spend a significant portion of their lives chatting via popular messaging and social media applications. Interactions between friends are, more frequently than not, carried out via chats, which are a great way to make new friends and engage existing friends.

For e-Commerce businesses targeting the Gen-Y and Gen-Z consumers, this is one important thing to note. In today's times, if customers feel they belong to your company/brand, you can be sure that he will talk about you. A lot. Words will start spreading and you will be smiling. But keep in mind that the opposite is true as well.

It is therefore not a surprise that e-Commerce businesses are now enthusiastic about the strategy of building a community around their products/services to improve their business bottom line.
Forrester Research reported that 94 percent of sites which adopted the strategy of building communities claimed that their repeat traffic was boosted and the strategy generated nearly one-quarter of all site traffic. They achieved all this without spending significantly more on advertising or marketing costs.
Current Situation of Customer Experience
But according to Forrester's 2017 customers experience (CX) quality plateaued or declined for most industries and companies. Why? CX initiatives tackled low-hanging fruit to put early points on the board, and most CX initiatives had too little clout to force meaningful operational change.
Customers' expectations will outpace companies' ability to evolve or invent experiences, and the deferred transformation in 2017 means that companies can't adjust fast enough or well enough.
In a recent study conducted by Periscope research, 78% of retailers admit their consumers do not have a unified brand experience and 45% of them also say that progress isn't happening fast enough.
This failure also leads to a decline in customer experience. In 2018, 30% of companies will see further declines in CX performance and those declines will translate into a net loss of a point of growth.
So How to Get A Punch-Back?
The decline of customer experience is a serious problem that should be solved. One of the solutions that can be used to get the customer experience back on the right track is elevating the unique customer touchpoint by maximizing any interaction with customers.
According to Aberdeen Group, companies that provide a consistent service quality across multiple channels retain 89% of their customers, whereas companies that do not provide a consistent quality are only able to retain 33%.

To execute the step above, companies need to allow consumers to purchase wherever they may be while communicating in a way that is in tune with why they use a given channel and showing awareness of the individual stage in the customer lifecycle.

With today's tech-savvy customers, omnichannel has become more than just a "nice to have" method; it's now a basic requirement for customer service. Customer experience through customer service is important to build customers' perception of how your company treats them.
These perceptions affect their behaviors and build memories and feelings and may drive their loyalty. In other words: if customers like you, they are going to continue doing business with you and recommend you to others. Therefore, to make customers like you, you should treat them very well and deliver unified experiences that will entice their loyalty.

To review the necessity of e-commerce to leverage customers' experience, let's take an example from Courts. Courts is one of the e-commerce retailers that provides furniture with a variety of products. Through their website, Courts continues to leverage customers' experience into the next level. They are trying to bring choice to consumers, by methodology such as giving a payment option using in-house credit as one method of payment beside a cash.
It is Courts' intention to attract customers and of course provide varied products with competitive price. This innovation, a procedure in which terms & condition are required to apply for this credit, needs to reach a large market in order to achieve its main goal.
To deliver their promotional message, credit payment option and so forth to customers Courts can use a short message service (SMS) blast. But this is just a one-way process and doesn't allow companies to get any feedback from their customers as there is no engagement facility.

On the other hand, 50% of the population in Indonesia is actively using the internet and 130 million people are active media social users. Social media platforms such as Facebook, LINE, Twitter and others have a big role to play in the engagement strategy process between the merchant and the customer. It makes the competition to attract customers much more aggressive than before.
Based on a survey, people spend almost 3 hours every day exploring their social media accounts. They do activities such as: liking photos, updating statuses, or just chatting using a messaging application. Companies can engage their customers through this. Businesses should be aware of this significant change in customer habits and needs.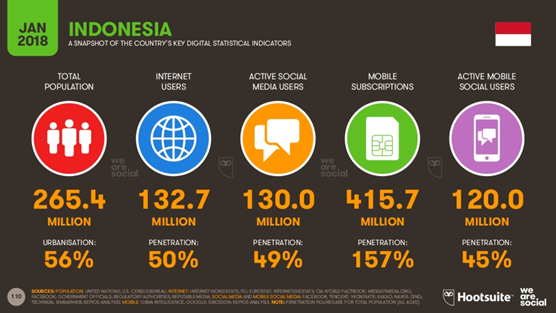 Qiscus Omnichannel Chat Solution
As an accelerator package, it will be an integrated way to connect a customer to a merchant via Facebook Messenger, LINE, and Qiscus widget directly. So that their communication needs become easier to meet than ever before. All companies need to do is to operate a single platform to greatly enhance their efficiency. By integrating text, images, and instant messaging to provide a unified brand experience so that the customer can switch between multiple channels, yet still experience the same quality of service.

In Qiscus Omnichannel Chat Solution (Qismo), customer service chats are able to give you the opportunity to serve your customers in a variety of ways that are not only convenient and effective but also boost your brand's image and credibility. In the conversational commerce era, the most important thing to be emphasized is how businesses are able to provide the same great experience across the channels that customers expect.

Additionally, Qismo can be equipped with chatbot that not only serves as customer service but also can be used to process the payment after the customer has finished shopping. Or in this case, chatbot also can be set as a reminder for the customers' payment due date. So it is not only leverage your customers experience by integrating your different channels but they can also add some smart functions for your customers.
However, keep in mind that omnichannel customer service is a double-edged sword in some circumstances. Besides its potential to reach broader customers, omnichannel also has a negative side if businesses are unable to deliver the same experience across the channels.
In order to make things as they are intended to be, businesses need a partner who is expert in the omnichannel customer service to implement the strategy. As you can see, it's not easy for businesses to engage their customers via multiple channels without any help from a third-party. Qiscus as a chat provider service has just launched its omnichannel customer service dashboard called Qismo.
So, you can easily manage your company's customer service chat such as Facebook Messenger, LINE, and web widget in one simple dashboard. The application of this omnichannel customer service in your business is one of the best ways to fulfill customers expectation. Drop us a note at www.qiscus.com or you can read our white paper and see what we can offer for you.