WhatsApp Business API users will surely be familiar with the term Message Template. Message Templates are templates businesses can use when they want to initiate conversations with customers. Message templates cannot be created and sent at whim but must comply with certain conditions imposed by WhatsApp. WhatsApp must also give its approval for such messages to be sent.
Previously, businesses could only create message templates through Facebook Manager. Now, businesses can create and receive notifications regarding message templates through the Qiscus Omnichannel Chat dashboard. More details will be discussed in the following article.
Features of Messages Templates on WhatsApp API
Unlike the regular WhatsApp personal and WhatsApp Business, WhatsApp Business API requires businesses to use message templates to initiate conversations with customers. Template messages can be sent in two ways, namely through the Broadcast Message feature or the Windows 24 Hour Customer Service.
Sending message templates via the Broadcast Message feature is the most common way businesses can reach their customers. Usually, a brand or business will send the same message template to all its customer contacts. When a customer replies to the broadcast message, businesses can continue the conversation as usual without having to use message templates again.
However, it is important to note that sending messages without using template messages is only valid for 24 hours from the first time a customer replies to a broadcast message or when a customer first sends a message to a business. After this 24-hour window, businesses must return to using message templates. Likewise, if the business wants to continue the conversation for more than 24 hours, the business can initiate the conversation again by sending a message template in the customer's chat room.
All message templates that will be used and sent by businesses must be pre-approved by WhatsApp. To receive approval from WhatsApp, businesses must first submit a draft of a message template. The draft should contain various important points, such as the title of the message template, header, body, footer, and buttons.
In addition, businesses can also create more than one message template using multiples languages which are supported by WhatsApp. Even so, there are some conditions in creating message templates that businesses must pay attention to. For example, message templates should not contain promotional content. Message templates must also not contain elements of a customer's sensitive data request. For more details, please visit the following page.
Tutorial on Making Message Templates on WhatsApp via Facebook Business Manager
As a WhatsApp Business API user, your business should already own a Facebook Business Manager account. If this is not the case, you will be required to register for one under the Facebook Business Manager and activate the WhatsApp Business API to be able to use the message templates feature.
If you already have a Facebook Business Manager account and WhatsApp Business API, you can carry on to follow the tutorial on creating message templates below:
Visit Business Manager and log in using your business account
Click the sidebar menu then select WhatsApp Manager
Select the WhatsApp account you want to create a message template for, then click the 3 dots (3-dots) icon
Next, select Manage Message Templates. If you have more than one WhatsApp Business API accounts, you can click the drop-down menu to select account you want to manage message templates for.
Then, click Create Message Template.Select and complete the Category, Name, and Language sections that you want to use. Do note that for the Name section, you can only use lowercase alphanumeric characters and underscore symbols
Click Continue and fill in the content of the template messages such as Add Sample, Header, Body, Footer, and Buttons
Once you have completed filling in the template, click Submit for the template to be reviewed by the WhatsApp team
Auto-Sync WhatsApp Message Templates on Qiscus Omnichannel Chat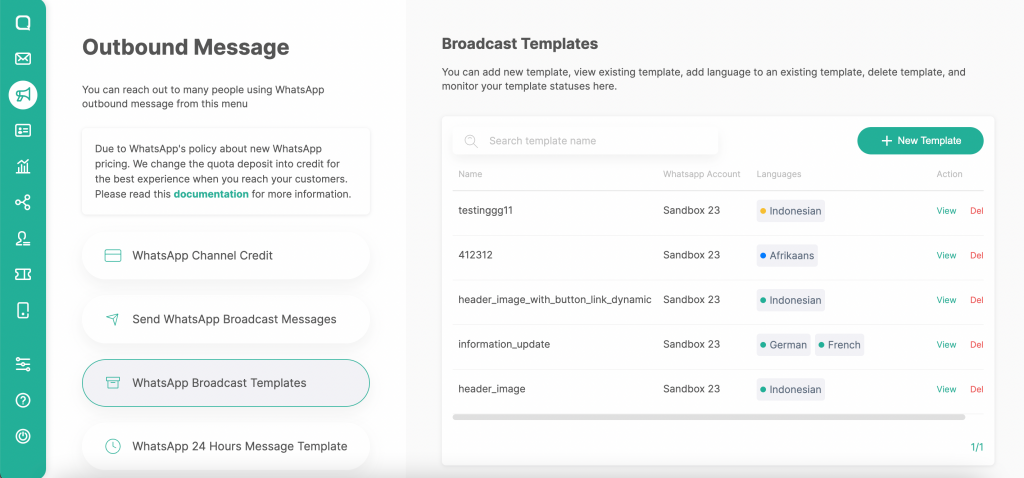 Previously, businesses had to visit the Facebook Business Manager dashboard to create and find out the status of their created message templates. Now, businesses can do this only through the Qiscus Omnichannel Chat dashboard, specifically through the Auto Sync WhatsApp Message Template feature. This feature will greatly facilitate businesses in managing their message templates, including no longer having to manually input message templates into two different platforms.
Furthermore, this feature also allows businesses to auto-sync data template messages in Facebook Business Manager and the Qiscus Omnichannel Chat dashboard. So, whether it's a business creating template messages through the Facebook dashboard or the Qiscus dashboard, both platforms will display the same data and synchronise with one another.
Tutorial on Creating Messages Templates via the Qiscus Dashboard
For Qiscus Omnichannel Chat users, it is now easier to manage WhatsApp message templates by simply following the tutorial below:
Firstly, log in to the Qiscus Omnichannel Chat dashboard via a pre-registered account.
Then, clickOutbound Messages on the side. Select WhatsApp Broadcast Template.
In this section, you will be able to view the status of each of the previously submitted message templates. To receive the latest updates, you can simply click Sync Now located at the bottom.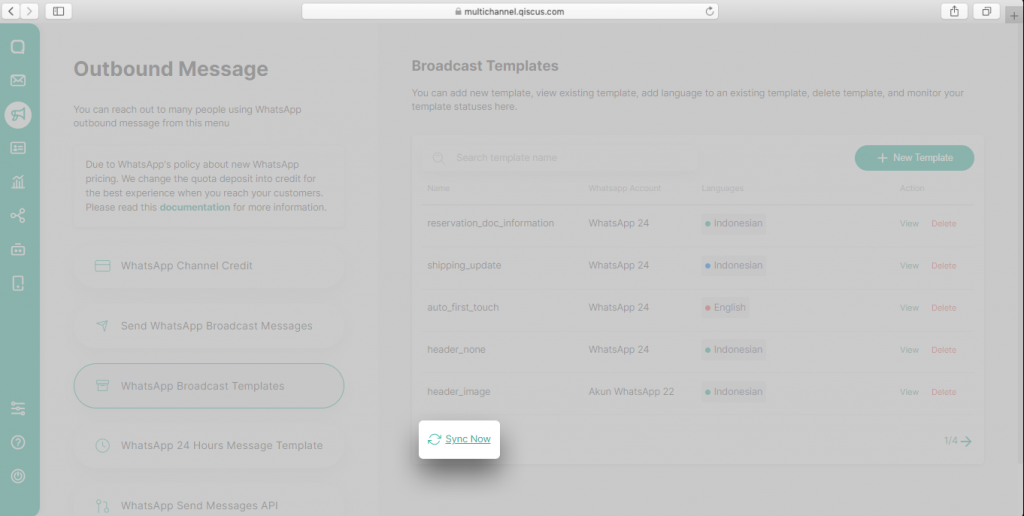 If you want to add a new message template, click the + New Template button
Fill in the Name, Category, and Language that will be used in the message template.
Now, you can fill in the content of the message template according to the existing columns, such as Header, Body, Footer, and Buttons.
Then, click Submit for the template to be reviewed by the WhatsApp team
The use of the Auto-Sync WhatsApp Message Template feature is expected to make it easier for businesses to create and manage their message templates more instantly without having to open two dashboards at once. If you face any challenges using this feature, please contact us via the following link. To subscribe to the WhatsApp Business API and Qiscus Omnichannel Chat, contact our sales team via this link.