Sending broadcast messages is an effective way to convey important information, be it related to schedule changes, order tracking, and much more. WhatsApp is one of the most widely used channels for sending broadcast messages. However, because a business is usually present on more than one outreach channel to communicate with customers, it is possible that customers may not have WhatsApp as their main communication channel. Based on this, sending a broadcast message to customers' preferred channels will increase the likelihood of the message being received by customers who are not on WhatsApp.
Sending a broadcast message is helpful for your business to deliver important messages to customers across various communication channels more quickly and simultaneously. It also allows you to reach more customers according to the channels they are using, increases customer experience, and will also help to increase success rates of sending messages.
But how can businesses send broadcast messages to multiple channels? Not to worry! Qiscus has a Broadcast to All Channels feature which will help you send broadcast messages to multiple channels with just one click.
Currently, you can send broadcast messages to many channels other than WhatsApp including Facebook, Instagram, Telegram, LINE, and custom channels. You can read this documentation for more details about the Broadcast to All Channels feature from Qiscus.
So, without further ado, here's a tutorial you can follow to send broadcast messages to multiple channels.
First Thing First
You must prepare some things before using the Broadcast to All Channels feature from Qiscus:
An activated Qiscus Omnichannel Chat account. help you can contact us here.
The channel to integrate into Qiscus Omnichannel Chat.
Step 1: Prepare Your Broadcast
The first step for sending a broadcast to multiple channels is to prepare the message. If you want to send the broadcast to a WhatsApp channel, you will need an approved message template. However, for other channels, you can send the broadcast using a template or otherwise.
You can add messages manually during the process of sending broadcasts.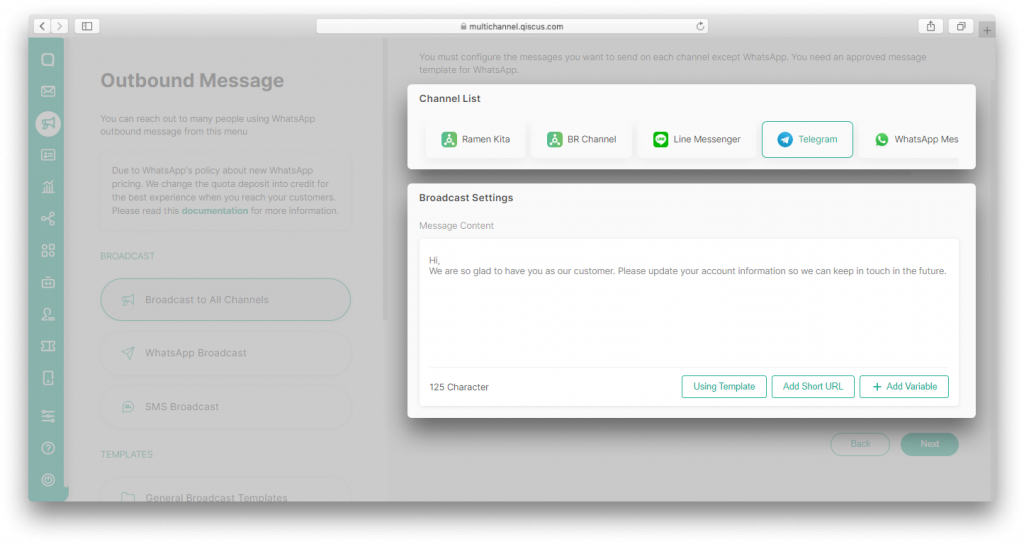 You can also save the message in the General Broadcast Templates menu in case you want to use the message more than once. To do this, follow the steps below:
Go to the Outbound Message menu and select General Broadcast Templates: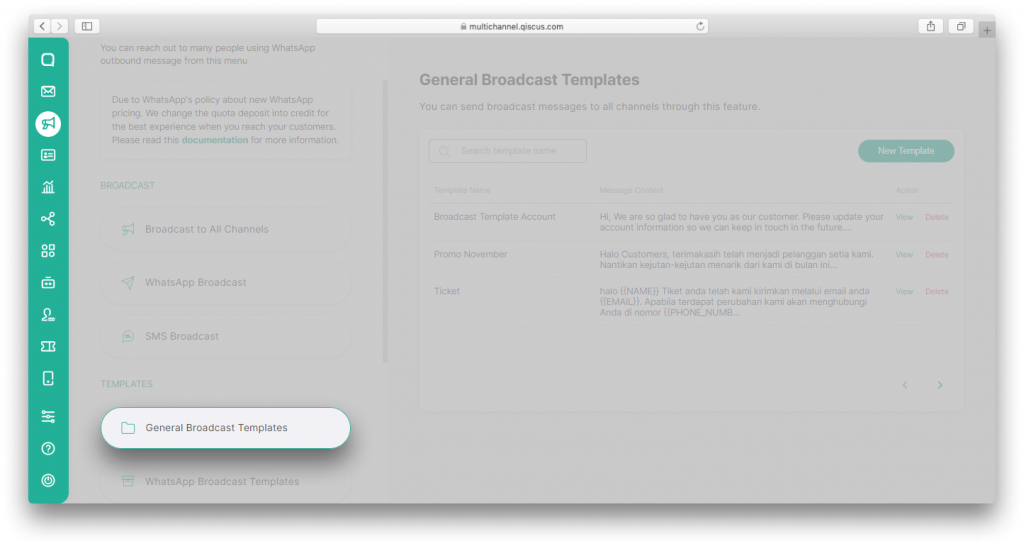 2. Click on the New Template button,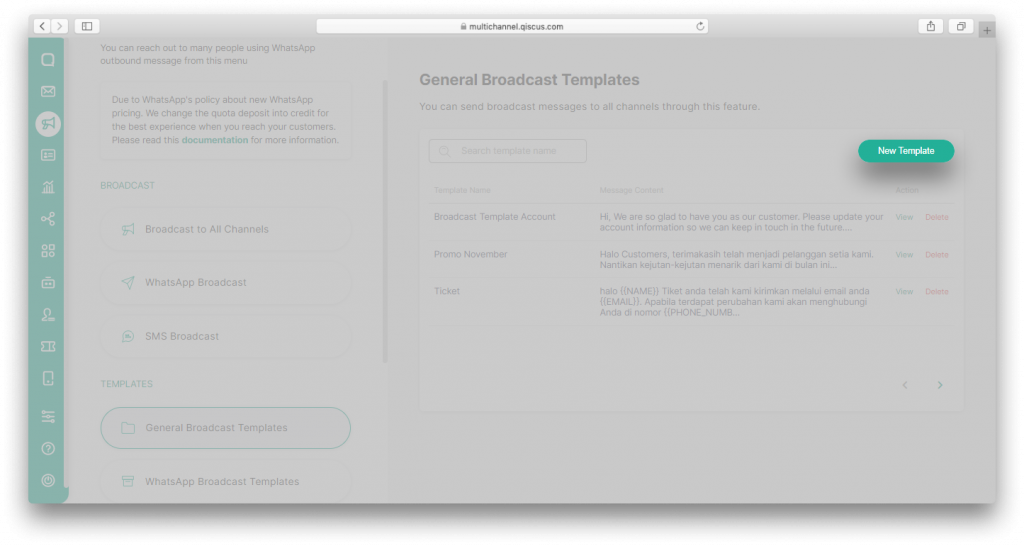 3. Fill in the Broadcast Name and the contents of the message. You can also add a short URL and variables in the template. Once you are ready, click Save.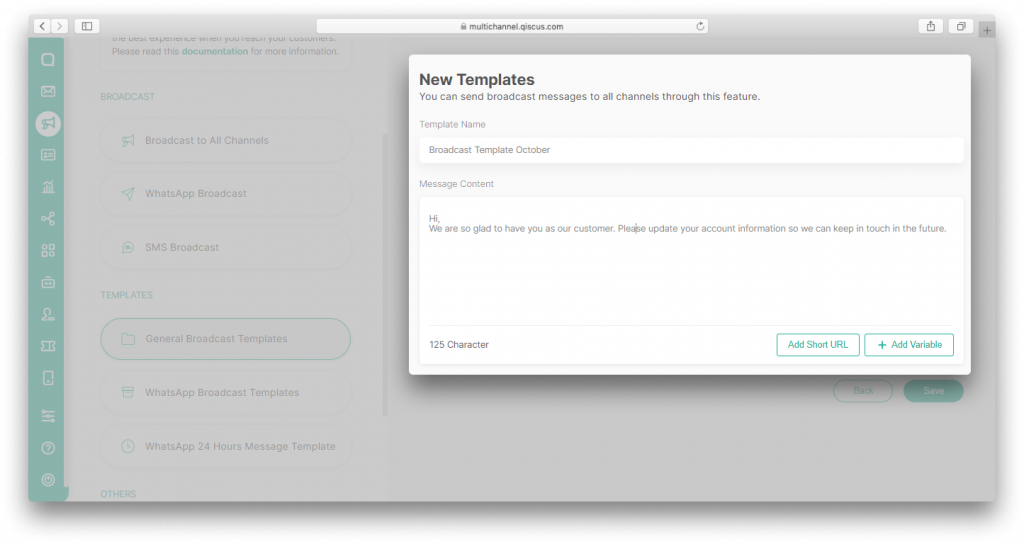 Step 2: Send the broadcast to your preferred channels
Once your message is ready, you can start sending out the broadcast. To do so, go to the Outbound Message menu and select Broadcast to All Channels. In this feature, you can choose to send the broadcast to Customers or to a Customer Group.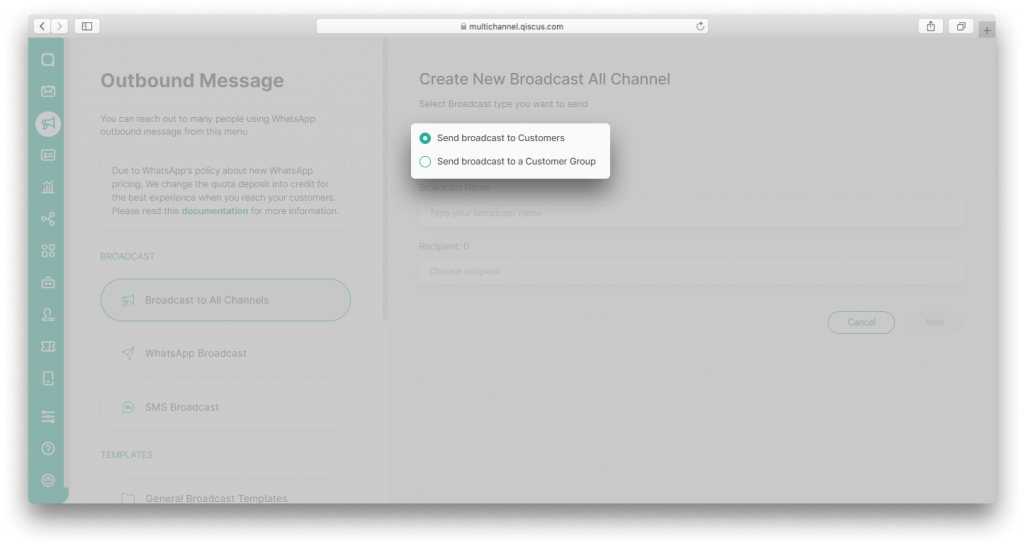 If you choose to send the broadcast to customers, you will see a list containing all of your customers. If there is a linked customer among the list of recipients, you can select a specific channel from the linked customer to send the broadcast to.
On the other hand, if you choose to send the broadcast to a customer group, you will see a list containing all of your customer groups but you can only select one customer group at a time.
After selecting the broadcast receiver type, configure the message content you want to send to each channel. You can create new content or use the message template from the previous step.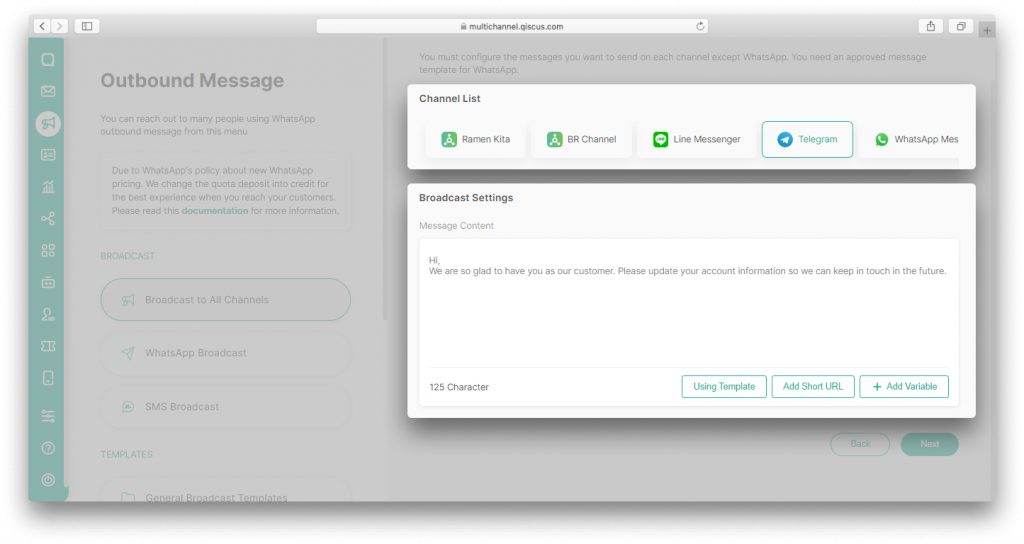 Results
Here are several sample results from Instagram and WhatsApp.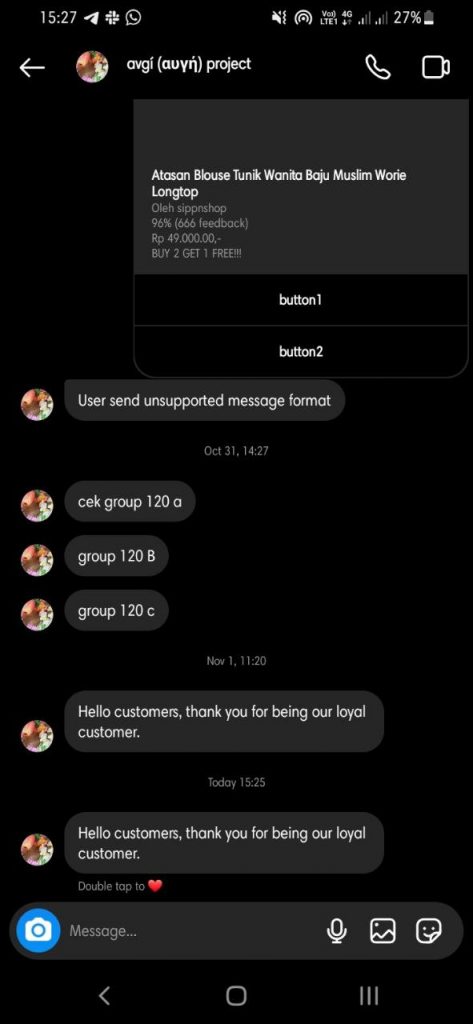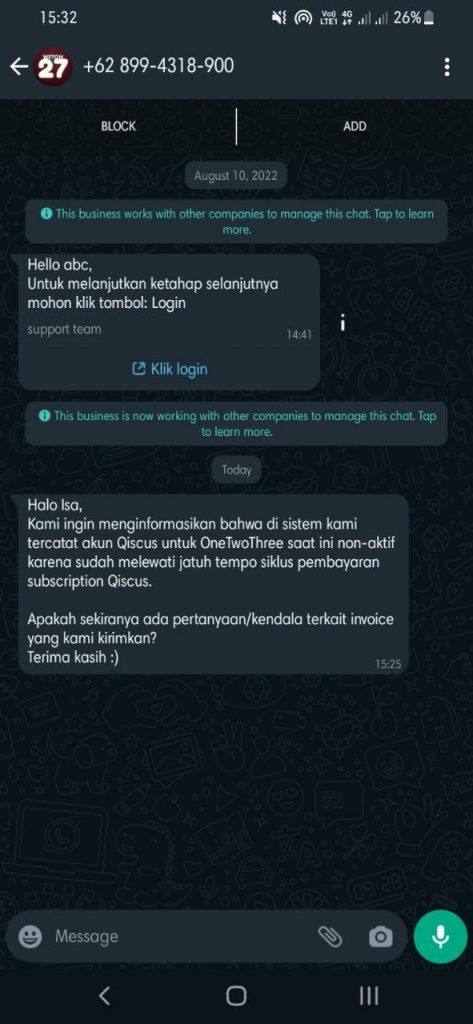 Step 3: Make sure to check the delivery status of the broadcast messages
After pressing the Send button, you have to check whether the broadcast has been sent to the customers or not. To do this, you can view the broadcast logs in the Outbound Message menu.
You must select the broadcast type either by a customer or by a group.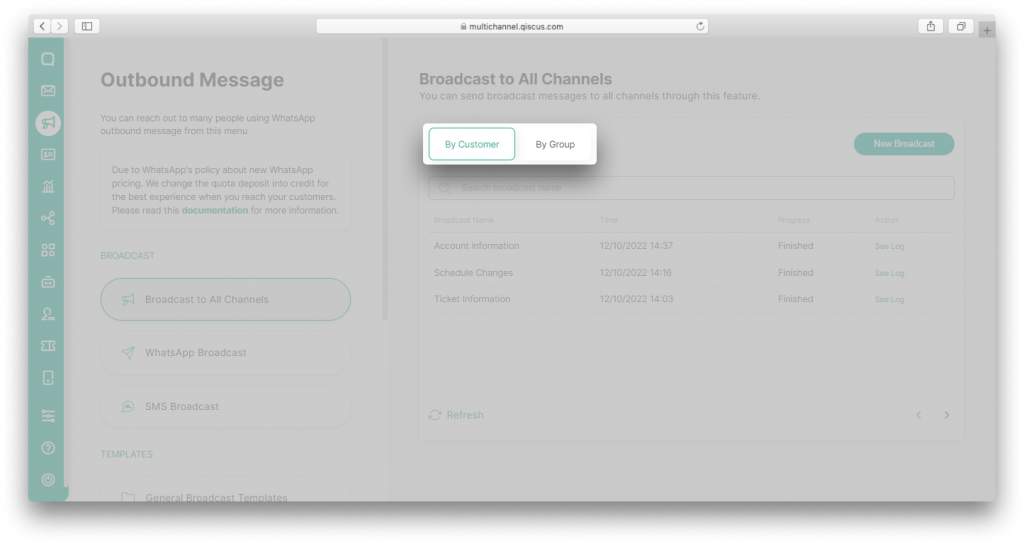 2. Click See Log.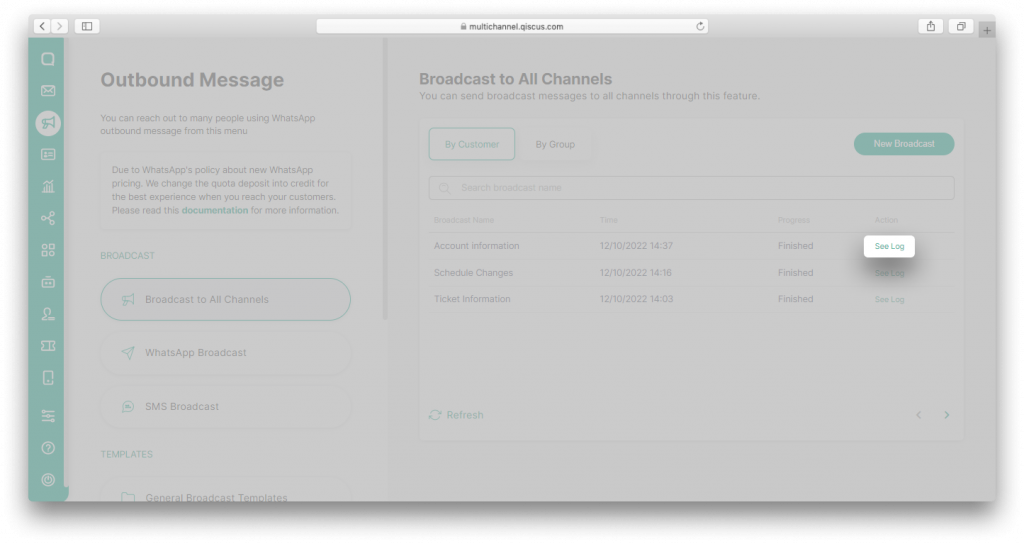 3. You will then be able to see the broadcast report. If the broadcast is not sent, there will be a reason for the failed delivery.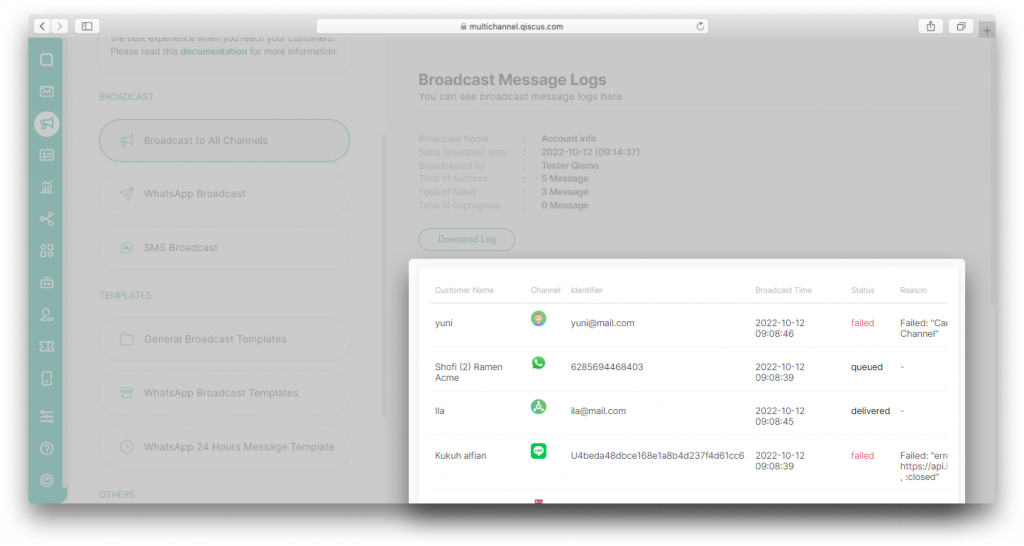 Step 4: Analyze the broadcast report
To ensure you have a comprehensive report for every broadcast, Qiscus Omnichannel is able to provide a detailed report for you to analyze. Go to the Analytics menu, click Outbound and select All Channels.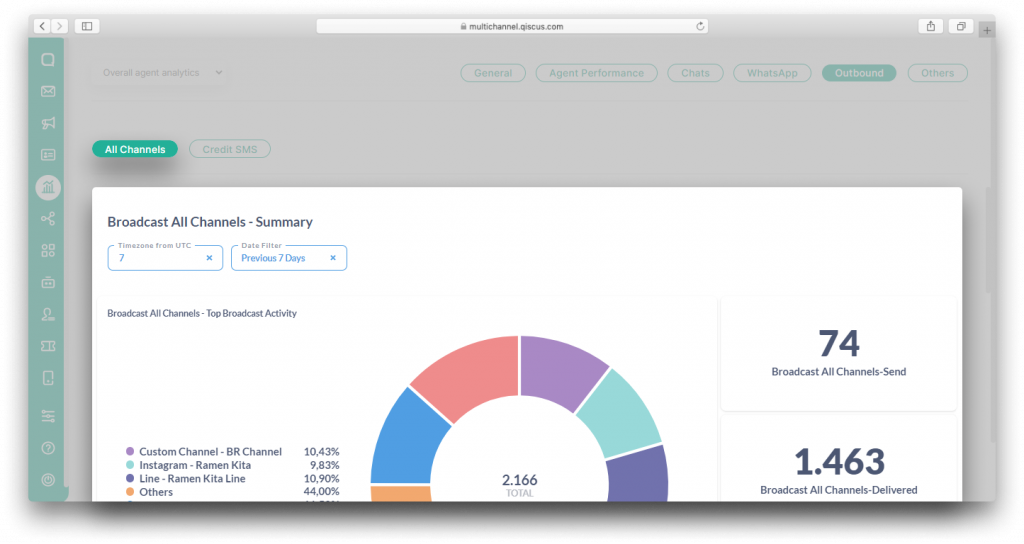 You will then be able to view a comprehensive report of all broadcasts that have been done.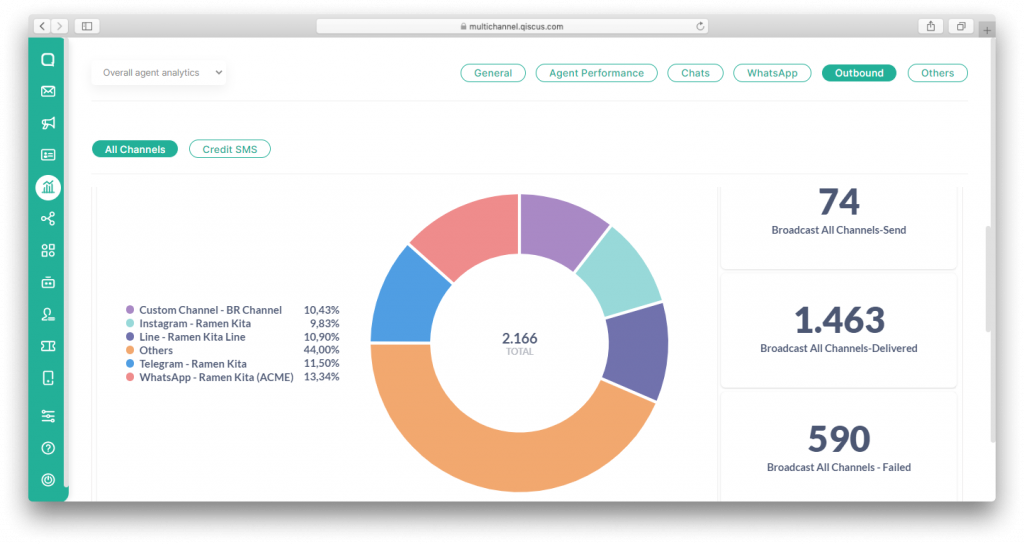 Congratulations! Now, we are done!
Contact Qiscus for other awesome features
There are other solutions, such as Chatbot and WhatsApp Chatbot, that are useful for maximizing your business communication with customers. Feel free to contact our team for a consultation and to receive the best offer.