Message Templates on the WhatsApp Business API are not ordinary outbound messages. Within the same dashboard, businesses can take advantage of this feature to build more interactive and efficient conversations with consumers. There are 11 forms of Message Templates that are available for businesses to take advantage of so do read on to find out more about them.

In previous articles, we have seen how the presence of the WhatsApp Business API can be an effective solution for businesses, starting from the many features that it supports, to the significant role of the WhatsApp Business API in creating memorable customer journeys.

We know that WhatsApp Business API is the best fit as a medium for sending notifications and updates to consumers. Sending out these notifications is a feature supported by Message Templates in WhatsApp Business API. We've also covered how Message Templates work previously in this article.

Ways to Apply Message Templates in WhatsApp Business API
Here's a summary of how you can apply the various Message Templates in WhatsApp Business API:
1. Account Update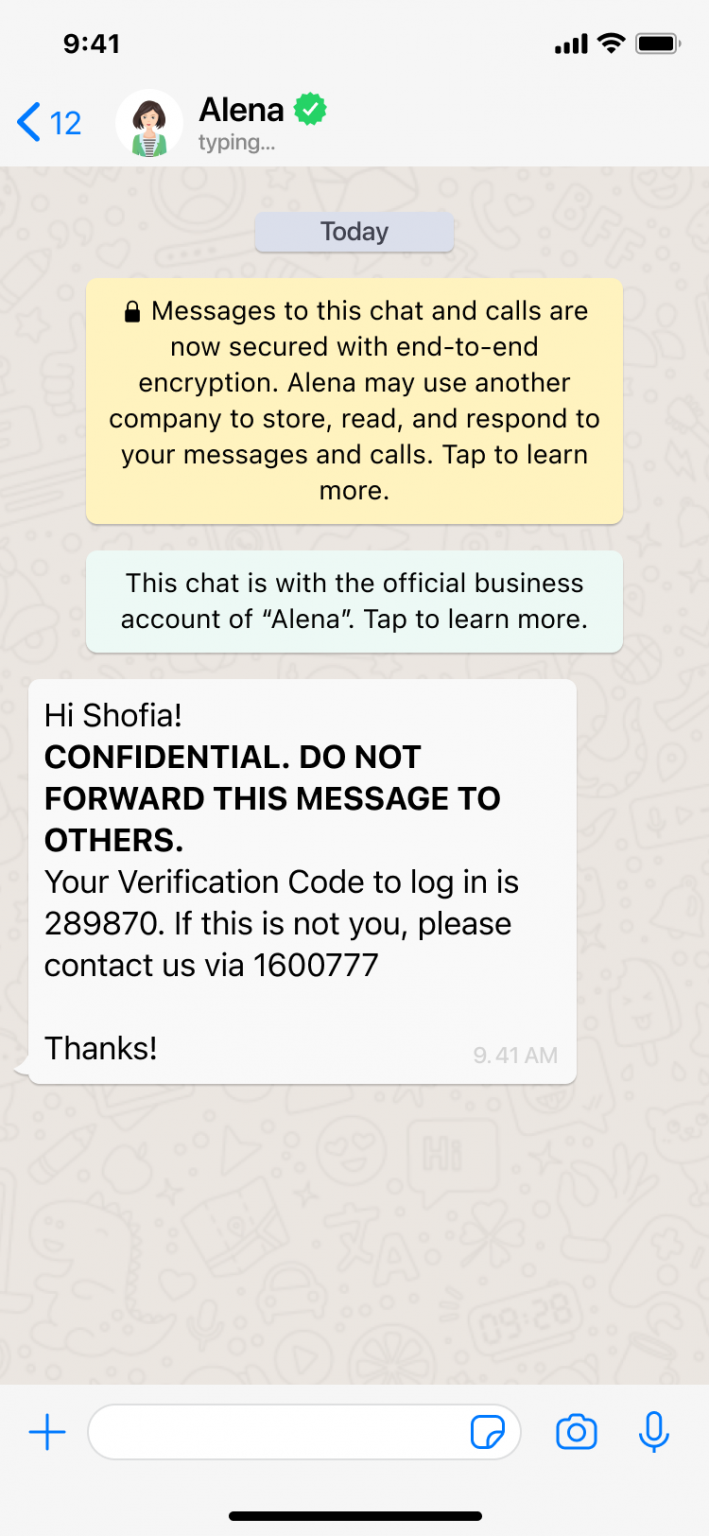 In today's digital world, we are certainly familiar with the term 'One-Time Password (OTP) whether we are shopping online activating our accounts or completing financial activities. Businesses can send OTP notifications using Message Templates via WhatsApp Business API as it is safe due to end-to-end encryption, which ensures that messages can only be read by the intended recipient. Apart from OTPs, this feature can also be used for various updates related to consumer e-mail accounts and other confidential matters.

2. Auto-Reply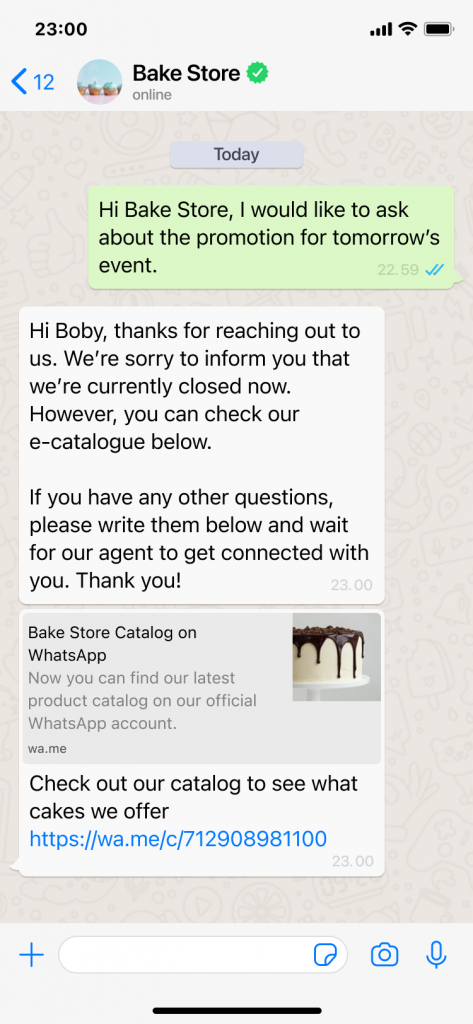 You no longer have to worry when a customer messages your business after operational hours. With Message Templates, which facilitates the Auto-Reply form, businesses can customize messages that will automatically be sent when consumers contact the business especially after business hours.

3. Personal Finance Update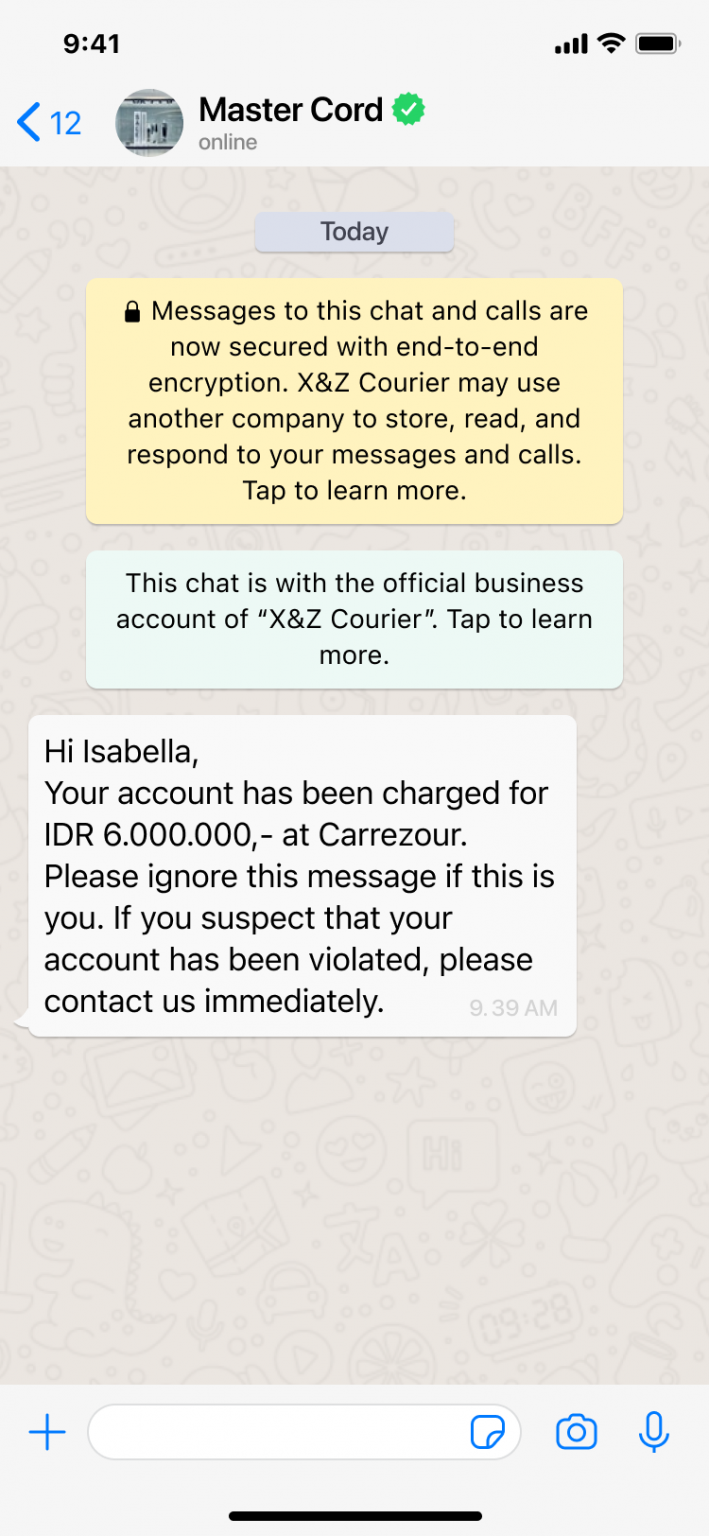 This feature is suitable for financial transactions carried out by financial institutions, such as banks or financial technology companies, which allows providing periodic updates about customers' financial matters.

4. Ticketing Update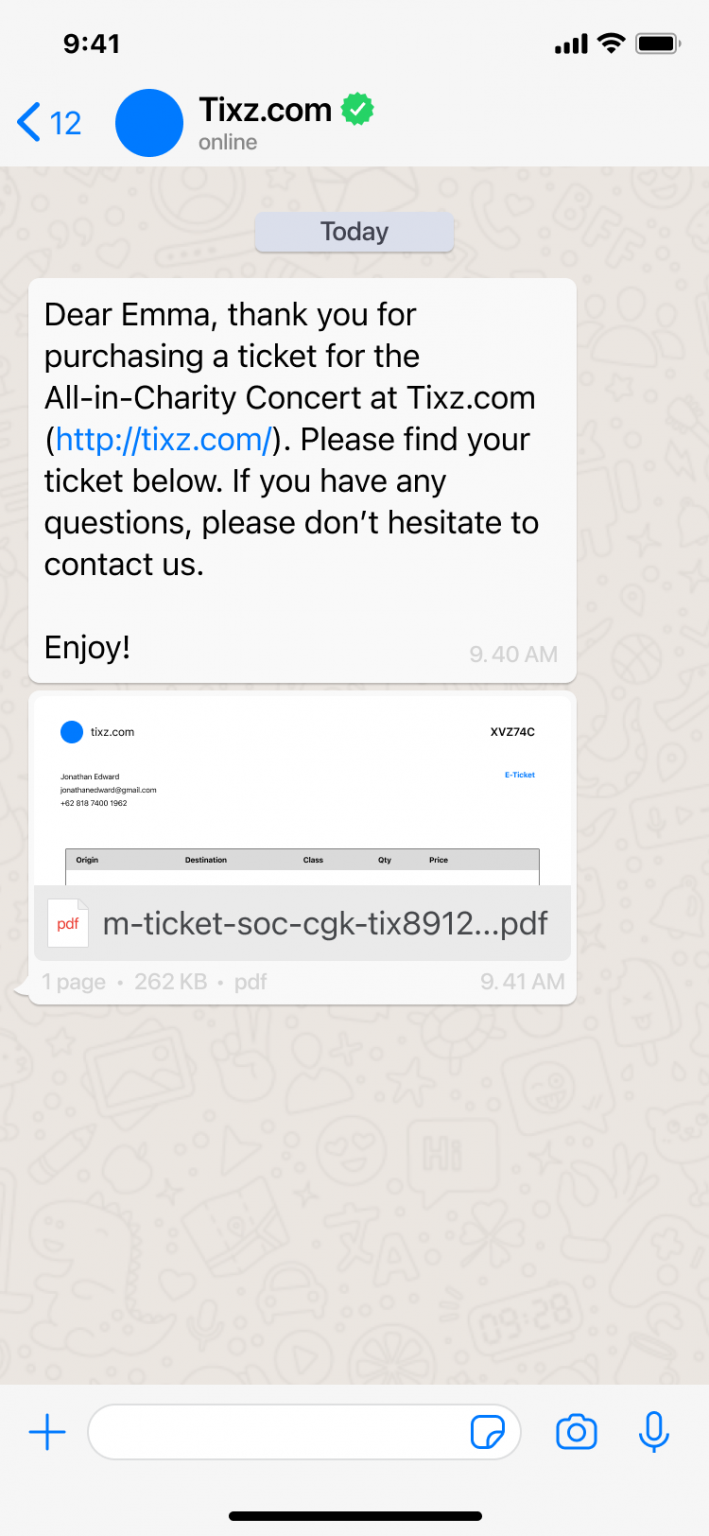 Businesses can send customizable event tickets and provide detailed event information using WhatsApp Business API Message Templates to customers. Businesses can also employ creativity by adding informative media such as adding PDF files, location maps, travel directions, and FAQ pages whose formats are supported in WhatsApp.

5. Appointment Updates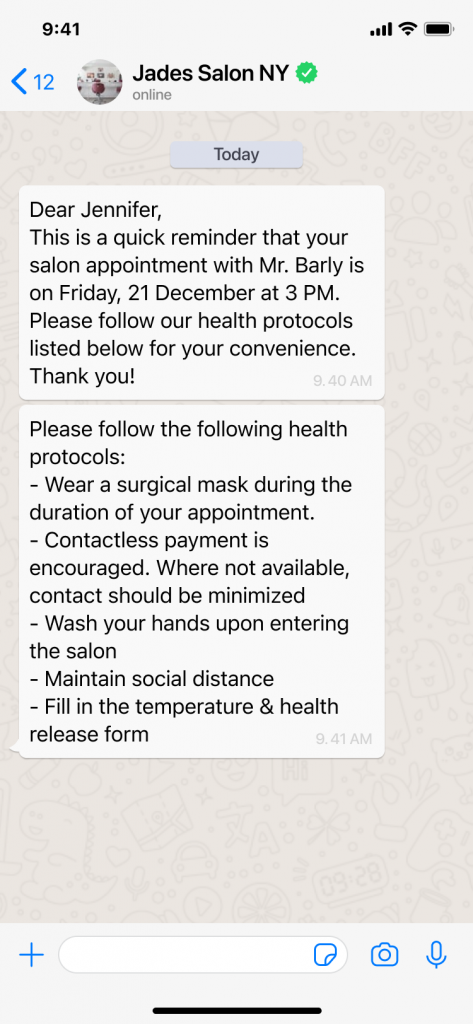 Appointment Updates are used as reminders for consumers about upcoming appointments. Businesses which require prior reservations, especially during this pandemic where capacity of visitors is very limited, may find sending such notifications using Message Templates very helpful.

6. Shipping Updates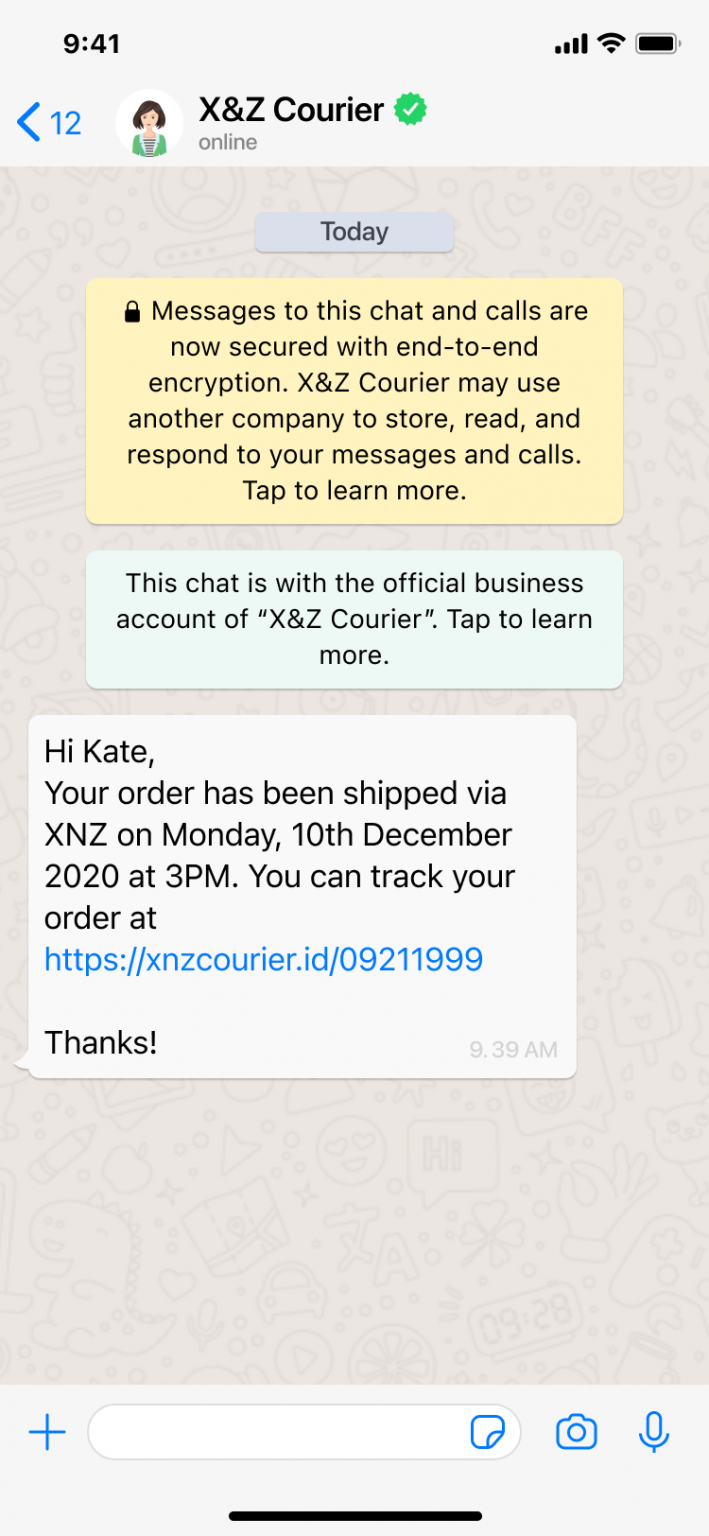 This notification is suitable for online shops. As we all know, consumers want transparency regarding the shipping information of the business concerned. This way, they can track orders easily and avoid anxiety while waiting for their orders to arrive. Sending shipping updates via WhatsApp will certainly be an effective way and will be preferred by many people considering its practicality.

7. Alert Update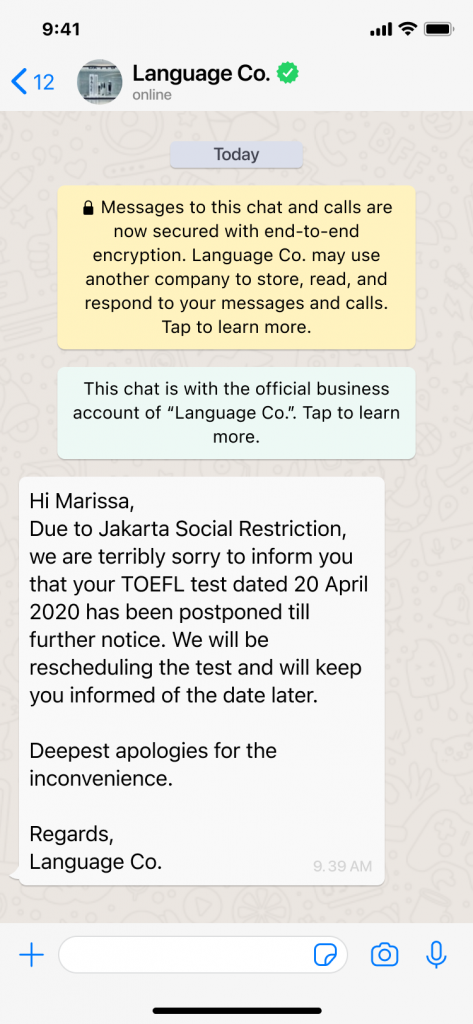 Alert updates in this context are not of a promotional nature sent to consumers, such as reminders when there is a discount or catalogues for promotions. Instead, alerts contain notifications of important and urgent matters relating to certain conditions that consumers need to know.

8. Issue Resolution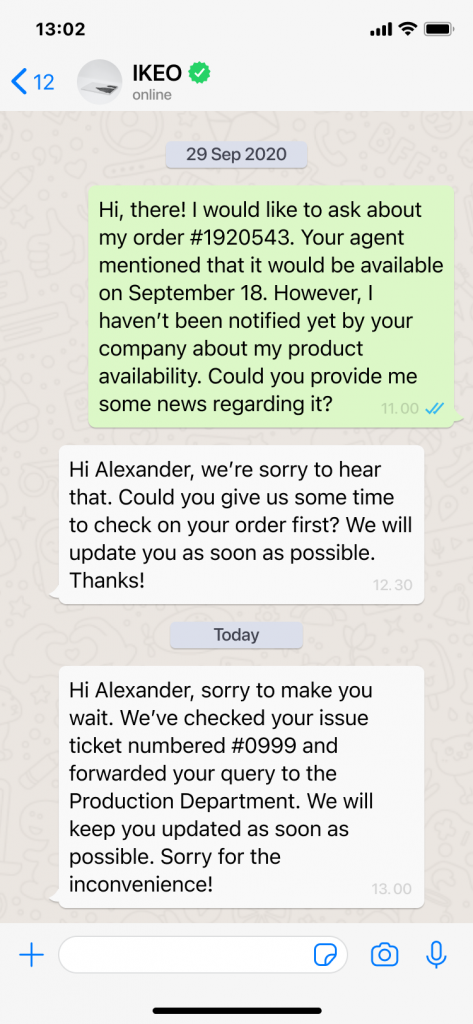 The existence of issues with consumers is something that cannot be avoided in running a business. Often, external factors also contributes to the situation. This is what makes customer care challenging at times as there may be confirmation that needs to be done with your partnering business or vendor.

To overcome this, Message Templates can accommodate businesses which require more than 24 hours to resolve an issue faced by consumers. It can also be used to reactivate the customer care window that was interrupted. Don't forget to make sure that the content is still relevant to the previous conversation!

9. Reservation Update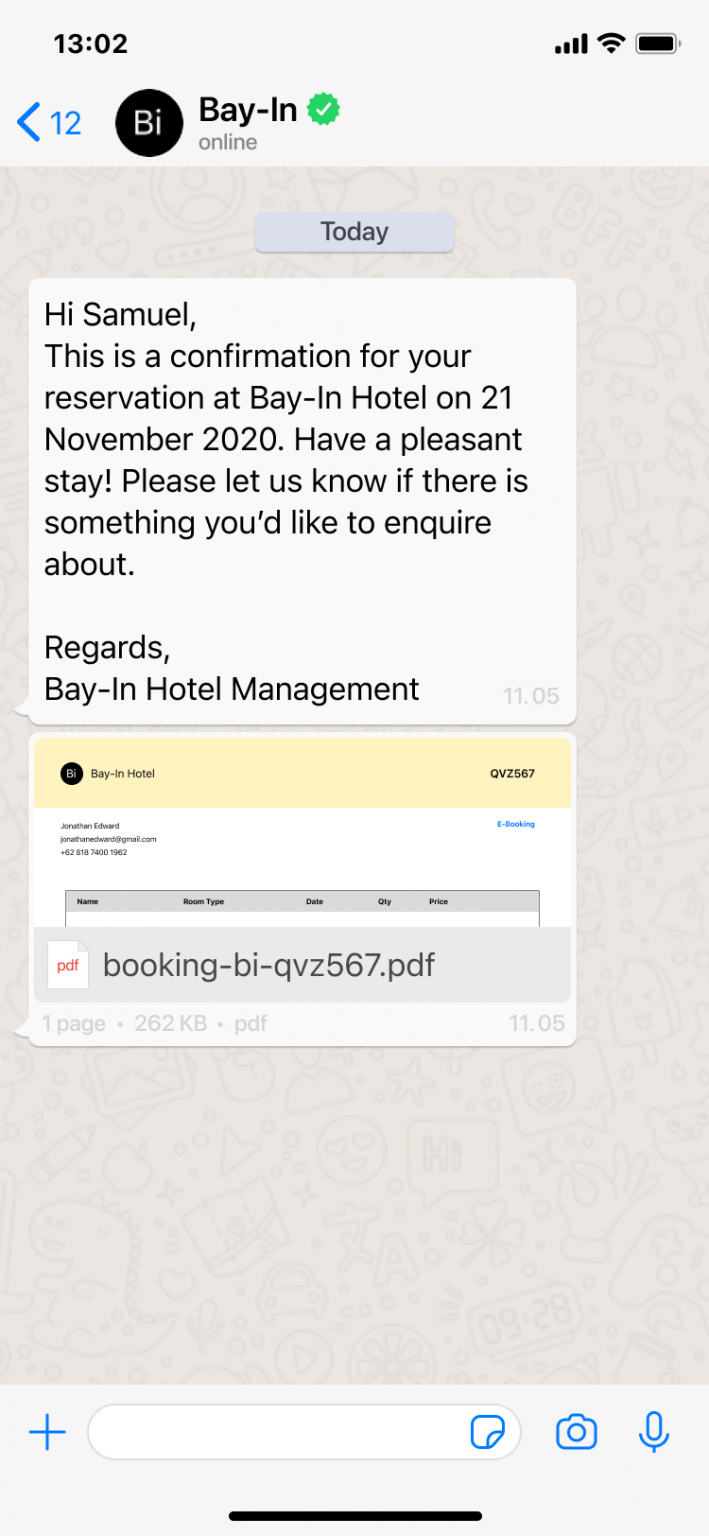 This Message Template form can be used to provide updates regarding reservations made by consumers, especially in the hospitals. reservations for lodging, restaurants, car rentals, and other things.

10. Transportation Update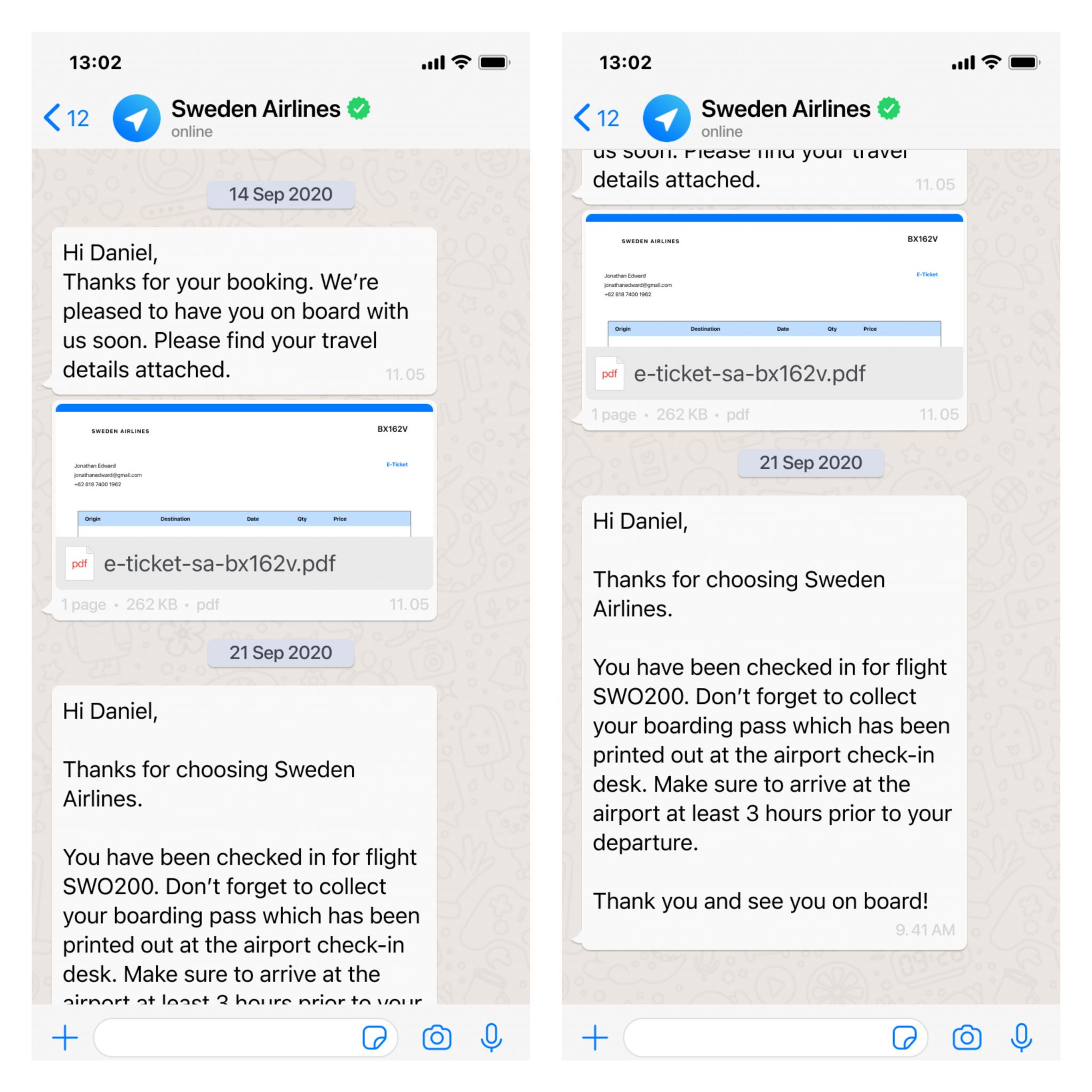 Consumers, especially those who use transportation services, want travel information system that is paperless, practical, and easily accessible. WhatsApp has also facilitated businesses in this industry to be able to send Message Templates that contain departure information such as transportation tickets, changes in boarding gates related to consumer departures.

11. Payment Update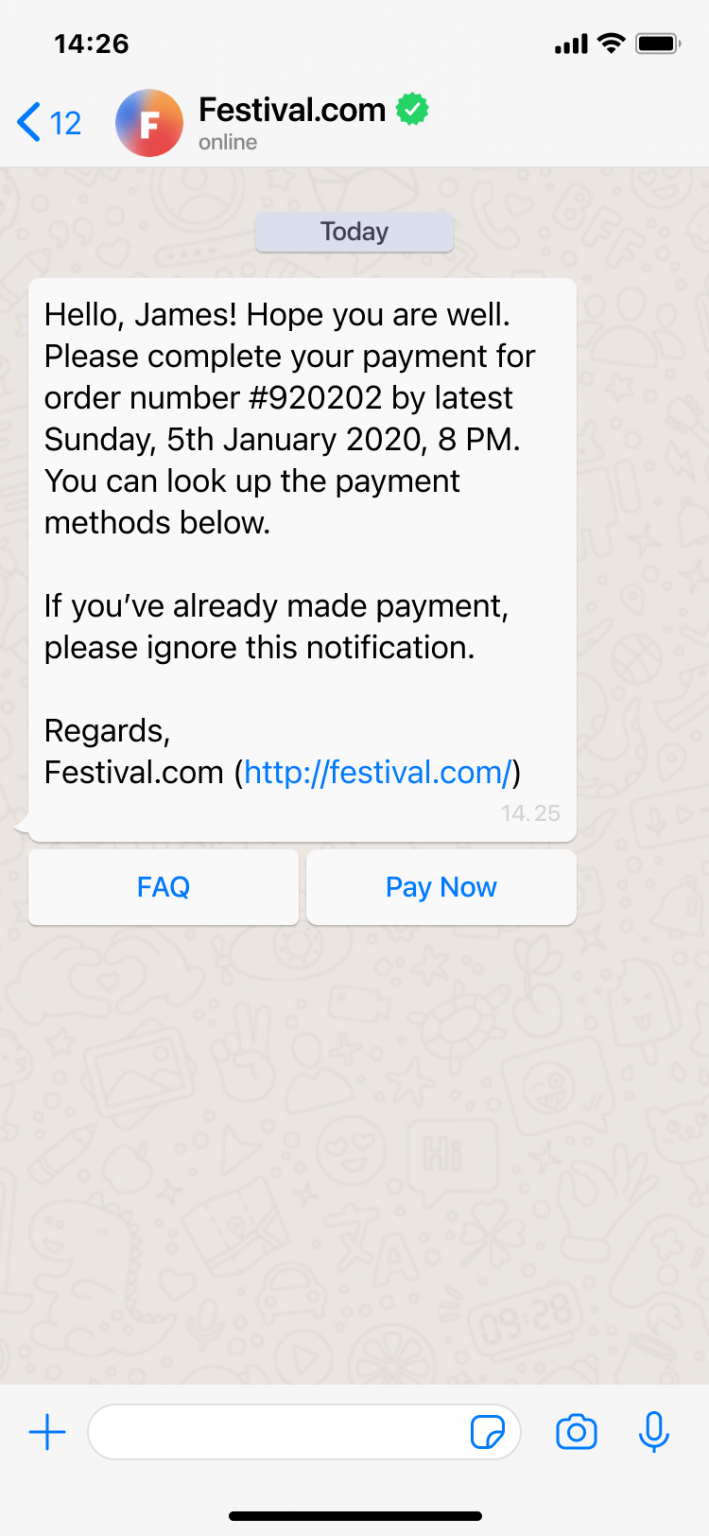 Businesses can use WhatsApp Template Messages to send various reminders relating to pending payment as well as provide progress on the payment process made by consumers. Not only that, invoice billing and other proofs of payment can also be included here. Therefore, consumers will be constantly updated about the process that is happening with this transparency.

From the 11 ways above, businesses can compose their own words and adjust to the desired delivery style. However, don't forget to make sure the correct diction is used so that these Message Templates can be approved by WhatsApp.

Interactive Messages on WhatsApp API
Apart from the 11 categories above, WhatsApp Business API can also facilitate other forms of Template Messages to be more straightforward through the Interactive Messages feature. Interactive Messages will provide convenience in the form of faster and more concise ways for businesses, especially when compiling the updates for all the necessary actions in the transaction process.

As an example, if previously businesses had to design their own 'Call to Action' processes, WhatsApp has now facilitated pre-designed buttons that can be used to create Interactive Messages. Here are two predefined buttons to choose from: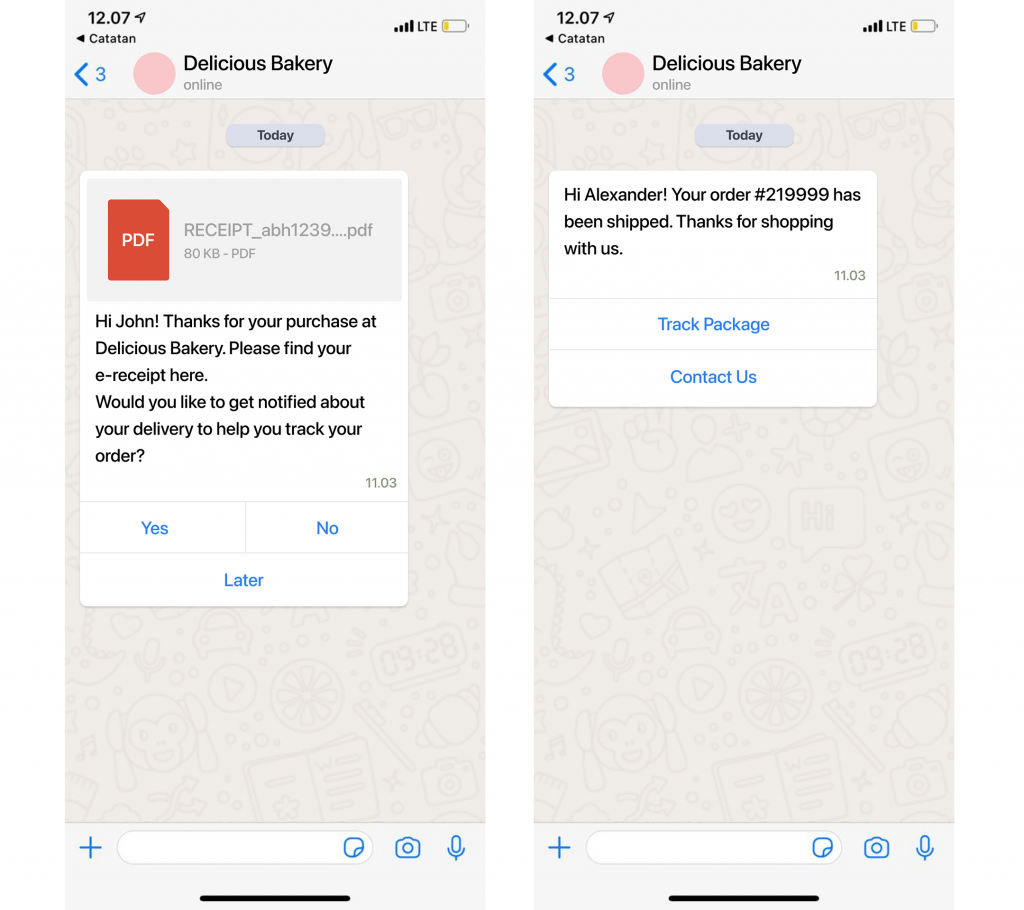 a. Call to Action
Generally, businesses can use this button to connect consumers with business contacts, either by telephone or linking websites.
b. Quick Reply
The second form, Quick Reply, contains predefined text that is intended for a specific action, as well as options for consumers. Quick Reply can also be used to reactivate Session Messaging so that businesses will not be charged again when continuing it.

Businesses can also add more than one button according to the desired function and purpose. For example, businesses can also add buttons such as "Contact Us", "Pay", and "Track Your Delivery" in these Interactive Messages.
Try it Now!
The application of Template Messages can effectively support and enhance your business communication operations. The many forms of applications that can be developed according to specific business needs are the main attractions of this feature.
If you still have questions regarding WhatsApp Business API, don't hesitate to contact us. Also, learn other tips on maximizing the use of the WhatsApp Business API for business, for example by integrating a chatbot, here.