WhatsApp Business API is a system that aims to help businesses interact with customers effectively and efficiently. It allows business owners to respond to messages through customer service processes which increase productivity and timeliness. If your business wants to use the WhatsApp Business API, you can partner with a WhatsApp Business Solution Provider (BSP) such as Qiscus.
The use of the WhatsApp Business API allows you to use various systems and tools to optimize the function of WhatsApp as your business communication channel. Features you can benefit from include auto-response, chatbots, template messaging systems, and more. These available features will lead you to one goal: increase trust and provide a positive customer experience for your business.
Looking at the benefits, it is not surprising that one of our clients increased its Monthly Active Users (MAU) by up to 100% by switching to the WhatsApp Business API. You can read the full story here.
The Importance of WhatsApp: It's In Every Customer's Journey
Customer experience is essential to be paid attention to especially in the stages of the customer's journey that include the pre-purchase, purchasing and post-purchase stages. These three stages are crucial to creating the best end-to-end customer journey.
For businesses, WhatsApp Business API can assist in all three stages to leave the greatest impact on every customer's journey for your brand or business.
How does the WhatsApp Business API impact your customers' journey significantly?
Pre-Purchase
Including a call to action (CTA) via WhatsApp Business API in your promotional media allows potential customers to contact your business directly. By doing this, you can instantly connect with consumers through the ads or other promotions you have created. With the green verified tick that comes with having an account under WhatsApp Business API, your brand leaves behind a sense of trust and security towards potential consumers who click any CTA that links directly to your business' contact details.
Furthermore, the features presented by the WhatsApp Business API that are integrated with Qiscus Multichannel Chat can also simplify your communication with potential consumers. By adding responsive customer service agents to serve messages from your potential customers through the Agent Allocation feature, such efficient and effective interactions can help consumers understand your business and products within a short time.
Purchase
The WhatsApp Business API can also help in improving the conversational experience between businesses and consumers through customer service agents. With real-time interactions, consumers can quickly respond to and communicate with the brand. This is definitely differentiating value between your business and others because you prioritize the customers' experience while interacting with yr business. This is a huge consideration for many consumers when it comes to selecting the right business to transact with. Most of all, using WhatsApp Business API speeds up the response between brands and customers, which will definitely speed up the conversion from leads to customers.
Post-purchase
The post-purchase stage is no less crucial for businesses in the process of retaining consumers – knowing what your customers want or felt about the purchasing process can help create more loyal customers. The WhatsApp Business API, integrated with Qiscus Multichannel Chat, offers the Customer Satisfaction Survey (CSAT) feature where business owners can receive feedback from customers which are useful for future customer retention strategies.

One such client of Qiscus who had implemented the WhatsApp Business API in their customer's journey has succeeded in increasing customer service agents' productivity and customer satisfaction. With the various benefits that the WhatsApp Business API offers, it is definitely worth the price in return for what it offers.
WhatsApp Business API Changes in 2022
WhatsApp Implements New Pricing S in 2022
Starting February 1, 2022, WhatsApp will switch from a notification-based pricing model to a conversation-based pricing structure. While users previously were charged based on messages sent to specific customers using the Facebook-approved message templates (now Meta) via Qiscus Multichannel Chat, charges are now made per conversation, which is calculated for a period of 24 hours after the business sends the first message to customers.
Here's a price comparison table of the old and new models for easier calculation: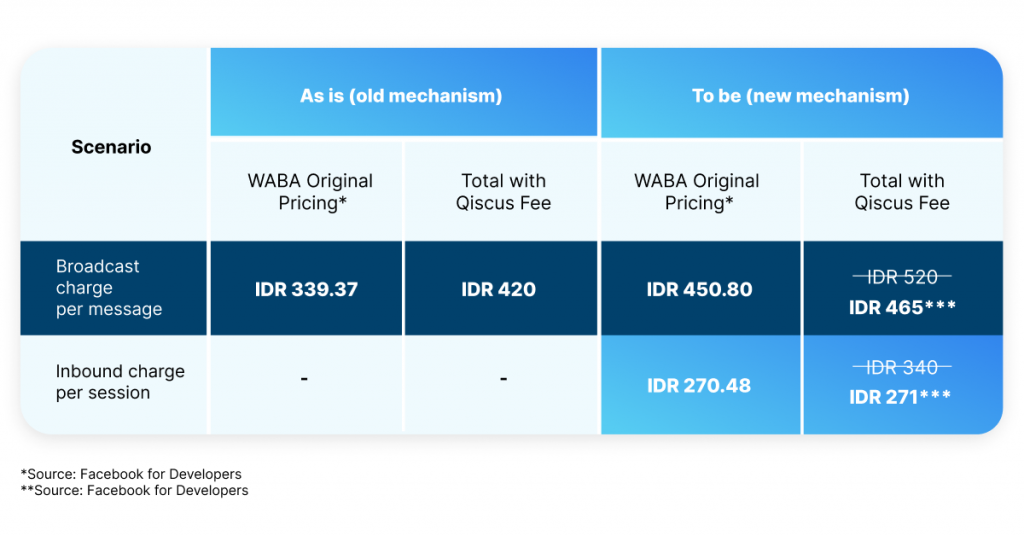 WhatsApp's pricing changes apply to all WhatsApp Business Solution Providers (BSP) globally, including Qiscus. As an official partner of WhatsApp, Qiscus will be following the changes imposed by WhatsApp.
Judging from the WhatsApp Business API's impact on your business, with the price that the WhatsApp Business API has set along with the Qiscus service, the new pricing structure is still very reasonable. To learn more about the WhatsApp Business API price change mechanism in 2022, you can read more here.
Why Your Business Should Continue Using the WhatsApp Business API
The change in WhatsApp's calculation mechanism raises one question: what are the advantages of these changes?
One benefit arising from these changes is that businesses can now send multiple broadcast messages to the same user in one session at no additional cost. This new mechanism also allows businesses to strategize on follow-ups for potential customers at lower prices and shorter lead times than before. Businesses will also be rewarded with a free user initiates (UI) charge if the business includes a call to action (CTA) to WhatsApp via Facebook Ads.
Qiscus is Ready to Help in Understanding Your Needs
To help your business be better prepared to face the impact of the price increase set by WhatsApp, Qiscus is planning some measures to assist businesses that will be announced soon so that you can still communicate with your customers without worrying about costs.
For a start, Qiscus will be providing a free session every month for your business. Furthermore, with fixed pricing, Qiscus helps businesses save up to 25% compared to the price businesses would have paid.
With improvements that Qiscus will launch shortly, it will be easier for your business to manage the pricing changes for WhatsApp Business.
Welcome New Changes with Qiscus
Qiscus is committed to continuously assist business owners to achieve their goals, starting right from the moment you opt for Qiscus. If you have questions, come attend our Ask Me Anything (AMA) Session which is held every week for business owners to ask anything related to the pricing changes of the WhatsApp Business API for 2022.
Our commitment also includes consultation to help you restructure your business strategies to maximize the use of the WhatsApp Business API and other channels to convert or generate new leads. Embrace the latest changes of WhatsApp Business API to optimize your business revenue in 2022 with Qiscus by contacting us here.