Happy 2022, everyone!
Although 2021 still saw us surviving pandemic conditions coupled with so many fast-moving changes changes, that did not stop Qiscus from innovating. Just like the previous year, the Qiscus team and I have been and still are working from home (WFH). However, this does not diminish our enthusiasm to continue innovating to help businesses provide memorable customer experiences for their followers and supporters. For us, the pandemic has never been an obstacle to providing the best for our clients and customers.
We continued to adhere to our vision of "Become a world-class technology company" in 2021 – Qiscus saw itself remaining enthusiastic about being innovative to continue providing solution-based communication technologies to help more brands, organizations and businesses. Customer expectations are what motivate us to consistently innovate. Over the past year, Qiscus has delivered the latest innovations aligned with the latest trends and updates in digital technology to assist clients in responding to challenges in an uncertain era.
Even Though We Don't Meet Face to Face, We Still Feel the Togetherness
The Qiscus team and I have been WFH for quite sometime and, for some of us, even before 2021. Especially when the pandemic first hit this region, we have not been able to meet face-to-face like we used to pre-Covid. Like in 2021, the entire Qiscus team and I were still adapting and optimizing our WFH arrangement, especially in maintaining work-life balance and team collaboration. However, having done this for the second year running makes it more manageable.
In 2022, we will continue to strive in the best way that we know so that our team can achieve a sense of togetherness and to improve intra-team cooperation well during WFH. We believe that by creating a positive work environment, WFH can improve our performance in innovation.
We continued to organize several employee engagement activities carried out with the whole team. These included Qiscus Insider, a mini talk show with exciting topics packaged in a relaxed manner and aimed as a way for team members to get to know one another. Another initiative is the Qiscus Engineering Show, a self-development program designed for team members to share about technology, business, and skills for self-development to continue inspiring a culture of learning and growth among Qiscus technical team members.
Pre-pandemic, Qiscus regularly organized various employee gathering activities but this year, we shifted these activities online. For the first time in 2021, Q-time was born to encourage an online employee gathering for all Qiscus team members. A series of entertaining events such as Qiscus Rank 1, Qiscus Squad Performance, and Qiscus Awards accompanied the Qiscus team members throughout the event.
The team also initiated the Employee Pulse, a weekly internal survey that has been carried out since the beginning of the pandemic and which still continues to this day. As the name implies, "pulse" alludes to checking the 'pulse' of each of our team members to check on their emotional and physical well-being, to accommodate their views and to receive any feedback about working in Qiscus.
Our First Virtual Conference!
2021 was a memorable year for the Qiscus team and I because we held our first virtual conference this year – Conversa: Embracing Business Agility. We have always been aware that the ongoing pandemic has impacted many aspects of life. Like humans, businesses, too, must adapt to changing situations and remain agile. Therefore, we designed Conversa as an outlet to share the latest insights for businesses about the latest business development and technology.
Conversa packs a punch in presenting insights of both business and technology in an interactive and engaging format. For three consecutive days, business and technology enthusiasts gathered at Conversa to learn about the latest insights and innovations from both fronts. We also showcased dozens of relevant and credible speakers to curate a series of workshops and talkshows to share as much as possible about the power and effectiveness of capitalizing on technological developments for businesses.
More than 600 participants attended the conference; there were six classes, three talk shows, and dozens of speakers, including renowned professionals such as Ainun Najib, Dharma Simorangkir, Kemkominfo, and many more. Through Conversa, we also launched two of our newest products, namely Qiscus Robolabs, Qiscus App Center, and various updates related to our leading solution, Qiscus Multichannel Chat.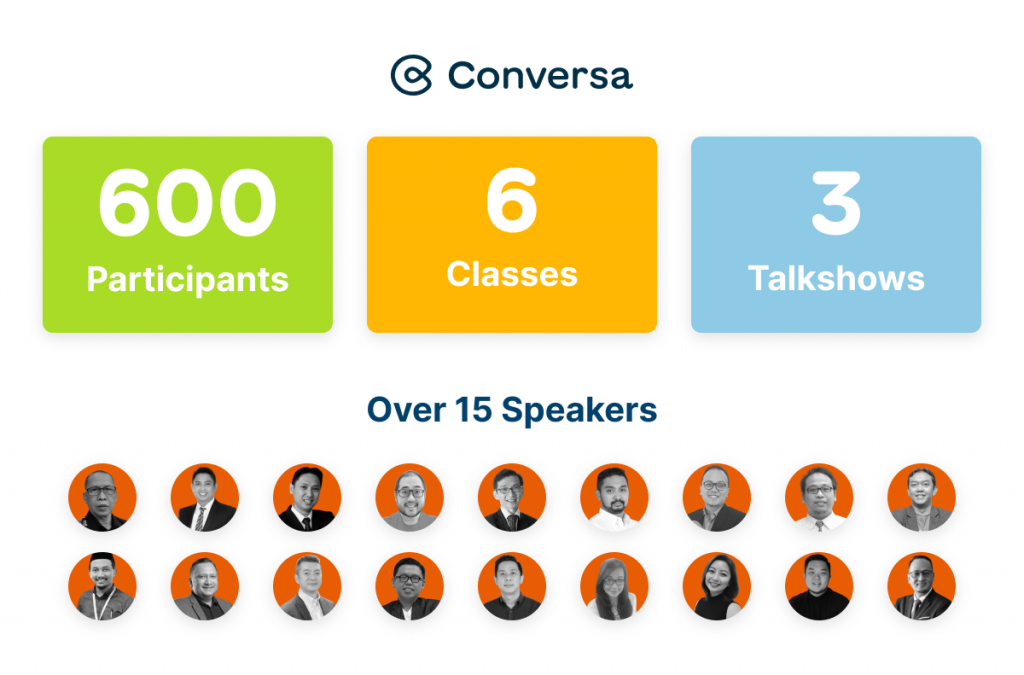 Qiscus Robolabs allows businesses to create their very own bots without using any complicated coding knowledge or even no-code chatbots to speed up responses from brands to customer messages in order to increase lead conversions. On the other hand, the Qiscus App Center increases extensibility by making it easier for businesses to add app extensions to Qiscus Multichannel Chat.
In keeping with this year's Conversa theme, we felt the need to be agile in presenting practical solutions. We then delivered innovative solutions and updated our solutions to constantly be the best versions. Not only that, due to the massive demand from our customers to integrate Instagram into Qiscus Multichannelchat, during Conversa, we also launched our newest solution, the Messenger API for Instagram.
The two products that we have launched have further enhanced the ability of our Qiscus Multichannel Chat as a solution for businesses to provide memorable customer experiences. The values we apply to each Qiscus product emphasized on flexibility and extensibility. We also implemented our two newest products as part of our efforts to display innovation in providing solutions for businesses.
Qiscus During 2021: Challenges and Achievements
The pandemic has not subsided and the era of uncertainty continues to challenge us. In this context, there are many obstacles that we must face as a solution provider for businesses to provide the best service for their customers. Digital transformation is getting more advanced and dynamic, in line with increasing customer expectations. However, as previously stated, customer expectations motivate us to keep innovating.
As a result, by the end of 2021, Qiscus has succeeded in #EnablingConversations in more than 1000 clients from 23 industries spread over 19 countries globally with various use cases. Our solutions have also accelerated real-time communication with more than 60 million users and more than 1.1 billion messages for different business functions.
So that we can ensure that we always provide the best services, the Qiscus Engineer team continues to maintain more than 300 server instances to manage billions of API requests and tens of millions of user traffic every month.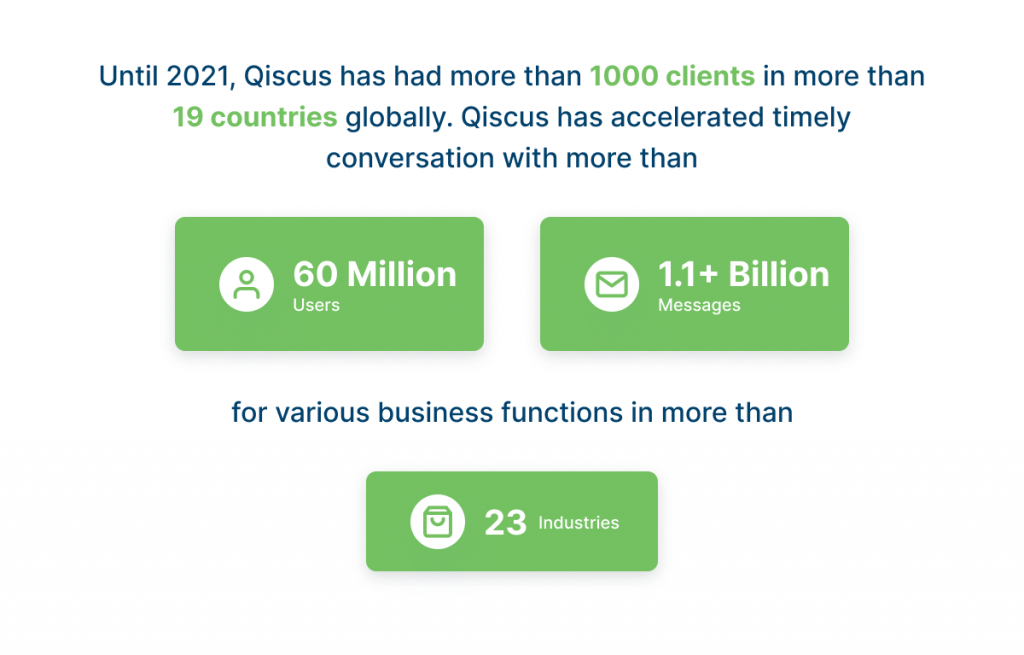 Not only that, in 2021, Qiscus contributes to the fight against the Covid-19 outbreak. Among its efforts included being one of the initiators and facilitators in accelerating the WhatsApp helpline for the collective Warga Bantu Warga (Citizens Helping Citizens) movement. By collaborating with Kata.ai, and other parties such as Narasi, Kawal Covid-19, Kitabisa, and the Forum Muda Indonesia, Qiscus has succeeded in realizing the Citizens Helping Citizens movement where the public can seek information related to health facilities and medical equipment available during the pandemic.
Furthermore, during Conversa, Qiscus also collaborated with Kitabisa through the Kawal Masa Depan movement by raising funds for children who had lost parents due to the pandemic. During the event, Qiscus invited all Conversa participants to contribute to the campaign.
The pandemic also did not prevent us from actively participating in various activities to lift the Qiscus brand in 2021. Throughout 2021, Qiscus has received significant coverage from various media.
We have also been actively sharing insights for the business community through the CX Zone webinar series. The initiation of CX Zone is a manifestation of our commitment to continue educating and empowering businesses to provide positive customer experience for their followers and supporters. As a solution provider for businesses, our goal is to be solutive and be educative. Throughout 2021, we have actively executed or spearheaded more than 50 activities to empower businesses.
See you in 2022!
There is no denying that 2021 was another long year filled with lessons for all of us. Moreover, Indonesia saw itself experiencing a crisis in the middle of the year due to the exponential explosion of Covid-19 cases. By then, everything has been getting more and more uncertain.
In this era of uncertainties, change after change continue to occur, including the ever-changing dynamics of customer expectations. This era has quickened our arrival at the most critical phase of digital transformation. As a solution provider for businesses to carry out digital transformation, we must remain prepared at any sign of change. Digital transformation, as well as changes in customer behavior and expectations, are challenges and motivations for us to continue innovating in the face of all changes.
Staying in touch and staying connected are values that businesses must increasingly realize in this digital transformation era and we will help you to familiarise with these values by #EnablingConversations. I want to thank all parties, especially the internal Qiscus team members, who are always ready to contribute and innovate solutions.
Our sincerest thanks as well to our partners who have helped us in our efforts to provide the best solutions for customers. We would also like to thank our clients and supporting businesses which have trusted and chosen us during these uncertain times to be the solution to the challenges they face.
2022 is just around the corner; we believe that whatever the challenge, we are ready to be the solution in #EnablingConversations across all available communication channels. We have been working on more strategies and innovations to design and implement powerful solutions in 2022 to strengthen our commitment in #EnablingConversations this coming year.
See you!
Delta Purna Widyangga,
CEO Qiscus