While there are many chat SDK providers in the market, Firebase may be a common name that surfaces when it comes to developing a chat feature in mobile and web applications. It is known to be 'free' and using Firebase is commonly perceived as building your 'own' chat feature.
Cost and ownership are indeed two considerations that businesses have, especially for business owners or management. In addition to these two considerations, learning from the strategies of a few unicorns like Gojek, I would argue that TTM (Time to Market) is an important consideration as well.
We will expound on these issues and many other considerations in our upcoming whitepaper, which we will make it freely available. This whitepaper will include discussions on the importance of scalability, concurrencies, AI-compliance, security/ownership, localised support, and others. Keep a lookout for it!
In this article though, I would like to provide a brief comparison between Firebase and Qiscus Chat SDK.
1) What is your use case?
Firebase provides you with a real-time database that forms the fundamental part of a chat feature. Other essential chat features such as the typing indicators, read receipts, unread counts and so on will require some form of DIY. Customization work is definitely necessary if developers choose to work with firebase and this comes with other costs such as manpower and others. Nevertheless, if businesses have sufficient in-house developers already familiar with firebase, this may be a viable option.
Qiscus on the other hand, is not just a real-time database, but a Chat SDK that provides the full end-to-end suite of features (and services) needed for developers to implement a chat feature easily and quickly. Our SDK has been designed to meet all kinds of use-cases in various industries, which includes (non-exhaustive list):
In-app chat with customisable canned responses
Time-based chat consultations
Whatsapp-like enterprise messaging
Private consultations with stored history
Multi-channel/platforms customer service chat
1-1, Group or Public Chat Channels
Well the point is, Qiscus specialises in #enablingconversations in any app with our Chat SDK. So as long as you need to enable conversations in one form or another, we specialise in making this simple and easy for developers.
2) Do you have plans to implement AI in the future?
This is inevitable, no matter what your use case is. Sooner or later, you will want to implement AI (in the form of chatbots), at least for the benefit of understanding how users interact on your platform, what are they interacting about and so on. These insights will definitely be useful for you when making decisions for your business.
Therefore, it is essential to choose a chat engine that is capable of handling AI – ie an AI-compliant Chat SDK. As mentioned, firebase is a real-time database and therefore does not provide APIs and webhooks which are compatible with chatbot engines. In other words, it is going to be a real challenge for developers to implement any form of chatbot in the future.
On the other hand, Qiscus is already AI-compliant; specifically, we have the APIs and webhooks necessary a chatbots to be deployed in the mobile and web applications. In fact, Qiscus already has ready FAQ chatbots which can be 'trained' according to your business' needs. Also, good news to businesses based in Indonesia, Qiscus Chat SDK is neatly and seamlessly integrated into local chatbot engines such as kata.ai, hence significantly simplifying the whole process of implement customised AI/bot onto your chats.
3) Do you have plans to export your chat data?
This is another important consideration as well. Exporting data will be crucial if you have plans to analyse the data for insights, install the chat in your own server (on-premise) or even switch to another chat engines. To make this possible, the engine you opt for will need a feature that enables exporting of data.
This is where you will be at a disadvantage if you opt to use Firebase. A real-time database is something that is very difficult to clone/create in-house and therefore once you choose to use it, you will most probably be stuck with it and highly unlikely will you able to switch to other alternatives.
On the other hand, creating a chat feature using API and real-time services will give your greater flexibility to make a switch, if you ever need to, by using your own database and websocket for example. Such flexibility may be valuable for you. Well generally, we would advise to give yourself this flexibility instead of locking yourself with one provider.
Feature-based comparisons
In addition to the essential features needed by any chat feature, Qiscus also provides you with a more flexible choice regarding administrator control. Features like message search, data export and support for multiple push certificates have been made available. Other messaging tools like bot interface and auto-thumbnail generation are also readily-available as part of our SDK.
All the above said, here are some detail comparisons between the feature available in Firebase and Qiscus Chat SDK: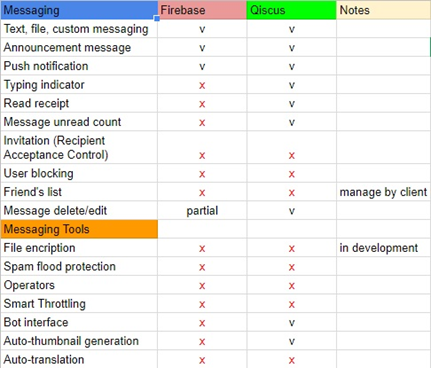 Which one is right for you?
I believe this question needs to be answered from the perspective of your end users – what is the user experience that you would like to provide to your end users. As we all know, millennials are avid chatters and they have been pampered with the great experience they get from the messaging apps that they use daily (like Whatsapp and the likes).
So the expectation of a good chatting experience is high and therefore, meeting this will require significant resources -not just in terms of talents and money, but time and experience as well.
Qiscus has been helping businesses in various industries and use cases. We have seen what works and what doesn't. The little touches that we have put in while building our Chat SDK will be very valuable for any businesses who want to implement a chat feature in your apps, no matter how simple the use case it.
In any case, feel free to contact us to bounce your ideas. We are more than happy to be your sounding board.