WhatsApp Business API has become a preferred communication channel for businesses now, with so many of people's daily activities done online. If you are new to the WhatsApp Business API services and still facing difficulties in optimizing its use for your business, here are 4 tips that we have highlighted for you to help maximize your WhatsApp Business API performance.

For businesses, using WhatsApp Business API as your main communication platform is ideal. There are many industries that are already using WhatsApp Business API as platforms of choice to communicate with customers and these industries include retail, finance, transportation, education, and many more. Because of the features provided by WhatsApp Business API which are varied and offers many levels of flexibility, companies can customize it according to their needs. An example is the use of template messages where businesses are able to automate and augment their responsiveness to customers for a better experience. Besides, there are also lots of other supporting technologies that can be integrated into the WhatsApp Business API, such as chatbots and analytics, which can allow businesses to take advantage of for improved customer retention.

Here are 4 tips that businesses can apply when deciding how to best use the WhatsApp Business API:
Tip 1: Adjust According to your Needs
The first step to be able to own a WhatsApp Business API account is to find a WhatsApp Business Solution Partner (BSPs). These are third-party solution providers that have collaborated with WhatsApp officially to provide the WhatsApp Business API to companies. This is because WhatsApp Business API is not a freely available system in the market like WhatsApp.

In Indonesia, Qiscus is a WhatsApp BSPs you can approach. Before adopting a WhatsApp Business API solution, make sure to list down the following needs of your business:
number of agents you need,
your business' preferred analytics,
number of servers,
support services,
availability of chatbot integration,
the number of Monthly Active Users (MAUs) required, and
any custom integration that you wish to have it.
The factors mentioned above can be your reference in determining the appropriate service you need.

Tip 2: Create a Plan for your Customer Journey
After determining your preferred WhatsApp BSP and the type of WhatsApp Business API service that your business needs, plan out how your customer journey will pan out in your business' daily transactions.

Businesses need to have a clear idea of their customer's journey to meet consumer expectations. Businesses can also better understand the condition of the consumers such as their pain points when interacting with the businesses. This can help businesses be more aware of the improvements that need to be done in accordance with the realities of the field. Consumers nowadays also demand for a personalized experience . This means that businesses must be smart in determining strategies for each customer type instead of using a one-size-fits-all strategy.

WhatsApp Business API is a medium that can greatly assist businesses in building quality customer journeys. The WhatsApp Business API features can be implemented at all stages of the customer journey; Awareness, Consideration, Purchase and Care stages
1. Awareness
To build awareness of your business in the eyes of consumers, you can take advantage of the call-to-action (CTA) feature that can be synchronized with your brand's website. This will make it easier for your customers to contact your business. In addition, the presence of the Account Masking & Green Tick feature on your WhatsApp Business API account makes your business credibility increase because it seems more exclusive.
2. Consideration
Second is the Consideration stage. This stage is very important because consideration will determine whether the customer will use your product or not. Therefore, make your customers feel comfortable when interacting with your business especially when they asked a lot of questions.

For example, you can use an automated greeting message and messaging template. In addition, you can also take advantage of the Agent Allocation and Chatbot features so that your customers will be happy with the excellent level of your business responsiveness.
3. Purchase
Next is the Purchase stage. WhatsApp Business API can be used to build a memorable buying process. For example, you can send various purchasing details in real-time using a message template. You can also reduce the level of shopping cart abandonment and even connect with other applications, such as Shopify.
4. Care
The last stage is Care. Even though the purchase stage has been completed, it does not mean your customers journey has ended. Make the best impression on your customers, because their opinions will certainly determine the success of your business in a wider market.

The message template feature is very useful for businesses to use to build memorable after-sales services or to seek feedback by creating feedback forms. Not only that, businesses can also increase their customer support services using a chatbot.

Tip 3: Raise Awareness of your WhatsApp Service
Visibility of your WhatsApp service ensures people know how to contact you. Don't let the various preparations that have been made go to waste. Take every opportunity to leave good impressions of your business.
To redirect prospective customers to your brand, you can insert conversation starter buttons for WhatsApp Business API on your website and other landing pages. This is suitable to be applied during the Awareness and Consideration stages so that your customers can easily contact your business.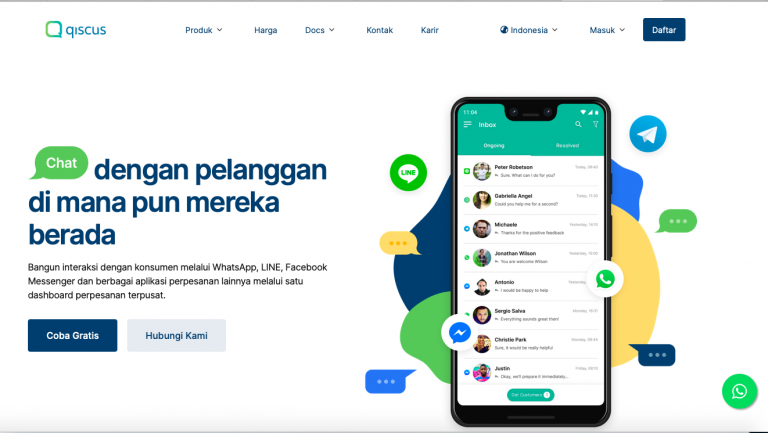 Secondly, you can use the click-to-chat feature on your business social media accounts, such as Instagram and Facebook. Just like the previous method, this method is very suitable to be applied at the Awareness and Consideration stages.
Third, using in-app promotions is must. This option is perfect for brands who also own special business applications on Android or iOS. The WhatsApp account here will be used as a media for business customer support if consumers encounter problems when using your business products. This method is very suitable to be used during the consideration, purchase, and care stages.


Last but not least, use offline media to promote your account. For example, you can place an account barcode or QR code on your packaging. This is helpful for consumers should they find a problem with your product; they can easily contact the after sales service. You can also place barcodes on other offline promotional media to remain widely visible.

To provide more measurable insights, you can evaluate your business' performance using various methods within the Analytics features provided by Qiscus. This feature allows businesses to gain a lot of insights. For example, the Analytics feature is able to generate the number of incoming conversations your brand receives so that you can find out the effectiveness of your business and determine the right steps in the future to create a better conversational experience.
Tip 4: Integrate with Supporting Technology
To enrich the conversational experience, businesses can integrate WhatsApp with supporting technologies such as chatbots and other custom integrations like ticketing and CRM. Not only can the WhatsApp Business API m used for external affairs with consumers, the WhatsApp Business API can also be used for internal business purpose. Read about how the WhatsApp Business API has become an internal IT communication solutions use case for KINO here.

With Qiscus Multichannel, businesses are free to park more than 1 WhatsApp Business account to be managed simultaneously from just one dashboard. This will certainly help maintain agent efficiency and database management more efficiently.

Businesses may also find it highly beneficial to integrate their marketing strategies with other supported technology like chat-bot. With WhatsApp Business API, customization and responsiveness will be kings to bring your business presence to another level.

Find Other Tips!
We hope the tips above can provide insights that will make it easier for your business to take advantage WhatsApp Business API. To get more tips on how to get the most out of the WhatsApp Business API, read here. If you have any questions, feel free to contact us!