Being creative doesn't mean that we have to be good at creating something, nor to have a "good" looking inside the creativity. Being creative is just a matter of creating something. If we look at the definition of create based on Merriam-Webster, you might be surprised that there are no aesthetic words like good, beauty and so on found in it. For us, creativity is so borderless but when there's no limitation it's not well-organized, it's going to be wild and probably becomes destructive. omnichannel
Then how can we limit the creativity itself? Creativity is natural just like nature. Now let us think about this – how can we limit the earth to stop sending us rain or stop producing oxygen for human beings? We can't stop it as we're not the Creator but as a human we can manage it and it's our responsibility. In fact, design comes as the best companion of creativity. Based on it's definition, design helps us to:
Construct according to plan
Have a purpose
Devise for a specific function or end
Make a drawing, pattern, or sketch of
In this uncertain world we might face a lot of problems, whether they're new problems or existing problems that are looping. The problems become like a gear which rotates every time the engine starts. Well, many problems happen because of relation. To solve the problem we maintain–communication. Communication is not just an ideal, it's a must.
Design is A Way to Communicate to The User
What is UI/UX? What's the difference? What are they here for? There are plenty of resources to learn about It both free and paid. However, an article by Johny Vino provides an excellent answer and also gives the confidence parameter of being a UX/UI Designer
https://medium.muz.li/why-is-ux-ui-designer-the-best-job-in-the-world-91bbfe12b6da
In a very simple definition, user experience (UX) is about how it works, user interface (UI) is about how it looks and what it feels like. There's a responsibility to make it work and looks good and because looking good is not enough, we have to make it work. On the other hand, having it work but be bad looking is not recommended since visual often speaks the loudest.
Design is the best companion of creativity and communication is the best way to understand every problem. When we face a problem, whether it's big or small, just take it to a communication and bring it into design for a creative solution. When we understand every problem we must find the best solution through design. So that it can be significantly impactful.
When we tried to take this role deeper, we found many methods that will probably help a designer to work in an an organised way. You can try methods such as design sprint, design system, design thinking, and so on. Or, as a designer, we should understand "step by step of designing basic" — . As a UI/UX we do this flow:
Understanding > Drawing Solution/Sketch > Prototyping > Testing
No matter what kind of methods we are using, we need to literally understand what our customer needs then find them the best solutions. If everything goes well we can prototype it and test it.
In Qiscus, We help the company to solve daily problems related to their products, creating workflow, designing prototype and building features of SaaS-based products in collaboration with the project managers.
Example: How We Design Qiscus Omnichannel?
When building a product, a designer can be an "overlord" but it not supposed to be. Qiscus is building its latest product named Qismo (Omnichannel Chat Solution).
Firstly, we begin with the clients. This isbecause, we are here to help the client and fulfill what our clients need.
The project manager had done some research and made a quick brief of the product. Once the product's blueprint is clear enough, a UI/UX Designer will be invited to join the loop. The designer has to understand the end users, product workflow, features and what it's all about.
Secondly, we'll go to a step by step drawing solution or sketch. Understanding the workflow will help us greatly with wireframing. Wireframing will help us to have a clear information architecture and design consistency of the product. Once it's done, we'll go to the fun part of designing a product; such as turning the wireframe to hi-fi prototype with color, icon, illustration, animation and copywriting. Once the design is ready, it's time to present/share it to the team before it will be cooked by the engineering team.
During the development phase, feedback normally will be received. Don't worry about it, feedback is not just necessary, it's essential. It will help us to know more and more about the problems and how can we solve them effectively. After that, UI/UX designer has to stay in the loop to make sure the design is well-developed. We'll be in charge of refining the UI, so that what you see on the design is what you see on the production.
Below is the wireframing process for our product-QISMO: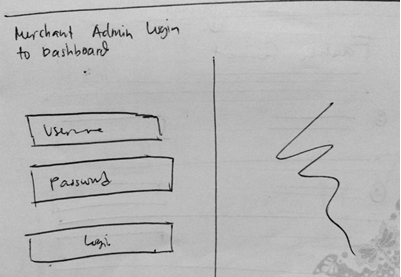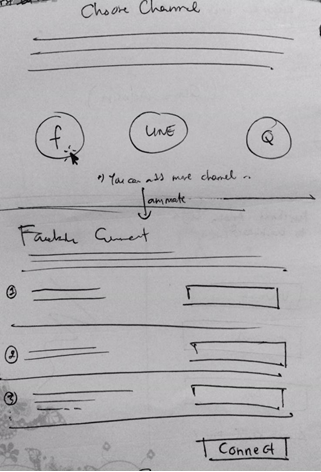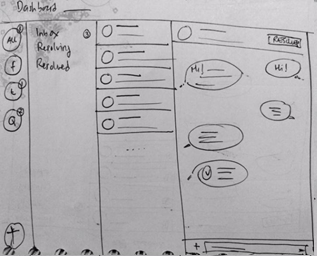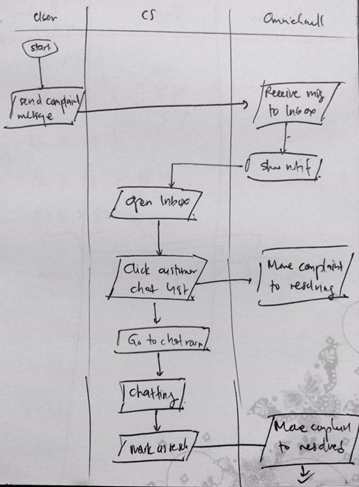 After sketch, designing process and editing, here are the results:

Conclusion
Without UI/UX you will provide customers with a product without caring. Meanwhile, how to use it and how it looks like is an important thing for customer. Since, the look and feel of a product can capture customer attention and fit their needs exactly. omnichannel
It looks good if the first impression of your product can capture customer attention. However, if it doesn't work as seen on the design, it will have a negative impact.
That's also the role of the UI/UX team; to make sure that everything works like a charm and to refine the UI. Let's say there's a CSS borderless button which should have padding: 10px 36px; border-radius: 20px with background-color: #23B098; but is displayed as a button with border and has white background color. omnichannel
Also, a UI/UX team help building a great user experience of a product. We collaborate with the product manager and the marketing team to accomplish business objectives. For example, to raise the conversion rate of contact us page and much more. Being a UI/UX designer means that we need to connect with the developers, the product managers, the marketing team and even the clients. We all need to connect with each other so that everything is working and designed well and fulfills the business objectives. omnichannel