Ruangguru is an enterprise engaged in the informal education industry by providing digital-based services on mobile and web applications. As one of the market leaders in the industry, Ruangguru continues to improve the quality of its customer service processes and is known for scoring consumer satisfaction rates which have exceeded its initial targets.
Established in 2014, Ruangguru provides learning applications targeted at various educational levels, namely elementary, junior high and high school. Digital transformation and the pandemic situation have accelerated public awareness about Ruangguru as it is known to have left a lasting positive impact on many of its users. According to one media report, in the initial period of the school-from-home policy set by the government, more than one million users accessed the Ruangguru application everyday.
In response to high user interest, Ruangguru began implementing various strategic steps to ensure that every customer receives good service according to his or her needs.
3 Ruangguru Strategies to Understand Consumer Expectations
1. Ensuring Brand Presence in Media Platforms Close to Consumers
Knowing specific target consumers is essential when marketing a service or product. In addition to basic demographic information, such as age and gender, businesses also need to know the habits of their potential customers, such as their favourite browsing social media platforms.
Ruangguru understands that Instagram is one of the most widely used social media platform by its target consumers, which are mainly students. According to a report released by a statistics portal in Indonesia, there are more than 11 million Instagram users aged between 13 and 17 years old.
Therefore, since 2015, Ruangguru ensured that it builds a strong brand presence on Instagram through its @ruangguru account, which boasts more than 1.3 million followers. Through this account, Ruangguru seeks to engage and provide easy access for followers who want to interact directly with their brand.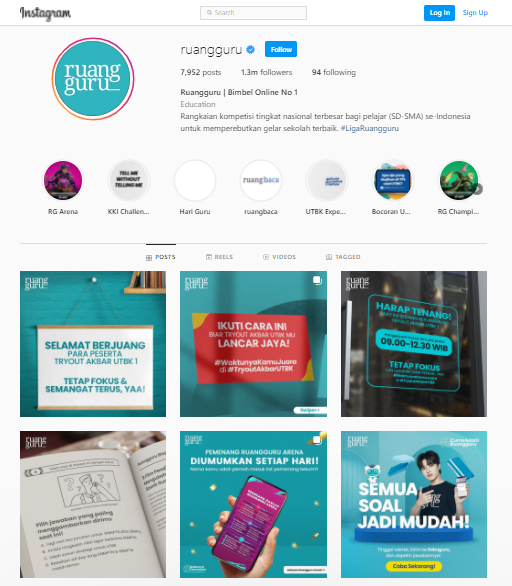 2. Utilizing Digital Marketing Media Effectively
Ruangguru's Instagram activities aim to trigger follower interaction with its brand. Various features provided by Instagram, such as Feeds, Instagram Stories, Instagram TV, Reels, Instagram Live and Polls, have been benefited by Ruangguru's social media team to publicize loads of information and activities that invite interaction with their followers.
Several forms of activities carried out through this media include games, giveaways, challenges, tips, promotions and even testimonials. The content opens up a conversational space between Ruangguru and its followers in the comments, replies, reactions, and Direct Message (DM) sections.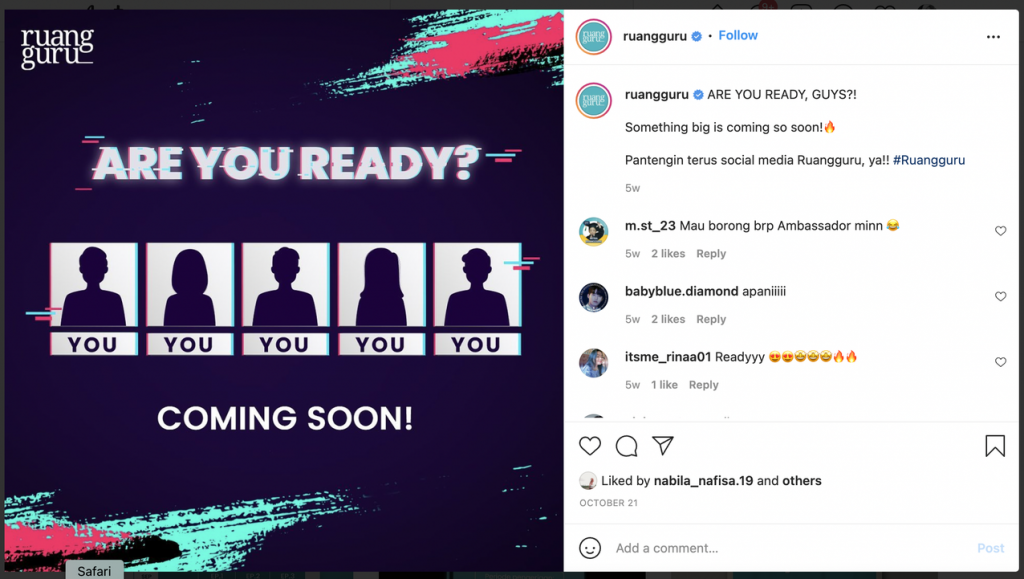 Ruangguru also regularly conducts Instagram Live hosted by its Brand Ambassadors, Key Opinion Leaders, and their master teachers as speakers or brand representatives. Such activities are carried out at least once a week. During the session, followers are able to ask questions and receive answers directly and in real-time from the speakers or celebrities.
3. Provide Private Communication Space for Consumers
Ruangguru also facilitates followers who prefer to communicate privately with them via Instagram DM. The goal is for Ruangguru to receive questions and feedback directly from consumers. In terms of customer experience, private communication and media platforms which are already part of users' daily online activities will provide convenience and ease of access to the brand.
Several Ruangguru Customer Service (CS) agents are also specifically dedicated to responding to Instagram messages, including the comments section. Messages received include product-related questions, promotions, registration, complaints and suggestions. During peak seasons, the volume of messages received can reach two to three times more than on regular days.
How Ruangguru Maximizes Customer Service on Instagram
To respond directly to consumer messages as a brand, Ruangguru customer service agents must access their company's Instagram account using a registered email and password. Unfortunately, this mechanism often slows down the response to consumer messages.
The conventional Instagram Business account is unable to regulate the distribution of messages to Ruangguru'scustomer service agents. Allowing this feature is important because it can help divide the customer service's team members receive even message allocations and to avoid two or more agents receiving the same message.
Furthermore, regular Instagram for Business does not make the tracking process more accessible. For example, a reply to a message sent by a customer service agent to a consumer chat room is not automatically accompanied by the sender's name. Thus, when the Ruangguru customer service supervision team wants to identify the individual managing a particular chat room, they have to do it manually by including the agent's name at the end of each message or by referring to the customer service team directly.
Messenger API for Instagram Makes it Even Easier
The launch of the Messenger API for Instagram in the middle of 2021 is a breath of fresh air for Ruangguru. This is because Ruangguru can now integrate its Instagram account into the Qiscus Multichannel Chat dashboard, which it has been using since 2019.
The Messenger API for Instagram is a solution that can only be obtained through official Facebook partners, one of them being Qiscus. The Messenger API for Instagram allows sending data contained in Instagram to platforms that are integrated with it, such as Qiscus Multichannel Chat. Ruangguru can now access all messages types that end up on Instagram through the Qiscus dashboard without any agents having to log in to its Instagram account separately.
Apart from enabling integration with Qiscus Multichannel Chat, the Messenger API for Instagram also comes with a series of additional features. These include Private Replies, Quick Reply, and Ice Breaker. More details can be found here.
Reasons For Using Qiscus Multichannel Chat
The integration of the Messenger API for Instagram with Qiscus Multichannel Chat has provided solutions to problems that Ruangguru had previously faced. The Qiscus Dashboard helps the Ruangguru customer service team distribute messages for its agents evenly while also identifying the quality and standard of the response from every agent In addition, customer serivice agents are also able to use and understand the Qiscus Multichannel Chat dashboard quickly due to its user-friendly interface.
The features available in Qiscus Multichannel Chat also plays an essential role when Ruangguru is experiencing its peak seasons. Besides ensuring fast response to consumer messages, Qiscus also simplifies the process of analyzing the data needed by Ruangguru's relevant teams. The data that can be obtained includes the number of messages, the average response time of customer service agents, the types of messages that are most often received from consumers and many more.
Qiscus also allows Ruangguru to integrate other communication channels, such as Live Chat, Facebook Messenger and WhatsApp Business API on the Multichannel Chat dashboard. This eases the day-to-day tasks of Ruangguru's agents. In addition, when specific channels receive high message traffic, agents can be rerouted to focus on managing busy channels without having to switch applications.
Customer Satisfaction Score Exceeds Target
As a market leader in its industry, Ruangguru applies various strategies to elevate its customer service processes, including adopting the Qiscus Multichannel Chat solution to improve its Customer Satisfaction (CSAT).
Ruangguru consistently asks for feedback from its customers using a CSAT score assessment every time a conversation with a customer service agent has ended. After implementing Qiscus, the CSAT score for Ruangguru's services has risen above its set target.
Ruangguru's journey with Qiscus has spanned more than two years now. Hundreds of other businesses also share similar experiences and have benefited through their various use cases. The same opportunity is also open for your business. Visit this page to connect with our team.