Along with increasingly massive digital developments, one of the things that is increasingly becoming a challenge for businesses is to improve the quality of their brand's customer experience. People want everything to be practical and fast, and expectations towards services by businesses are no different. Inevitably, companies need to transition and adapt to new digital realities.
Chatbots are presently one of the simplest solutions for businesses to implement to improve the quality of communication with customers. With the advantage that it is always available 24/7, the chatbot is able to provide fast, real-time responses so that customers have the flexibility to contact businesses at any time.
Practical, No-Code Chatbot for Business
Creating a chatbot system is quite a mean feat if we start from scratch. With machine learning (ML) and artificial intelligence (AI) algorithms, not to mention training data and achieving accuracy, extensive time, effort, and skills are necessary. Any structural or coding error, even a minor one, can have catastrophic consequences.
To avoid this problem, Qiscus offers a solution in the form of a no-code chatbot through Qiscus Robolabs, a service where businesses can create their own chatbots without the complicated coding process. The creation and use of no-code chatbots themselves are more practical and easily adapted to your business needs.
The no-code chatbot from Qiscus Robolabs offers many advantages for businesses. Here are some reasons why no-code chatbots are the best choice for your business needs.
1) Ease of Implementation without the Need for Programming Knowledge
By using no-code chatbots, you can create and manage chatbots more practically without the hassle of going through complex coding. Qiscus Robolabs offers a Bot Template feature that makes it easy to implement a chatbot so that anyone can use it without the need for programming knowledge.
This feature can help businesses provide complete information to customers through various ready-made templates in Excel, such as the Customer Service Template. Although it is a ready-to-use template, this template can also be customized to suit your business needs or characteristics. The following is what the Customer Service Template looks like.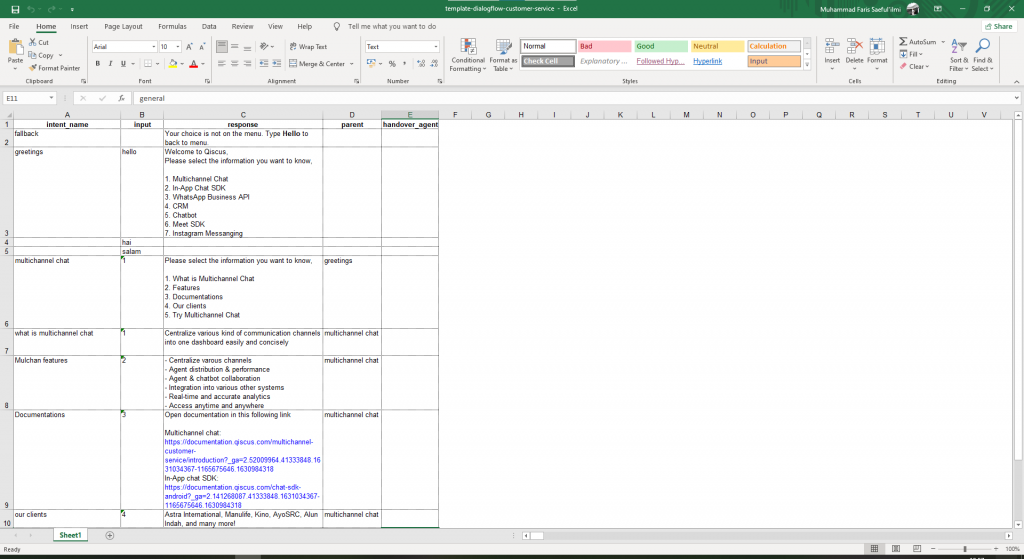 Simply download the various Excel templates, modify them as needed, and upload them to be used in your chatbot's response to be given to customers. When changing the template, you can enter complete information regarding your business, products or services into the template.
Without having to do any coding and other programming, anyone can create a chatbot as easily as creating a spreadsheet in Excel. As a result, you become more independent and can find new freedom in experimenting with no-code chatbots from Qiscus Robolabs.
2) Provide the Right Response with the Training Bot Feature
Besides Bot Template, Qiscus Robolabs also provides a Training Bot feature to help users train chatbots to give the right responses. Users are able to train bots by changing the contexts of inappropriate conversations into the right context.
The use of this feature is quite simple: through machine learning, your chatbot gets 'smarter' with time and training. This way, the chatbot will understand new contexts so that when the chatbot receives the same or similar messages, the chatbot can then reply with a more precise answer according to the training it has gone through. The more the chatbot is trained, the smarter the chatbot will be.
3) Save on Operational Costs: Minimize the Number of Developers in the Company
We get it – competition in the business world to fight for the customers' attention is extremely tight. The no-code chatbot from Qiscus Robolabs is here to bring solutions for businesses to provide a customer experience without the need to spend a lot of money on technical expertise.
Hiring a developer or team to build a chatbot system certainly requires a lot of money and time. This is because they use various tools and technical skills that are can be complex and extensive. You may want to get the assistance of a competent team of developers already in the company but that can reduce the productivity level of your employees that can be redirected to other priorities. As discussed earlier, creating a chatbot system needs a high level of accuracy which of course requires time, effort, and extensive skills.
By using a no-code chatbot from Qiscus Robolabs, you don't have to spend a lot of money to hire an additional developer or team. Your company's development team can also focus on improving other functions in your business. You can also accelerate innovation and digital transformation in your business and reduce dependence on technical developers.
Integrate Qiscus Robolabs with your WhatsApp and Instagram Business
One more advantage that Qiscus Robolabs has which are rarely seen in the industry is the fact that you can also use Qiscus Robolabs on your business' WhatsApp and Instagram accounts.
Qiscus Robolabs is a platform that functions as an integrator between the bot engine and the Qiscus Multichannel Chat dashboard. Through Qiscus Multichannel Chat, you can integrate multiple communication channels to connect with customers, including the WhatsApp Business API and the Messenger API for Instagram.
The large number of users makes WhatsApp and Instagram strategic social media avenues for businesses to connect with customers. WhatsApp has more than 2 billion monthly active users globally while Instagram has more than one billion monthly active users.
Qiscus Robolabs helps your business improve the quality of the customer experience by providing timely and quick responses via a chatbot available 24/7. This means that your customers are more freely available to contact the business whenever and wherever via any communication channel.
Experience the Ease of Creating a No-Code Chatbot through Qiscus Robolabs
Chatbot is here as a solution that businesses can use to improve customer communication services with ease because of the no-code chatbot technology through Qiscus Robolabs. Apart from that, you can also use Qiscus Robolabs on your business WhatsApp and Instagram accounts.
If you are interested to know more about the no-code chatbot from Qiscus Robolabs, watch the full video here or contact us here.