One of the most effective ways to increase sales for any business is in establishing a marketing strategy that results in lead generation. To produce lead generation and build long-term relationships with customers, businesses must be able to look at things from from the customer's perspective. Businesses are advised to focus not only on Customer Experience (CX) in the sales phase but also at what the customer experiences throughout the sales process, including the pre- and post-sales stages. This is so that businesses remain present for customers at every stage of the customer's journey to accelerate lead conversions.
Conversational Experience in Your Business
Using various communication channels, such as WhatsApp, for daily conversations and especially for socializing or work, has become an unavoidable mode of communication second-nature to customers. This is a perfect opportunity for you as a business or brand owner to take advantage of the culture of closeness that comes with the wide range of communication channels that customers are closely acquainted with. These platforms allow businesses and brands to provide and participate in conversational experiences that bring customers and brands closer, adding a differentiating factor to the business or brand.
In business, the power of conversations has always been useful in building and maintaining positive customer relationships with customers. Building and maintaining relationships between your business and existing or potential customers can be done by establishing communication that is useful and satisfies the needs of the customers. Therefore, in every conversation you have with your customers is an opportunity to build and increase trust in your business.
It is important for you to be present by providing a conversational experience that forms a connection with customers. Because every conversation between your business and customers will increase customer confidence in your business, as simple as a chat channel is needed to create a conversational experience that can boost revenue for your business.
Implementation of Conversational Experience in the Customer's Journey
Reporting from Qualtrics XM, as many as 89% of businesses which provide positive customer experience have achieved better financial performance. Qiscus believes that one way to achieve this is with the help of conversational experiences that exist at every stage of the customer's journey.
1. Pre-Sales Stage: In this stage, the business must create a pleasant customer experience. This can be done by providing a short, concise, and memorable conversational experience such as, for example, providing correct information that customers need and answering all their questions about your products or services.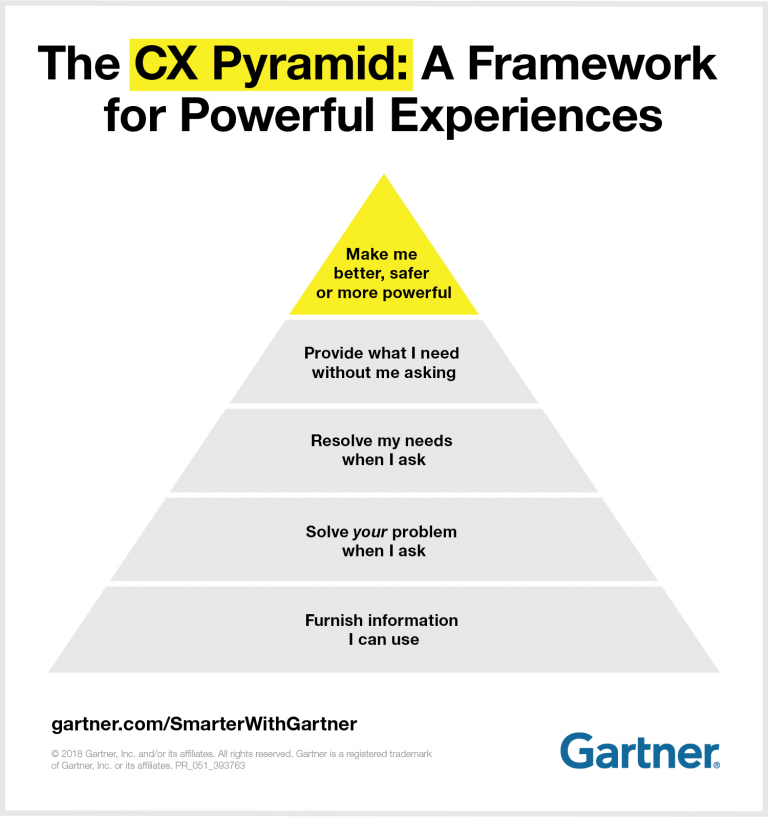 Based on the CX Pyramid published by Gartner, it is stated that the most basic thing in creating a positive customer experience is to present them with relevant information without having to go through long steps. Through the auto-responder feature of the WhatsApp Business API integrated with Qiscus Omnichannel Chat, presenting relevant information in a short time is easily done for your business. You can also take advantage of AI technology such as chatbots to provide optimal service at this stage.
2. Sales Stage: After presenting relevant information to customers in the pre-sales stage, it is time for you to find out more about what the customer needs and match these needs with products or services you provide. At this stage, the business must be able to reply to all messages quickly, precisely, and in real-time. To find out what customer needs exactly can be done with the human-bot collaboration feature available on Qiscus Omnichannel Chat.
With this feature, you can combine the response speed of bots to manage simple and common enquiries while more complex messages will be routed to agents automatically. This ensures you won't miss any opportunity to convert your leads into customers.
3. Post-Sales Stage: This stage is where the purchasing transaction has just been completed but is still an important part of your business. Transactional communication occurs at this stage, such as giving delivery notices, digital receipts to offering discounts to loyal customers and any other messaging that is helpful to the customer or brings them back to the brand.
The post-sales stage is also where you can measure the level of your customer satisfaction and this can be done via the CSAT (Customer Satisfaction Survey) application available on Qiscus Omnichannel Chat. The importance of CSAT for your business is in evaluating your services and assisting you to develop enhanced business communication strategy.
Present to Customers on Every Communication Channel
The conversational experience is all about how customers interact with your business – how customers can ask questions or send messages regarding their needs spontaneously and get real-time responses from your brand or business.
Conversational Experience is also all about improving the customer journey you provide for your customers through interactions between your business representatives and customers. Starting from the pre-sales stage—the stage where customers 'get to know' your business—to the post-sales stage, where customers will provide feedback regarding your product or service.
This is inseparable from how you stay present for your customers on each platform. Businesses that are present on every chat platform or application —Instagram, WhatsApp, Facebook Messenger — makes it easier for customers to reach them. Furthermore, the presence of businesses on various platforms also increases customer trust.
However, being present on every platform can pose new challenges. With various incoming messages from so many platforms, naturally it may sometimes overwhelm and affect business performance especially in being able to reply to every customer. This will naturally affect the speed of converting leads.
So a solution is needed to face this challenge such that your business can still deliver a real-time conversational experience available on many messaging platforms simultaneously without affecting the lead generation process.
What solutions, then, can support accelerated lead generation?
Accelerate Your Leads Conversion with Qiscus Omnichannel Chat
Building a conversational experience means that businesses must be ready to facilitate how conversations take place with customers and potential customers. Qiscus Omnichannel Chat is here as a solution for your business to continue to provide a real-time conversational experience across many platforms to speed up lead conversions,
The various features available on Qiscus Omnichannel Chat allow your business to reply to messages just from one dashboard. This makes communicating with customers much easier than before. Having all platforms in one dashboard eases businesses in providing timely and responsive conversational experiences in every customer's journey to accelerate the lead conversion process.
Are you ready to get started? Qiscus is ready to be the best solution in helping your business enhance your lead generation process. Contact us here for a no-obligations consultation.